Commencement 2015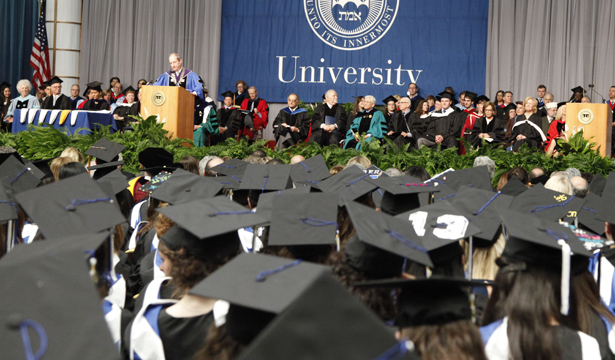 Main Commencement and Diploma Ceremonies
The main ceremony begins at 10:30 a.m. in the Gosman Sports Center on Sunday, May 17. Separate departmental diploma ceremonies are held in both the morning and afternoon on that day as well. You are invited to participate in both the University and your department's diploma ceremonies. Your department's diploma ceremony allows you to celebrate your graduation with faculty members and undergraduates you may have taught as a TF. See the complete schedule of diploma ceremonies. If you attend the diploma ceremony, your diploma will be presented to you (rather than mailed to you), and a hooding ceremony will take place. The diploma ceremony schedule will be available on the Conference & Events commencement website. If you have any questions about your diploma ceremony, you should contact your department administrator.
Tickets
Tickets are required for the main ceremony only and not required for the departmental diploma ceremony and issued by Conference and Events. Each student can receive up to five tickets for the main commencement ceremony and must present their Brandeis ID or a picture ID to receive their tickets. Tickets will be issued in the Graduate Student Lounge in Kutz, (across from the Registrar's Office), on the following dates:

Tuesday, May 5, 12-7 p.m.
Wednesday, May 6, 10 a.m.-4 p.m.
Thursday, May 7, 10 a.m.-4 p.m.
Announcements
Commencement announcements will be available in Meghan Peck's office in Kutz Hall (room 206) on April 28. Each graduating student may pick up one announcement. They will be placed outside Meghan's office, so may pick one up at your convenience.
Frequently Asked Questions
I graduated in February 2015. Am I still eligible to walk in the May main and diploma ceremonies?
Yes. You will be contacted about whether or not you plan to attend and instructed to order a cap and gown through the GSAS.
How do I obtain information about disability services?
For questions about guests with disabilities, please contact the Office of Conference and Events Services at (781) 736-4300.

What dining locations are open on Commencement day?
The schedule of on campus dining locations open throughout the weekend including Commencement Day can be found on the Campus Dining Options page.

I am driving to campus. Where do I park once I arrive?
Commencement guests may park at any university parking lot on Commencement day. Shuttle-bus transportation will be available on campus and from the Charles River Road parking lot. On Commencement day, all Gosman Center parking lots will be closed for general use.

When will my department's diploma ceremony occur?
Go here to see the complete schedule of diploma ceremonies.