Schedule and Parking
Commencement Weekend Schedule
Commencement guests may park at any university parking lot. Shuttle-bus transportation will be available on campus and from the Charles River Road parking lot. Gosman Center parking lots will be closed.
Stay Connected
Follow GSAS on Facebook and Twitter to stay up to date with the latest developments. 
Resources for Upcoming Graduates
Degree Completion
Upcoming graduates should be sure that all materials are submitted before their deadlines arrive. Consult the Master's Thesis Guide or the Dissertation Guide for more information on degree completion. 
---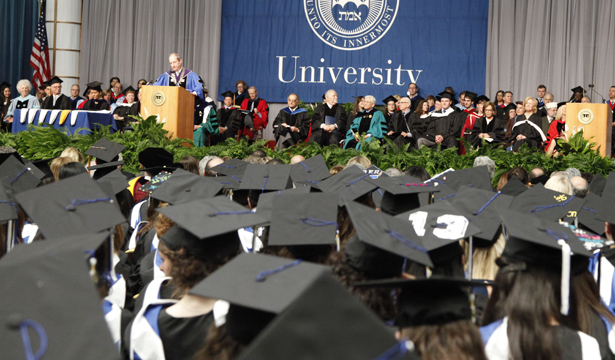 Commencement
The main ceremony begins at 10:30 a.m. in the Gosman Sports Center on May 21, 2017. Separate departmental diploma ceremonies are held on that day as well. You are invited to participate in both the University and your department's ceremonies. If you attend the department ceremony, your diploma will be presented to you (rather than mailed) and a hooding ceremony will take place. If you have questions about the diploma ceremony, please contact your department administrator.
Commencement Tickets 
Details forthcoming.
Announcements and Regalia 
Details forthcoming.
---
The Career Services team serves all Post-Baccalaureate, Masters, Doctoral alumni. As you make your post-graduation plans, remember that you can explore all of the resources we have to offer on our website. You can also contact Sue Levine, Associate Director for Career Services for more information or request an appointment with our team for a one-on-one support.
---
Alumni Resources
Alumni Clubs and Groups
The Brandeis University Alumni Association offers graduates many ways to connect with each other and with the university. There are alumni clubs and groups across the U.S. and around the world, wherever Brandeisians reside. Use the tools below to find alumni in your area or to connect based on areas of shared interest or profession. Get connected today!
B Connect
B Connect, the Brandeis online alumni community, allows all graduates to stay in touch with each other and with the university, to network professionally and socially, to seek and/or serve as a career mentor, post resumes and list job opportunities and much more. Register today!
Free Transcripts
Alumni may obtain free transcripts through the Registrar's Office. Phone: 781-736-2010 or fax: 781-736-3485 
Other Benefits 
All Brandeis graduates are automatically enrolled as members of the Brandeis University Alumni Association (BUAA) and are entitled to a range of valuable benefits and services, including: membership at the Penn Club in New York, Library Resources, the Brandeis Cash Rewards Card and Checking Account, and discounts on a range of services.