Career
↑
Lazarof, who spoke eight languages fluently, began his long career at UCLA in 1959, teaching French language and literature. In 1962 he switched to the Music department where he taught composition, orchestration, and counterpoint, among other courses. In this latter role as a Music professor, Lazarof supported music and arts activities on campus while pursuing his own composition work.
During this time he also served as composer-in-residence in Berlin (1970-71) and at Tanglewood Music Center in Massachusetts (1979). In 1973 Lazarof was named artistic director of UCLA's Contemporary Music Festival, which he had helped found. He continued to teach at UCLA until 1987, at which point he retired to the position of Professor Emeritus and pursued composition full-time.
A disciplined and tireless worker, Lazarof was dedicated not only to musical growth and exploration but also to the connection between all forms of art. This can be seen in his various compositions which were either inspired by or written directly in conjunction with other art forms, including Dylan Thomas's poetry, Wassily Kandinsky's paintings, and the UCLA Dancy Company's "Music and Dance for 29,000 Square Feet."
Lazarof was deeply respected by the musical world for the technical proficiency and complexity of his work. Even those critics who spoke less-than-glowingly of his work acknowledged the virtuosity and craftsmanship Lazarof possessed. He wrote almost exclusively on commission - the choral concerts he composed and conducted while in Israel are some of the only un-commissioned pieces he ever created. His works were commissioned, recorded, and premiered by orchestras, soloists, and ensembles around the world, including The Boston Symphony Orchestra, the Los Angeles Philharmonic, the RAI National Symphony Orchestra, and the Jerusalem Symphony Orchestra.
Among the accolades he earned are the Prince Rainier of Monaco Award (for Concerto for Violin and Orchestra) in 1962, the first International Prize - La Scala Award from the City of Milan (for Structures Sonores) in 1968, and two Grammy Award nominations for Tableaux (After Kandinsky)) in 1991. Lazarof's work was recognized by national organizations outside the music community as well and in 1979, he received a Composer/Librettist Fellowship Grant from the National Endowment for the Arts.
Honors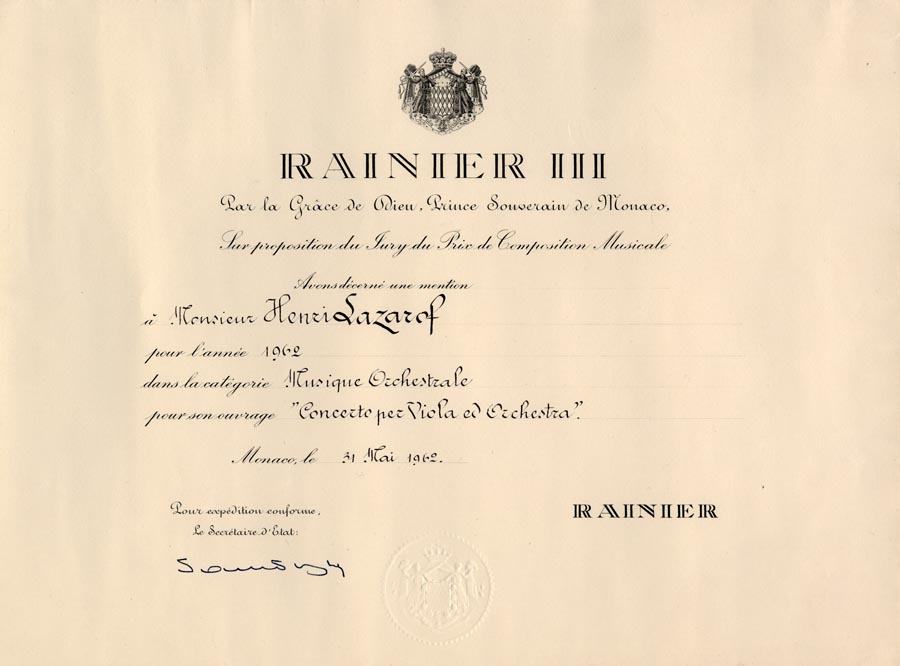 Prince Ranier of Monaco award
1962, For the piece "Concerto per Viola et Orchestra"
Transcript

Rainier III

Par la Grâce de Dieu, Prince Souverain de Monaco,
Sur proposition du Jury di Prix de Composition Musicale
Avons décerné une mention
á Monsieur Henri Lazarof
pour l'année 1962
dans la catégorie Musique Orchestrale
pour son ouvrage "Concerto per Viola et Orchestra."
Monaco le 31 Mai 1962
Pour expédition conforme,
Le Secrétaire d'Etat:
[signature illegible]

Ranier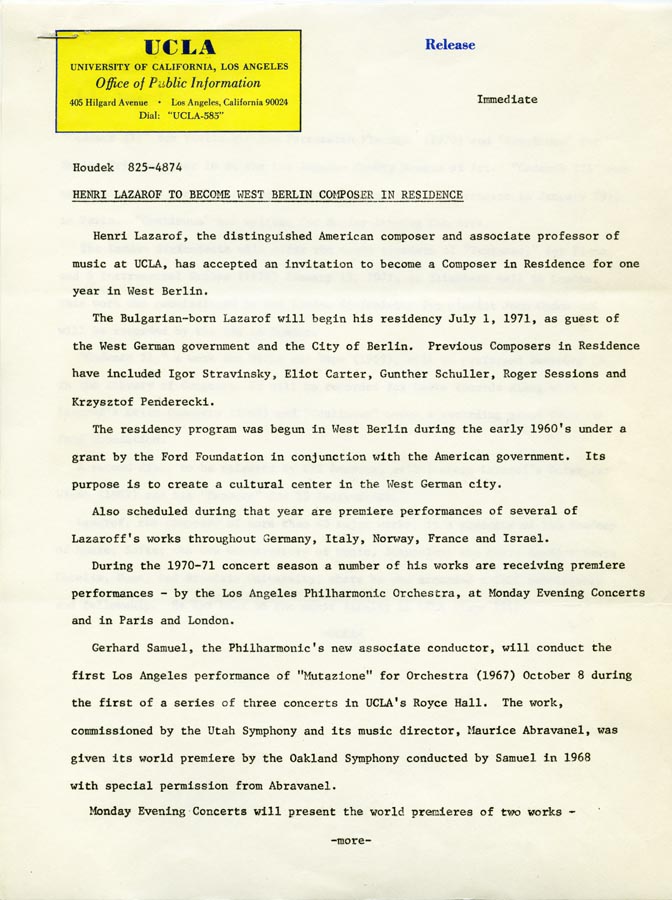 Press Release re: West Berlin Composer-in-Residence
1971
Transcript

UCLA
University of California, Los Angeles
Office of Public Information
405 Hilgard Avenue
Los Angeles, California 30024
Dial: "UCLA-585"

Release Immediate Houdek 825-4874

Henri Lazarof to become West Berlin Composer in Residence

Henri Lazarof, the distinguished American composer and associate professor of music at UCLA, has accepted an invitation to become a Composer in Residence for one year in West Berlin.

The Bulgarian-born Lazarof will begin his residency July 1, 1971, as guest of the West German government and the City of Berlin. Previous Composers in Residence have included Igor Stravinsky, Eliot Carter, Gunther Schuller, Roger Sessions and Krzysztof Pederecki.

The residency program was begun in West Berlin during the early 1960's under a grant by the Ford Foundation in conjunction with the American government. Its purpose is to create a cultural center in the West German city.

Also scheduled during that year are premiere performances of several of Lazarof's works throughout Germany, Italy, Norway, France and Israel.

During the 1970-71 concert season a number of his works are receiving premiere performances -- by the Los Angeles Philharmonic Orchestra, at Monday Evening Concerts and in Paris and London.

Gerhard Samuel, the Philharmonic's new associate conductor, will conduct the first Los Angeles performance of "Mutazione" for Orchestra (1967) October 8 during the first of a series of three concerts in UCLA's Royce Hall. The work, commissioned by the Utah Symphony and its music director, Maurice Abravanel, was given its world premiere by the Oakland Symphony conducted by Samuel in 1968 with special permission from Abravanel.

Monday Evening Concerts will present the world premieres of two works --

-more-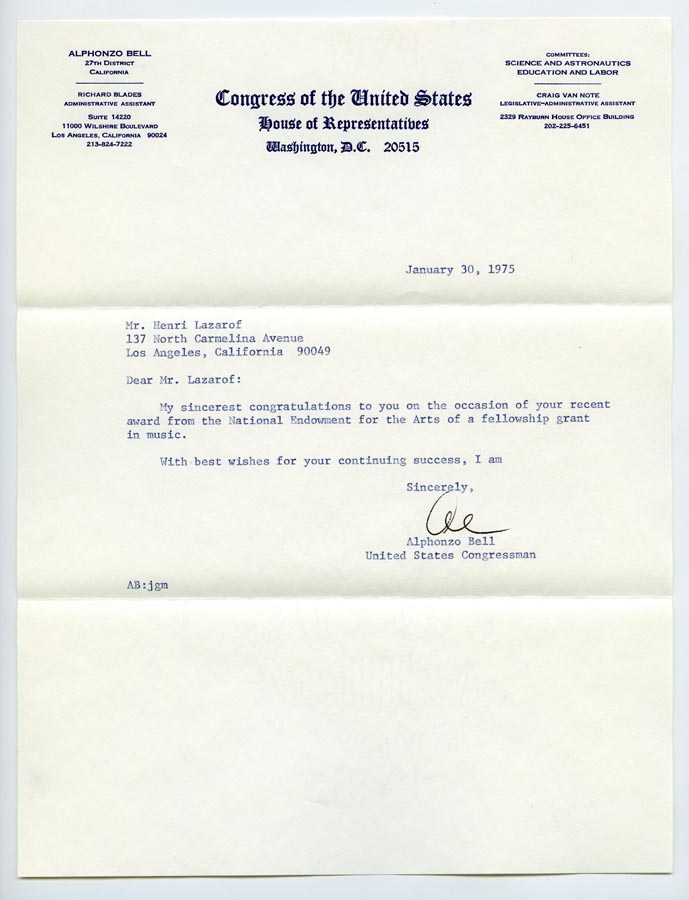 Letter re: National Endowment for the Arts fellowship award
January 30, 1975; This is the second of two NEH fellowship grants Lazarof received (the second one was in 1979)
Transcript

[Letterhead left] Alphonzo Bell
27th District
California
---
Richard Blades
Administrative Assistant
Suite 14220
11000 Wilshire Boulevard
Los Angeles, California 90024
213-824-7222

[Letterhead center]
Congress of the United States
House of Representatives
Washington, D.C. 20515

[Letterhead right]
Committees:
Science and Astronautics
Education and Labor
---
Craig Van Note
Legislative-Administrative Assistant
2329 Rayburn House Office Building
202-223-6451

[Typed] January 20, 1975

Mr. Henri Lazarof
137 North Carmelina Avenue
Los Angeles, California 90049

Dear Mr. Lazarof:

My sincerest congratulations to you on the occasion of your recent award from the international Endowment for the Arts of a fellowship grant in music.

With best wishes for your continuing success, I am

Sincerely,
[signature]
Alphonzo Bell
United States Congressman

AB: jgn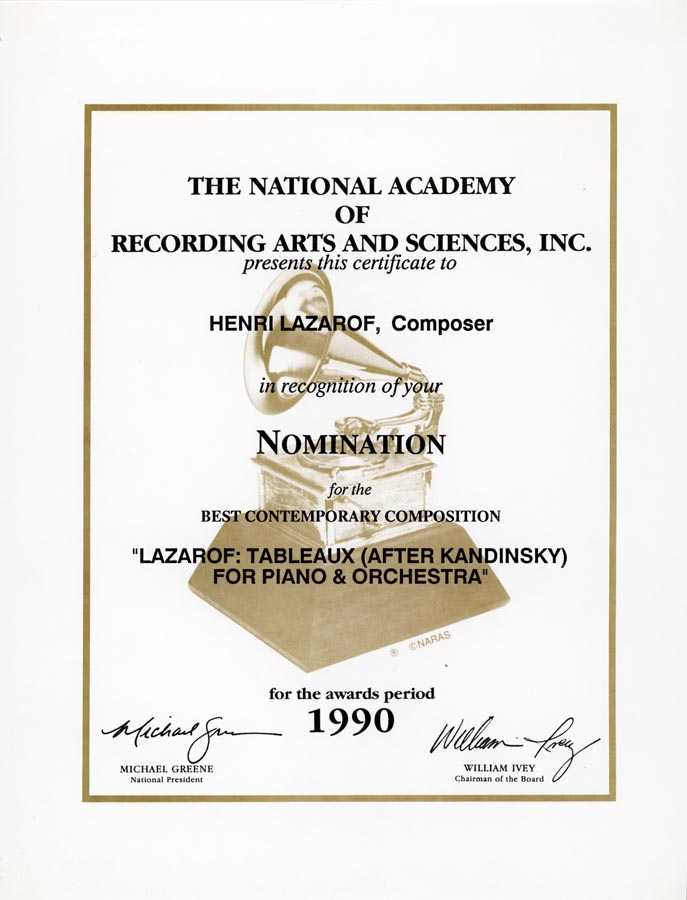 Grammy nomination for
"Tableaux (After Kandinsky) for Piano & Orchestra"
1990
Transcript

The National Academy of Recording Arts and Sciences, Inc.

Presents this certificate to

Henri Lazarof, Composer

in recognition of your Nomination for the Best Contemporary Composition
"Lazarof: Tableaux (After Kandinsky) For Piano & Orchestra"
for the awards period 1990

[signature]
Michael Greene
National President

[signature]
William Ivey
Chairman of the Board

©NARAS
Contemporary Music Festival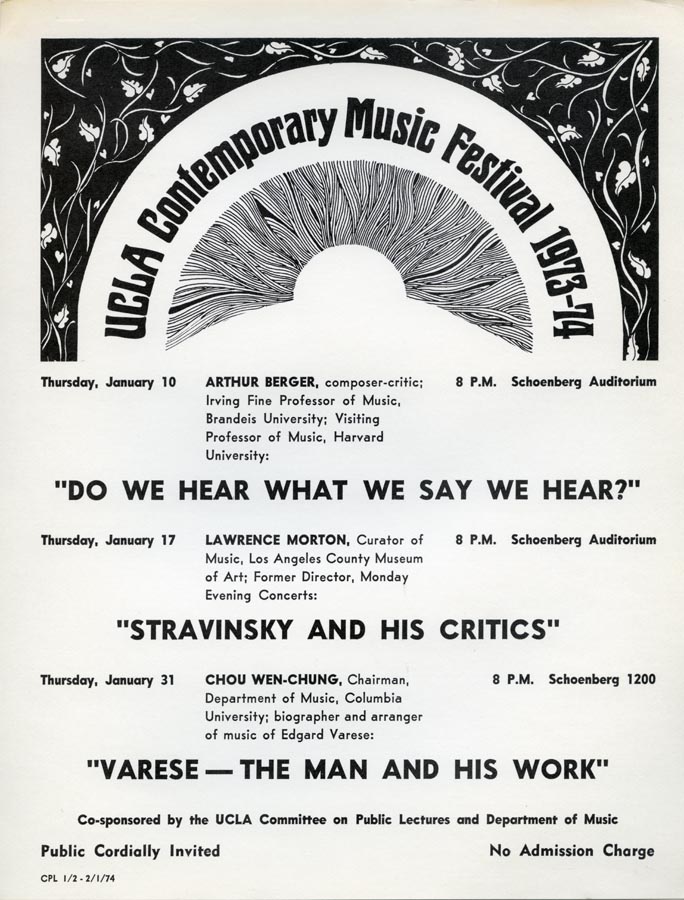 Flyer for UCLA Contemporary Music Festival, 1973‑74
Transcript

UCLA Contemporary Music Festival 1973‑74

Thursday, January 10
Arthur Berger, composer-critic;
Irving Fine Professor of Music, Brandeis University;
Visiting Professor of Music, Harvard University:

8 P.M. Schoenberg Auditorium

"Do we Hear What we Say we Hear?"

Thursday, January 17
Lawrence Morton, Curator of
Music, Los Angeles County Museum
of Art; Former Director, Monday
Evening Concerts:

8 P.M. Schoenberg Auditorium

"Stravinsky and his Critics"

Thursday, January 31
Chou Wen-Chung, Chairman,
Department of Music, Columbia University;
biographer and arranger of music of Edgard Varese:

8 P.M. Schoenberg Auditorium

"Varese -- The Man and his Work"

Co-sponsored by the UCLA Committee on Public Lectured and Department of Music

Public Cordially Invited No Admission Charge

CPL 1/2-2/1/74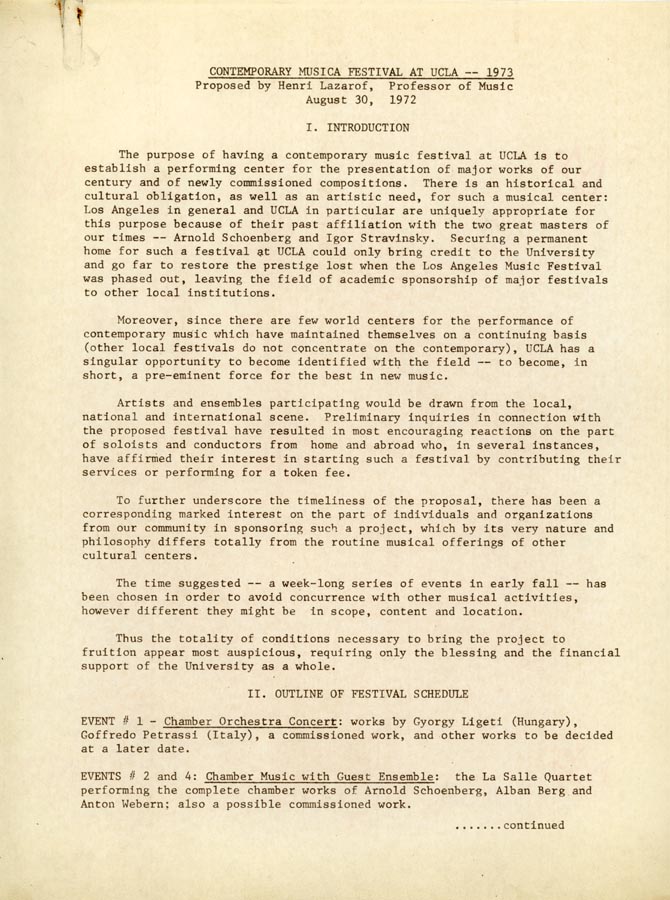 Lazarof's proposal for a music festival
Transcript

Contemporary Music Festival at UCLA -- 1973
Proposed by Henri Lazarof, Professor of Music
August 30, 1972

I. Introduction

The purpose of having a contemporary music festival at UCLA is to establish a performing center for the presentation of major works of our century and of newly commissioned compositions. There is an historical and cultural obligation, as well as an artistic need, for such a musical center: Los Angeles in general and UCLA in particular are uniquely appropriate for this purpose because of their past affiliation with the two greatest masters of our times -- Arnold Schoenberg and Igor Stravinsky. Securing a permanent home for such a festival at UCLA could only bring credit to the University and go far to restore the prestige lost when the Los Angeles Music Festival was phased out, leaving the field of academic sponsorship of major festivals to other local institutions.

Moreover, since there are few world centers for the performance of contemporary music which have maintained themselves on a continuing basis (other local festivals do not concentrate on the contemporary), UCLA has a singular opportunity to become identified with the field -- to become, in short, a pre-eminent force for the best in new music.

Artists and ensembles participating would be drawn from the local, national and international scene. Preliminary inquiries in connection with the proposed festival have resulted in most encouraging reactions on the part of soloists and conductors from home and abroad who, in several instances, have affirmed their interest in starting such a festival by contributing their services or performing for a token fee.

To further underscore the timeliness of the proposal, there has been a corresponding marked interest on the part of the individuals and organizations from our community in sponsoring such a project, which by its very nature and philosophy differs totally from the routine musical offerings of other cultural centers.

The time suggested -- a week-long series of events in early fall -- has been chosen in order to avoid concurrence with other musical activities, however different they might be in scope, content and location.

Thus the totality of conditions necessary to bring the project to fruition appear most auspicious, requiring only the blessing and the financial support of the University as a whole.

II. Outline of Festival Schedule

Event #1 - Chamber Orchestra Concert: works by Gyorgy Ligeti (Hungary), Goffredo Petrassi (Italy), a commissioned work, and other works to be decided at a later date.

Events #2 and 4: Chamber Music with Guest Ensemble: the La Salle Quartet performing the complete chamber works of Arnold Schoenberg, Alban Berg, and Anton Webern; also a possible commissioned work.

… continued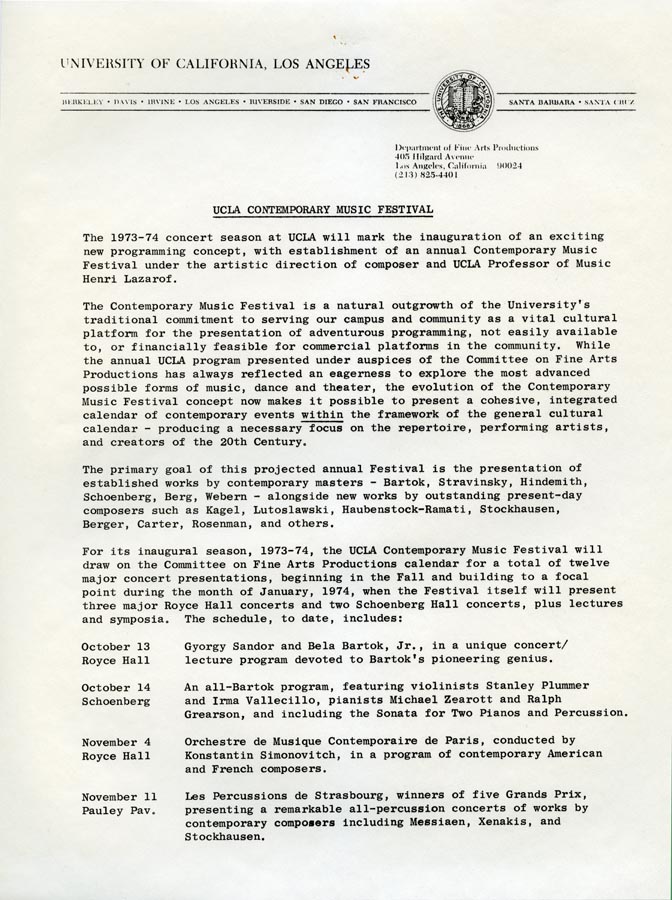 Contemporary Music Festival press release
Transcript

University of California, Los Angeles
Berkely - Davis - Irvine - Los Angeles - Riverside - San Diego - San Francisco [seal] Santa Barbara - Santa Cruz

[seal] The University of California
1868
Let There Be Light

UCLA Contemporary Music Festival

The 1973-71 concert season at UCLA will mark the inauguration of an exciting new programming concept, with establishment of an annual Contemporary Music Festival under the artistic direction of composer and UCLA Professor of Music Henri Lazarof.

The Contemporary Music Festival is a natural outgrowth of the University's traditional commitment to serving our campus and community as a vital cultural platform for the presentation of adventurous programing, not easily available to, or financially feasible for commercial platforms in the community. While the annual UCLA program presented under auspices of the Committee on Fine Arts Productions has always reflected an eagerness to explore the most advanced possible forms of music, dance, and theater, the evolution of the Contemporary Music Festival concept now makes it possible to present a cohesive, integrated calender of contemporary events within the framework of the general cultural calendar -- producing a necessary focus on the repertoire, performing artists, and realtors of the 20th Century.

The primary goal of this projected annual Festival is the presentation of established works by contemporary masters -- Bartok, Stravinsky, Hindemith, Schoenberg, Berg, Webern -- alongside new world by outstanding present-day composers such as Kagel, Lutoslawski, Haubenstock-Ramati, Stockhausen, Berger, Carter, Rosenman, and others.

For its inaugural season, 1973-74, the UCLA Contemporary Music Festival will draw on the Committee on Fine Arts Productions calendar for a total of twelve major concert presentations, beginning in the Fall and building to a focal point during the month of January, 1974, when the Festival itself will present three major Royce Hall concerts and two Schoenberg Hall concerts, plus lectures and symposia. The schedule, to date, includes:

| | |
| --- | --- |
| October 13, Royce Hall: | Gyorgy Sandor and Bela Bartok, Jr., in a unique concert/ lecture program devoted to Bartok's pioneering genius. |
| October 14, Schoenberg: | An all-Bartok program, featuring violinists Stanley Plummer and Irma Vallecillo, pianists Michael Zearott and Ralph Grearson, and including the Sonata for Two Pianos and Percussion. |
| November 4, Royce Hall: | Orchestre de Musique Contemporaire de Paris, conducted by Konstantin Simonovitch, in a program of contemporary American and French composers. |
| November 11, Pauley Pav.: | Les Percussions de Strasbourg, winners of five Grands Prix, presenting a remarkable all-percussion concerts of works by contemporary composers including Messianen, Xenakis, and Stockhausen. |
Images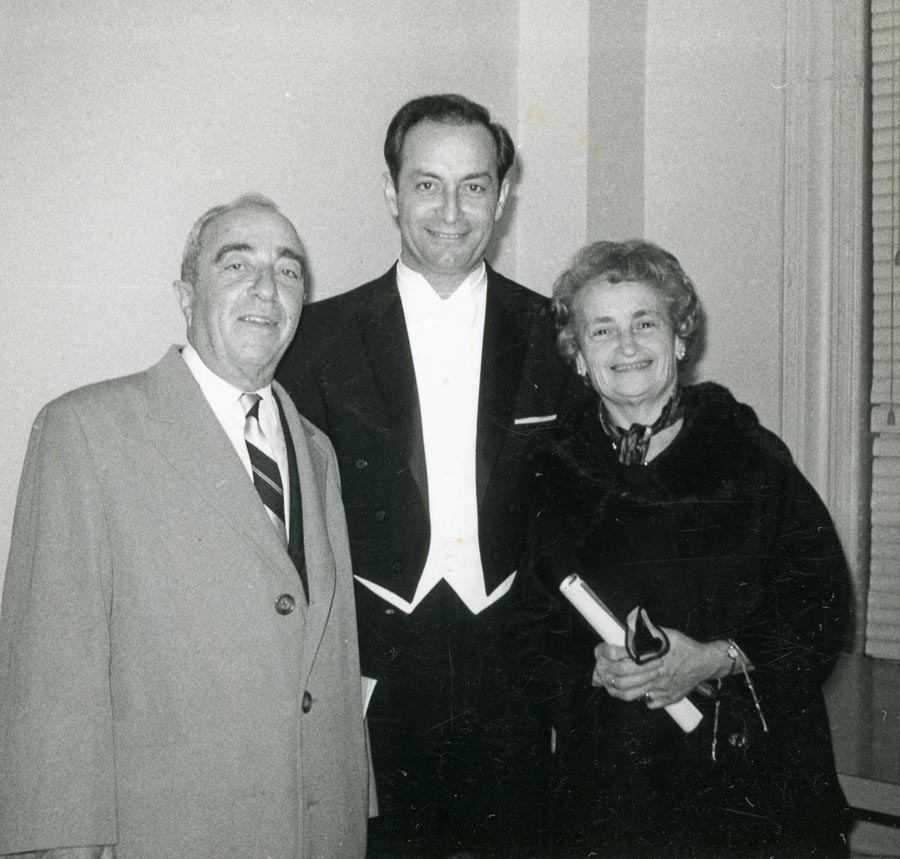 Lazarof with parents at Carnegie Hall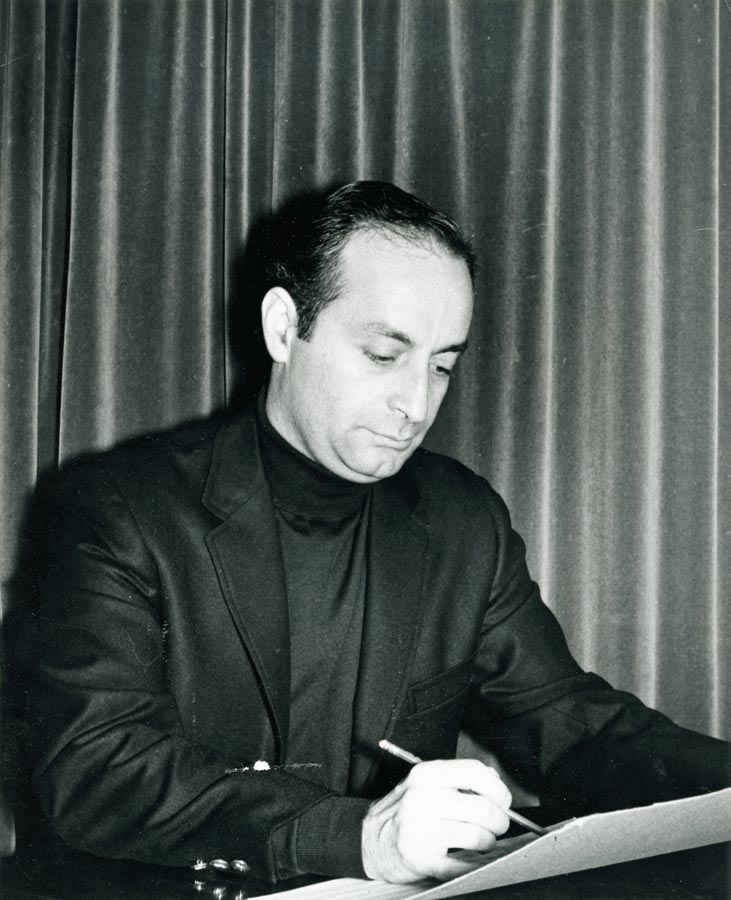 Lazarof composing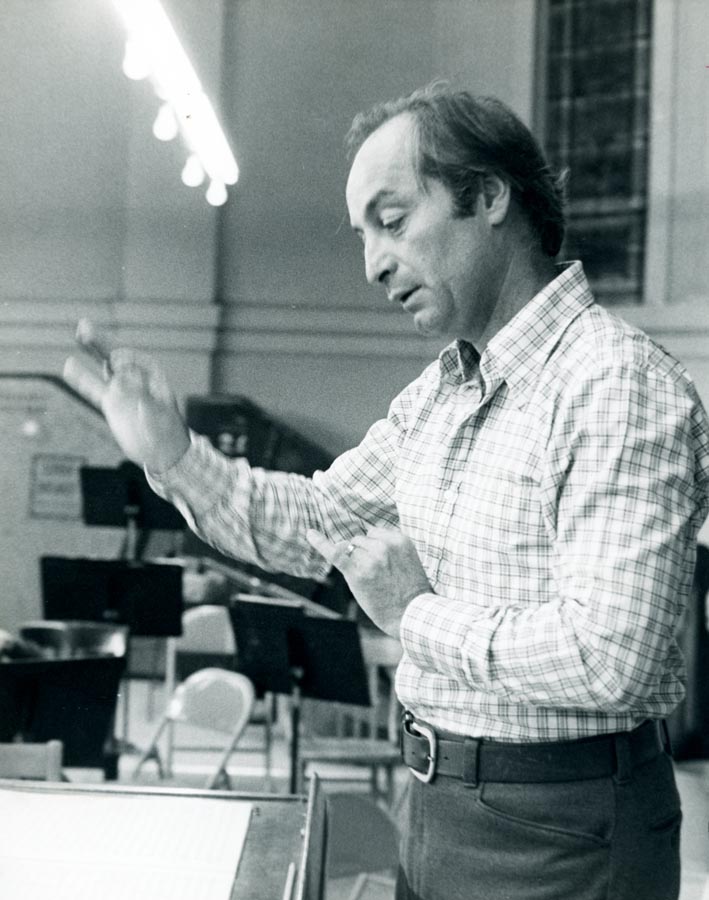 Lazarof conducting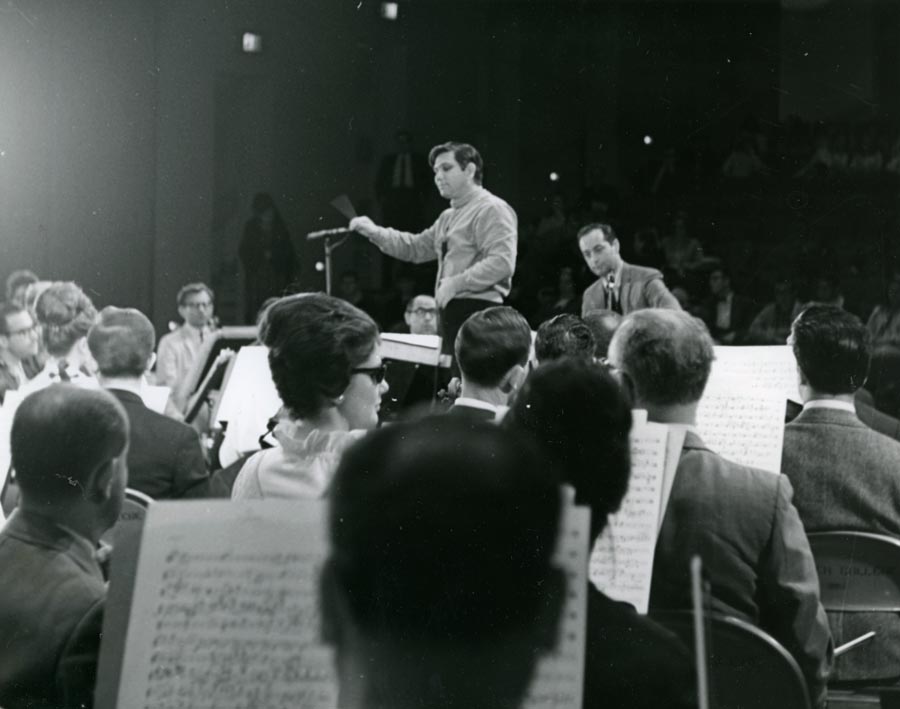 Lazarof observing orchestra practice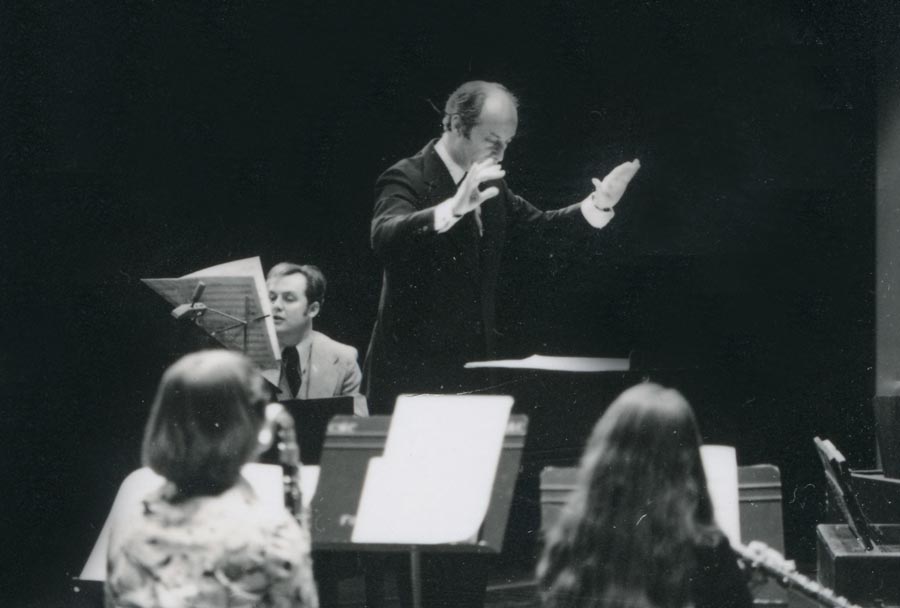 Lazarof conducting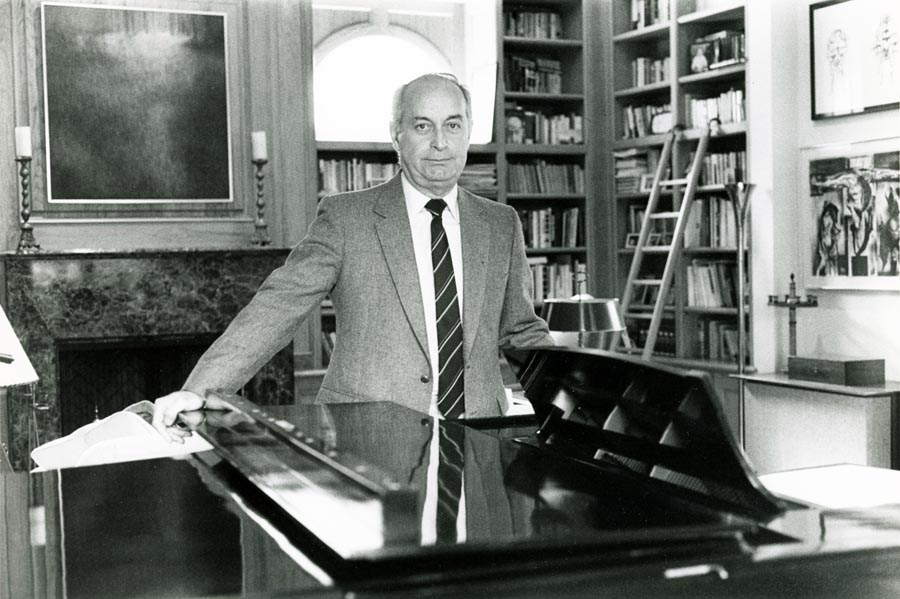 Lazarof in his studio
Programs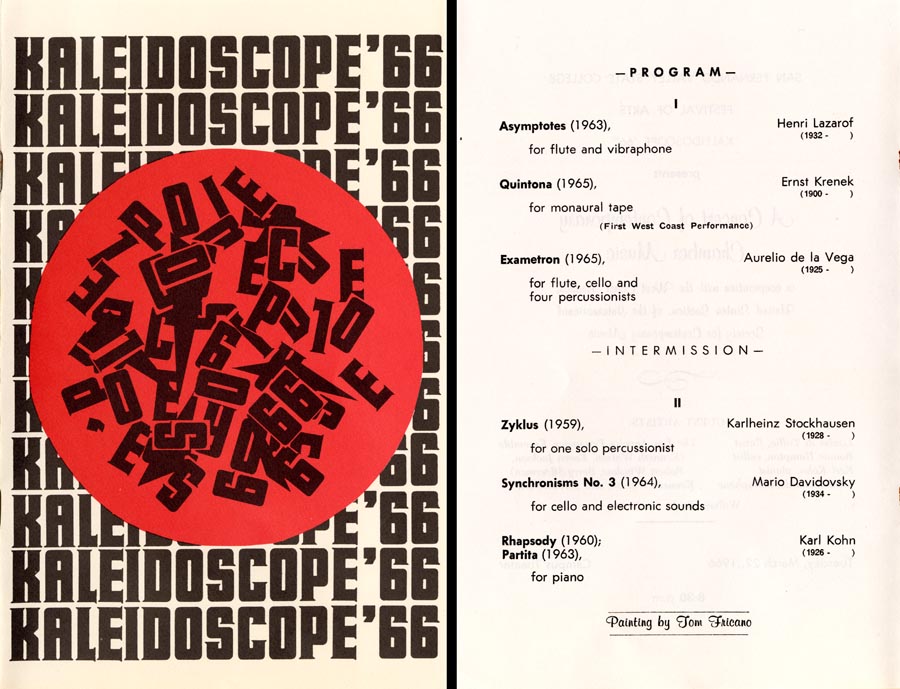 Kaleidoscope
1966, Featuring Lazarof's Asymptotes
Transcript

[Left side]

Kaleidoscope '66

(repeated 10 times)

[Right side]

Program

s

I

Henri Lazarof (1932- )
Asymptotes (1963),
for flute and vibraphone

Ernst Krenek (1900- ) Quintona (1965),
for monaural tape
(First West Coast Performance)

Aurelio de la Vega (1925- ) Exametron (1965),
for flute, cello and
four percussionists

Intermission

II

Karlheinz Stockhausen (1928- )
Zyklus (1959),
for one solo percussionist

Mario Davidovsky (1934- )
Synchronisms No. 3 (1964),
for cello and electronic sounds

Karl Kohn (1926- )
Rhapsody (1960);
Partita (1963)
for Piano

Painting by Tom Fricano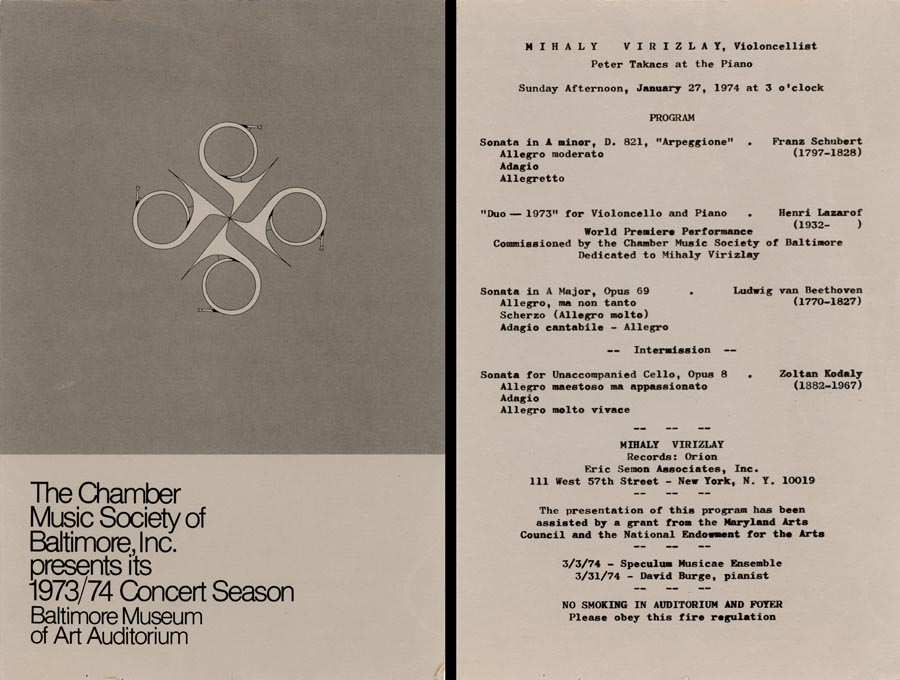 Chamber Music Society of Baltimore
1973-74, Featuring Lazarof's Duo--1973 for Violoncello and Piano
Transcript

The Chamber Music Society of Baltimore, Inc. presents its 1973/74 Concert Season [Left side]

Baltimore Museum of Art Auditorium

Mihaly Virizlay, Violoncellist

Peter Takacs at the Piano

Sunday Afternoon, January 27, 1974 at 3 o'clock

Program

Franz Schubert (1797-1828)
Sonata in A minor, D. 821, "Arpeggione"

Allegro moderato
Adagio
Allegretto

Henri Lazarof (1932- ) "Duo -- 1973" for Violoncello and Piano

World Premiere Performance
Commissioned by the Chamber Music Society of Baltimore
Dedicated to Mihaly Virizlay

Ludwig van Beethoven (1770-1827)
Sonata in A Major, Opus 69

Allegro, ma non tanto
Scherzo (allegro molto)
Adagio cantabile - Allegro

-- Intermission --

Zoltan Kodaly (1882-1967)
Sonata for Unaccompanied Cello, Opus 8

Allegro maestoso ma appassionato
Adagio
Allegro molto vivace

Mihaly Virizlay
Records: Orion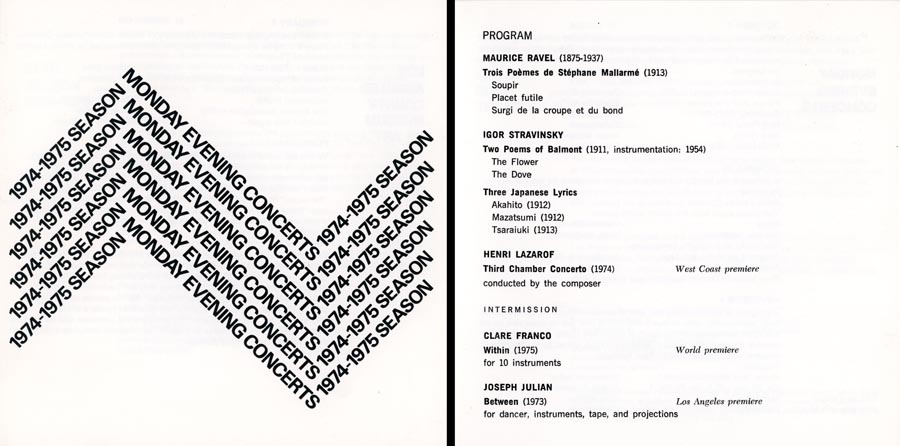 Monday Evening Concerts
1974-75, Featuring Lazarof's Third Chamber Concerto
Transcript

1974-1975 Season Monday Evening Concerts 1974-1975 Season [Left side, repeated 5 times]

Program [Right side]

Maurice Ravel (1875-1937)

Trois Poèmes de Stéphane Mallarmé (1913)
Soupir
Placet futile
Surgi de la croupe et du bond

Igor Stravinsky

Two Poems of Balmont (1911, instrumentation: 1954)
The Flower
The Dove
Three Japanese Lyrics
Akahito (1912)
Mazatsumi (1912)
Tsaraiuki (1913)

Henri Lazarof

Third Chamber Concerto (1974)
Conducted by the composer. West Coast Premiere

Intermission

Clare Franco

Within (1975)
for 10 instruments. World Premiere

Joseph Julian

Between (1973)
for dancer, instruments, tape, and projections. Los Angeles Premiere
Posters
Bach, Lazarof, Beethoven
Transcript

Milton Thomas, violist
& Laurence Lesser, cellist
in an evening of music by
Johann Sebastian Bach
Henri Lazarof &
Ludwig van Beethoven

College Library Rotunda,
Powell Library Building, UCLA
Saturday, May 23, 1970 8:30 pm
Tickets are free on request at the Reference Desk of the College Library
UCLA Dance Company:
Music and Dance for 29,000 Square Feet"
Transcript

UCLA Department of Dance in cooperation with the Committee on Fine Arts Productions Presents
UCLA Dance Company
Premiere of a Remarkable New Work.

Henri Lazarof, Composer. Carol Scothorn, Choreographer

"Music and Dance for 29,000 Square Feet"

With the Roger Wagner Chorale, Directed by Roger Wagner, the UCLA A Cappella Choir, the UCLA Brass Quintet, Thomas Harmon, University Organist, Milton Thomas, Violist

Friday and Saturday, May 20 & 21, 8:30 P.M., Pauley Pavilion, UCLA

S. 4.00, 3.00, 2.50 Student Rush, UCLA Central Ticket Office, 650 Westwood Plaza (825-2953);

Mutual & Liberty Ticket Agencies, Master Charge & Bank Americard (825-7278)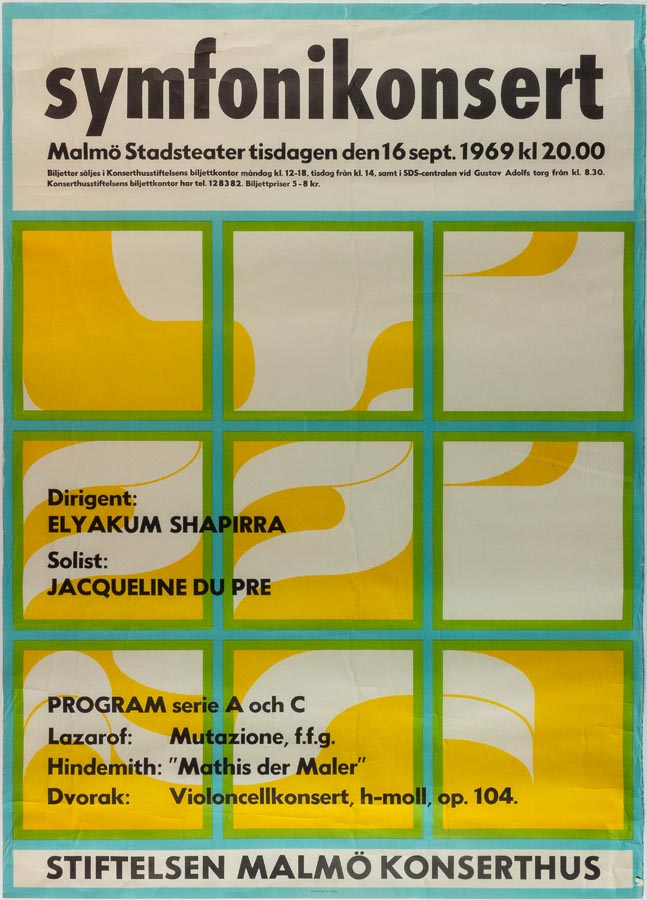 Symfonikonsert
September 16, 1969, Featuring Lazarof's Mutazione
Transcript

Symfonikonsert

Malmö Stadsteater tisdagen den 16 sept. 1969 kl 20.00

Biljetter säljes i Konserthusstiftelsens biljettkontor måndag kl. 12-18, tisdag från kl. 14, samt i SDS-centralen vid Gustav Adolfs torg från kl. 8:30.
Konserthusstiftelsens biljettkontor har tel. 128382. Biljettpriser 5-8 kr.

Dirigent: Elyakum Shapirra
Soloist: Jacqueline Du Pre

Program serie A och C Lazarof: Mutazione, f.f.g.
Hindemith: "Mathis der Maler"
Dvorak: Violoncellkonsert, h-moll, op. 104

Stiftelsen Malmö Konserthus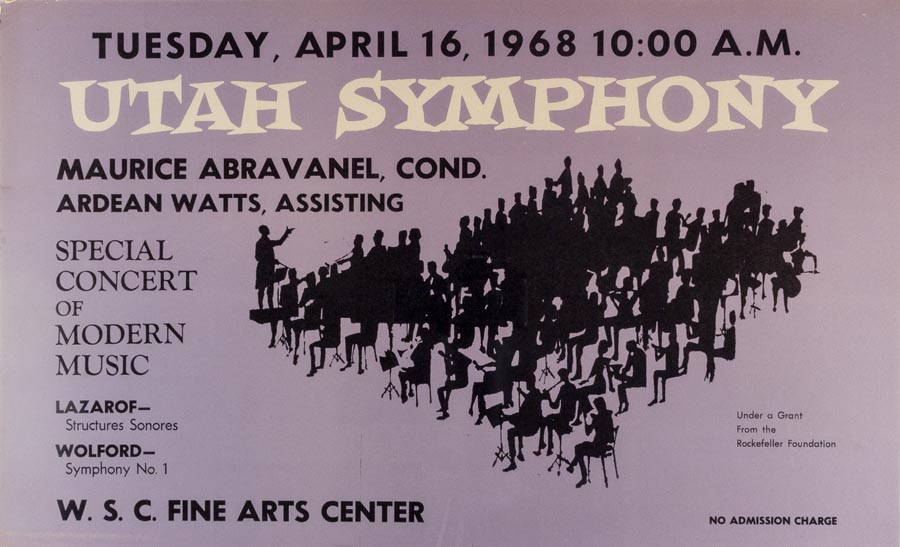 Utah Symphony: Special Concert of Modern Music
April 16, 1968, Featuring Lazarof's Structures Sonores
Transcript

Tuesday, April 16, 1968 10:00 A.M.

Utah Symphony

Maurice Abravanel, Cond.
Ardean Watts, Assisting
Special Concert of Modern Music

Lazarof -- Structured Sonores
Wolford -- Symphony No. 1

Under a grand from the Rockefeller Foundation
W.S.C. Fine Arts Center
No Admission Charge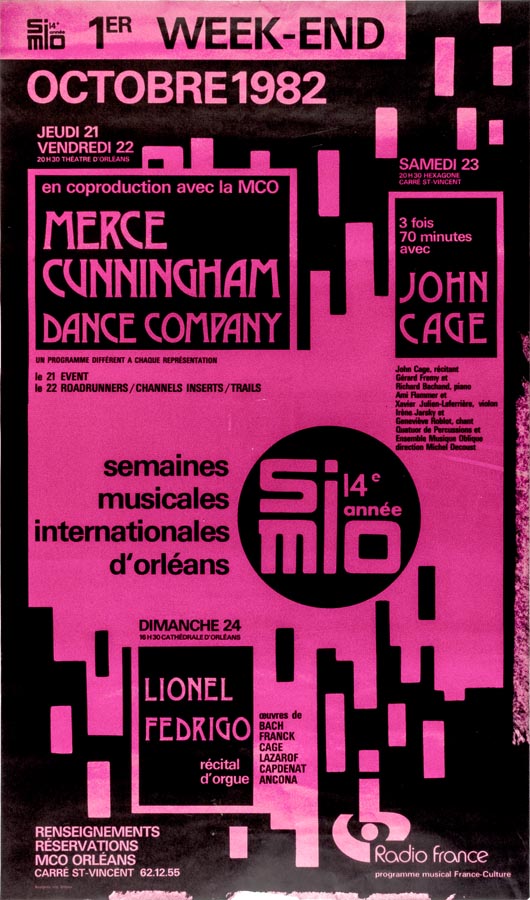 Semaines Musicales Internationales d'Orlèans
Transcript

Siu Mio 1er Week-End
Octobre 1982

Jeudi 21
Vendredi 22

20 H 30 Theatre Orleans
En coproduction avec la MCO
Merce Cunningham Dance Company
Un Programme Différent A Chaque Représentation

Le 21 Event
Le 22 Roadrunners/Channels Inserts/Trails

Samedi 23

20 H 30 Hexagone
Carre St. Vincent
3 fois 70 minutes avec John Cage
John Cage, recitant
Gerard [illegible] et Richard Bachand, Piano
Arni [illegible] et Xavier Julien-[illegible], violon
Irene Jersky et Genevieve [illegible]
[illegible]
Direction Michel Decoust

Semaines musicales internationales d'orléans

Si14 annee mio
Dimanche 24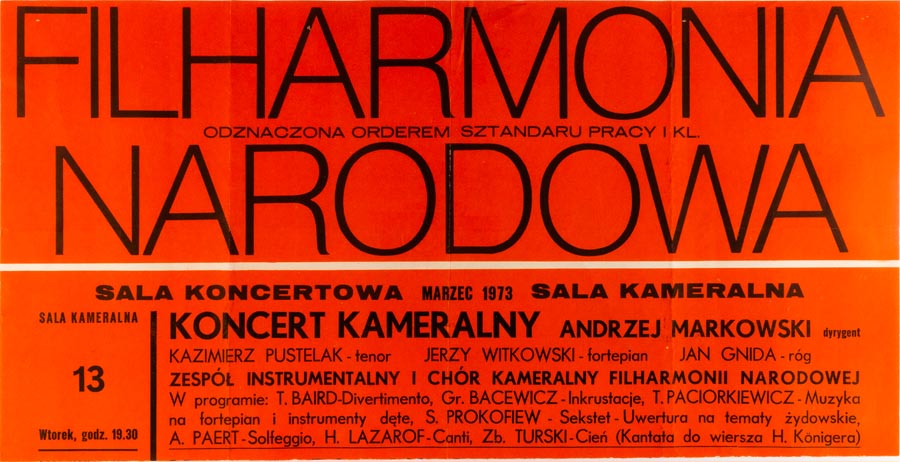 Filharmonia Narodowa
Featuring Lazarof's Canti
Transcript

Filharmonia Narodowa

Odznaczona orderem sztandaru pracy i kl

Sala Koncertowa Marzec 1973 Sala kameralna

Sala Kameralna
13 Wtorek, godz. 19.30

Koncert kameralny Andrzej Markowski dyrygent Kazimierz Pustelak - tenor Jerzy Witkowski - fortepian Jan Gnida - rog Zespół Instrumentalny Chór Kameralny Filharmonii Narodowej W programie: T. Baird-Divertimento, Gr. Bacewicz - Inkrustacje, T. Paciorkiewicz - Muzyka, na fortepian i instrumenty dęte, S. Prokofiew - Sekstet - Uwertura na tematy żydowskie, A. Paert - Solfeggio, H. Kazarof - Canti, Zb. Turski-Cień (Kantata do wiersza H. Konigera)