Legacy
↑
After a long and distinguished career, Henri Lazarof passed away in 2013. A prolific and internationally celebrated composer, conductor, pianist and educator, he leaves behind him an enduring body of work, and a profound legacy of artistry, invention, and inspiration. It is not a static legacy. The music he made lives on, as do the lives he touched with his compositions and enriched with his lessons. The Henri Lazarof Living Legacy at Brandeis University celebrates this and allows the work of Henri Lazarof to continue to teach and inspire for years to come.
Composer, Conductor, Musician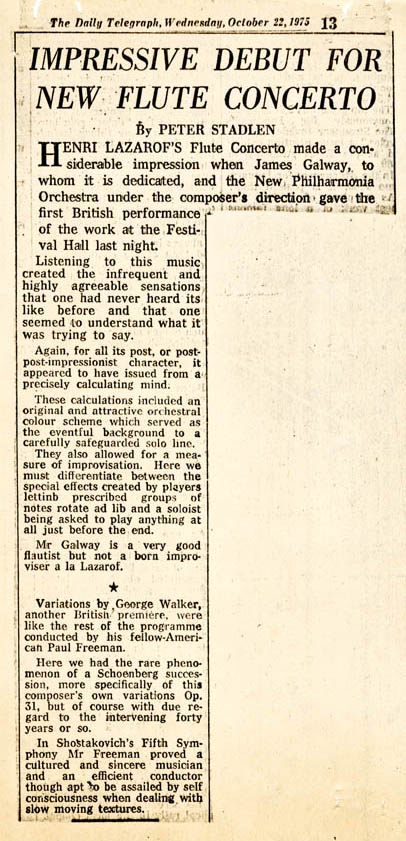 "Impressive Debut for New Flute Concerto"
by Peter Stadelen
The Daily Telegraph
October 22, 1975
Transcript

HENRI LAZAROF' Flute Concerto made a considerable impression when James Galway, to whom it is dedicated, and the New Philharmonia Orchestra under the composer' direction gave the first British performance of the work at the Festival Hall last night.

Listening to this music created the infrequent and highly agreeable sensations that one had never heard its like before and that one seemed to understand what it was trying to·say.

Again, for all its post, or post-post-impressionist character, it appeared to have issued from a precisely calculating mind.

These calculations included an original and attractive orchestral colour scheme which served as the eventful background to a carefully safeguarded solo line. They also allowed for a measure of improvisation. Here we must differentiate between the special effects created by players letting prescribed groups of notes rotate ad lib and a soloist being asked to play anything at all just before the end.

Mtr Galway is a very good flautist but not a born improviser a la Lazarof.

---

Variations by Goorge Walker, another British premiere, were like the rest of the programme conducted by his fellow-American Paul Freeman. Here we had the rare phenomenon of a Schoenberg succession, more specifically of this composer' own variations Op. 31, but of course with due regard to the intervening forty years or so.

In Shostakovich' Fifth Symphony Mr Freeman proved a cultured and sincere musician and an efficient conductor though apt to be assailed by self consciousness when dealing with slow, moving textures.

"Symphony Concert at U. Features Western Tone"
by Jim Fitzpatrick Tribune
The Salt Lake Tribune
April 11, 1965
Transcript

Bolded red text indicates places where Lazarof underlined the newsclipping text

The cause of contemporary music -- western style -- was advanced Saturday night at a concert in Kingsbury Hall by the Utah Symphony. It was the climax of a week of study and dissection of the music of this age by the University of Utah with the aid of a Rockefeller Foundation grant. Five composers, four of them from Utah, were represented by works in the concert and all were in attendance during the past weeks for the lectures, seminars and discussions which the grant entails.

Hall Nearly Full

The hall was nearly filled up despite the unpleasant weather and the listeners appeared to have very little difficulty following the five compositions as they were performed by the orchestra and Maurice Abravanel. The Utah composers generally tended towards a lyrical reworking of traditional orchestral methods, but each with his own particular voice.

The fifth composer, Henri Lazarof, currently with the University of Southern California, ranged further from the groves of academe, and did so with, I thought, taste, passion and delightful freshness.

Meticulous Score

His Odes for Orchestra (with a startling beginning for the solo violin and harp) was densely textured and meticulously scored.

It utilised the orchestra resources in the way which was signaled by Webern, but it had a more "symphonic" quality than is associated with the master.

It varied from shimmering incandescence to vigorous assertion with style, grace and wit.

Ballet Suite

A ballet suite, the Pearl, by Willian Fowler, University of Utah faculty member, was highly eclectic, owing much to Spanish and Italian folk sources, but still a composition of unusual imagination and competence. The composer himself played the guitar which the score demands and I thought the work very successful, though episodic (mostly, I presume, because of its nature as a suite for a ballet.)

Formally Defined

The work of Robert Cundick, of Brigham Young University, was also a suite and was called "A Full House."

Its parts were formally defined, however, and two of the five sections were marked by an appealing lyricism which I am coming to associate with composers who are native Utahns. These were the second and fourth movements. The Crawford Gates Symphony Np. 3 was the most ambitious and the most severe of the works on the program but it also contained passages of extraordinary tenderness and beauty.

Festival Prelude

The program was initiated with a Festival Prelude by Laurence Lon, also from the university faculty. It was unabashedly theatrical and might have been written as an overture to an up-to-date musical a la Leonard Bernstein. It was interesting, however, and showed promise.

Reid Nibley, I neglected to mention, played the solo piano part in Mr. Cundick's composition. He did it with warmth and sympathy which illuminated the work.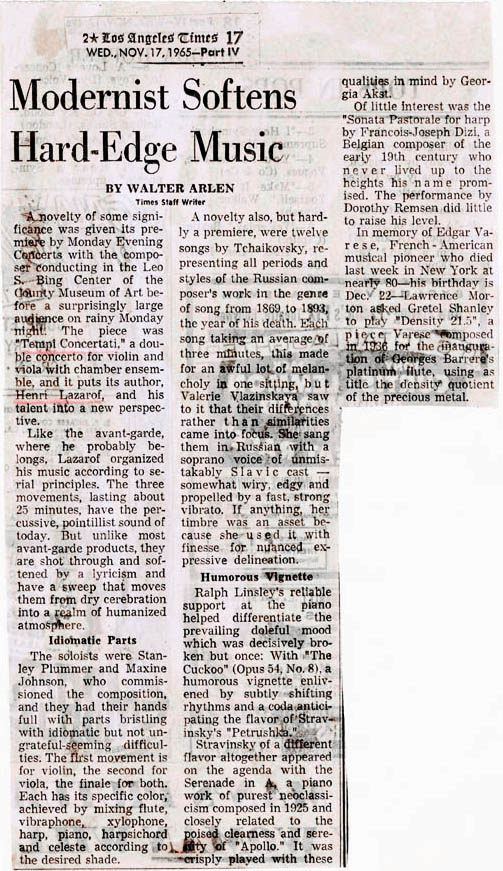 "Modernist Softens Hard-Edge Music"
by Walter Arlen
Los Angeles Times
November 17, 1965
Transcript

Bolded red text indicates places where Lazarof underlined the newsclipping text

2*Los Angeles Times 17 Wed., Nov. 17, 1965 -- Part IV

A novelty of some significance was given its premiere by Monday Evening Concerts with the composer conducting in the Leo S. Bing Center of the County Museum of Art before a surprisingly large audience on rainy Monday night. The piece was "Tempi Concertati," a double concerto for violin and viola with chamber ensemble, and it puts its author, Henri Lazarof, and his talent into a new perspective.

Like the avant-garde, where he probably belongs, Lazarof organized his music according to serial principles. The three movements, lasting about 25 minutes, have the percussive, pointillist sound of today. But unlike most avant-garde products, they are shot through and softened by a lyricism and have a sweep that moves them from dry celebration into a realm of humanized atmosphere.

Idiomatic Parts

The soloists were Stanley Plummer and Maxine Johnson, who commissioned the composition, and they had their hands full with parts bristling with idiomatic but not ungrateful-deeming difficulties. The first movement is for violin, the second for viola, the finale for both. Each has its specific color, achieved by mixing flute, vibraphone, xylophone, harp, piano, harpsichord and celeste according to the desired shade.

A novelty also, but hardly a premiere, were twelve songs by Tchaikovsky, representing all periods and styles of the Russian composer's work in the genre of song from 1869 to 1893, the year of his death. Each song taking an average of three minutes, this made for an awful lot of melancholy in one sitting, but Valerie Vlazinskaya saw to it that their differences rather than similarities came into focus. She sang them in Russian with a soprano voice of unmistakably Slavic cast -- somewhat wiry, edgy and propelled by a fast, strong vibrato. If anything, her timbre was an asset because she used it with finesse for nuanced expressive delineation.

Humorous Vignette

Ralph Linsley's reliable support at the piano helped differentiate the prevailing doleful mood which was decisively broken but once: With "The Cuckoo" (Opus 54, No.8), a humorous vignette enlivened by subtly shifting rhythms and a coda anticipating the flavor of Stravinsky's "Petrushka."

Stravinsky of a different flavor altogether appeared on the agenda with the Serenade in A, a piano work of purest neoclassicism composed in 1925 and closely related to the poised clearness and serenity of "Apollo." It was crisply played with these qualities in mind by Georgia Akst. Of little interest was the "Sonata Pastorale for harp by Francois-Joseph Dizi, a Belgian composer of the early 19th century who never lived up to the heights his name promised. THe performance by Dorothy Remsen did little to raise his level.

In memory of Edgar Varese, French-AMerican musical pioneer who died last week in New York at nearly 80 -- his birthday is Dec. 22 -- Lawrence Morton asked Gretel Shanley to play "Density 21.5", a piece Varese composed in 1936 for the inauguration of Georges Barrere's platinum flute, using as title the density quotient of the precious metal.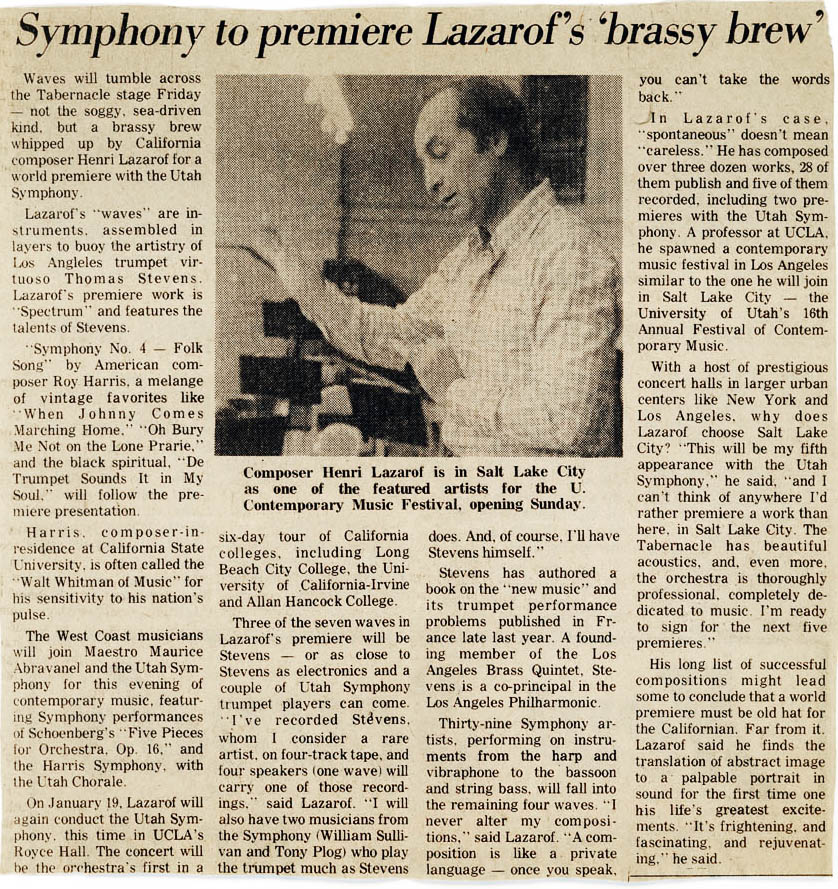 "Symphony to Premiere Lazarof's 'Brassy Brew'"
source unknown
Transcript

Waves will tumble across the Tabernacle stage Friday -- not the soggy, sea-driven kind, but a brassy brew whipped up by California composer Henri Lazarof for a world premiere with the Utah Symphony.

Lazarof's "waves" are instruments, assembled in layers to buoy the artistry of the Los Angeles trumpet virtuoso Thomas Stevens. Lazarof's premiere work is "Spectrum" and features the talents of Stevens.

"Symphony No. 4 -- Folk Song" by American composer Roy Harris, a melange of vintage favorites like "When Johnny Comes Marching Home," "Oh Bury Me Not on the Lone Prairie," and the black spiritual, "De Trumpet Sounds It in My Soul," will follow the premiere presentation.

Harris, composer-in-residence at California State University, is often called "the Walt Whitman of Music" for his sensitivity to his nation's pulse.

The West Coast musicians will join Maestro Maurice Abravanel and the Utah Symphony for this evening of contemporary music, featuring Symphony performances of Schoenberg's "Five Pieces for Orchestra, Op. 16," and the Harris Symphony, with the Utah Chorale.

On January 19th, Lazarof will again conduct the Utah Symphony, this time in UCLA's Royce Hall. The concert will be the orchestra's first in a six-day tour of California colleges, including Long Beach City College, the University of California-Irvine and Allan Hancock College. Three of the seven waves in Lazarof's premiere will be Stevens -- or as close to Stevens as electronics and a couple of Utah Symphony trumpet players can come.

"I've recorded Stevens, whom I consider a rare artist, on a four-track tape, and four speakers (one wave) will carry one of those recordings," said Lazarof. "I will also have two musicians from the Symphony (William Sullivan and Tony Plog) who play the trumpet much as Stevens does. And, of course, I'll have Stevens himself."

Stevens has authored a book on the "new music" and its trumpet performance problems published in France late last year, A founding member of the Los Angeles Brass Quintet, Stevens is a co-principal in the Los Angeles Philharmonic.

Thirty-nine Symphony artists, performing on instruments from the hard and vibraphone to the bassoon and string bass, will fall into the remaining four waves. "I never alter my compositions," said Lazarof. "A composition is like a private language -- once you speak, you can't take the words back."

In Lazarof's case "spontaneous" doesn't mean "careless." He has composed over three dozen works, 28 of them published and five of them recorded, including two premieres with the Utah Symphony. A professor at UCLA, he spawned a contemporary music festival in Los Angeles similar to the one he will join in Salt Lake CIty -- the University of Utah's 16th Annual Festival of Contemporary Music.

With a host of prestigious concert halls in larger urban centers like New York and Los Angeles, why does Lazarof choose Salt Lake City? "This will be my fifth appearance with the Utah Symphony," he said, and I can't think of anywhere I'd rather premiere a work than here, in Salt Lake City. The Tabernacle has beautiful acoustics, and, even more, the orchestra is thoroughly professional, completely dedicated to music. I'm ready to sign for the next five premieres."

His long list of successful compositions might lead some to conclude that a world premiere must be old hat for the Californian. Far from it. Lazarof said he finds the translation of abstract image to palpable portrait in sound for the first time one of his life's greatest excitements. "It's frightening, and fascinating, and rejuvenating," he said.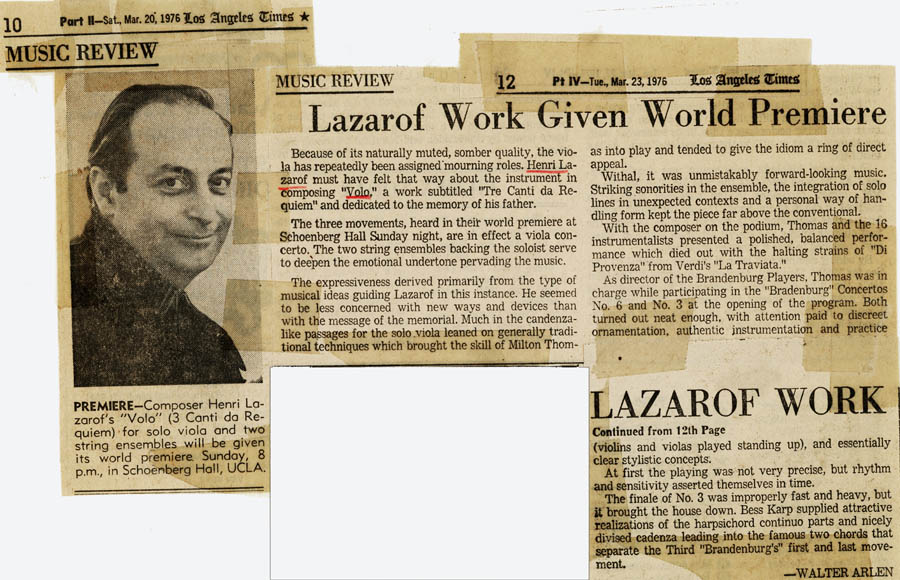 "Lazarof Work Given World Premiere"
Music Review
Los Angeles Times
March 23, 1976
Transcript

Because of its naturally muted, somber quality, the viola has repeatedly been assigned mourning roles. Henri Lazarof must have felt that way about the instrument in composing "Volo," a work subtitled "Tre Canti da Requiem" and dedicated to the memory of his father.

The three movements, heard in their world premiere at Schoenberg Hall Sunday night, are in effect a viola concerto. The two string ensembles backing the soloist serve to deepen the emotional undertone pervading the music.

The expressiveness derived primarily from the type of musical ideas guiding Lazarof in this instance. He seemed to be less concerned with new ways and devices than with the message of the memorial. Much in the candenza-like passages for the solo viola leaned on generally traditional techniques which brought the skill of Milton Thomas into play and tended to give the idiom a ring of direct appeal.

Withal, it was unmistakably forward-looking music. Striking sonorities in the ensemble, the integration of solo lines in unexpected contexts and a personal way of handling form kept the piece far above the conventional.

With the composer on the podium, Thomas and the 16 instrumentalists presented a polished, balanced performance which died out with the halting strains of "Di Provenza" from Verdi's "La Traviata."

As director of the Brandenberg Players, Thomas was in charge while participating in the "Brandenburg" Concertos No. 6 and No. 3 at the opening of the program. Both turned out neat enough, with attention paid to discreet ornamentation, authentic instrumentation and practice (violins and violas played standing up), and essentially clear stylistic concepts.

At first, the playing was not very precise, but rhythm and sensitivity asserted themselves in time.

The finale of No. 3 was improperly fast and heavy, but it brought the house down. Bess Karp supplied attractive realizations of the harpsichord continuo parts and nicely divised cadenza leading into the famous two chords that separate the Third "Brandenburg's" first and last movement.

-- Walter Arlen

Caption (left): PREMIERE -- Composer Henri Lazarof's "Volo" (3 Carti da Requiem) for solo viola and two string ensembles will be given its world premiere Sunday, 8pm, in Schoenberg Hall, UCLA.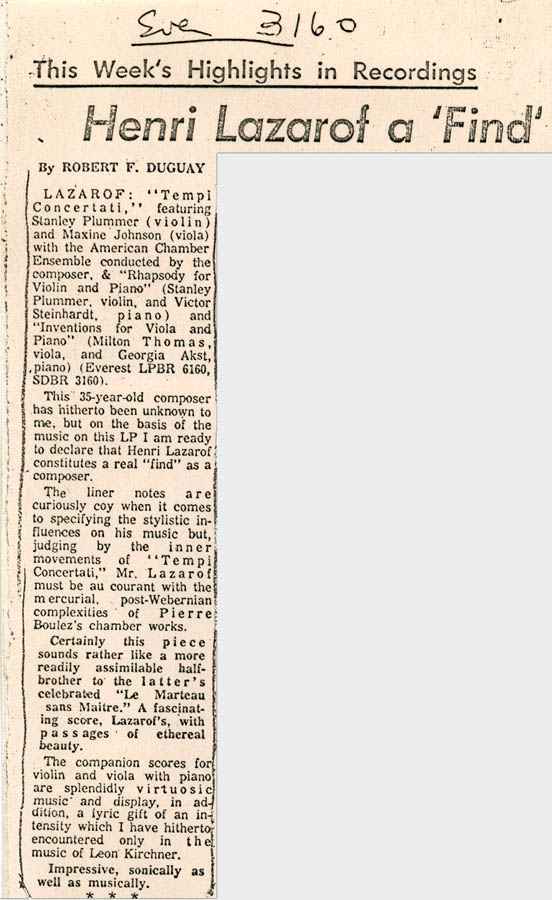 "Henri Lazarof: A 'Find'"
This Week' Highlights in Recordings
by Robert F. Duguay
Eve 3160 [Handwritten]
Transcript

Lazarof: "Tempi Concertati," featuring Stanley Plummer (violin) and Maxine Johnson (viola) with the American Chamber Ensemble conducted by the composer, & "Rhapsody for Violin and Piano" (Stanley Plummer, Violin, and Victor Steinhart, piano) and "Inventions for Viola and Piano" (Milton Thomas, viola, and Georgia Akst, piano) (Everest LBPR 6160, SDBR 3160)

This 35-year-old composer has hitherto been unknown to me, but on the basis of the music on this LP I am ready to declare that Henri Lazarof constitutes a real "find" as a composer.

The linear notes are curiously coy when it comes to specifying the stylistic influences on his music but, judging by the inner movements of "Tempi Concertati," Mr. Lazarof must be au courant with the mercurial, post-Webernian complexities of Pierre Boulez's chamber works.

Certainly this piece sounds rather like a more readily assimilable half-brother to the latter's celebrated "Le Marteau sans Maitre." A fascinating score, Lazarof's, with passages of ethereal beauty.

The companion scores for violin and viola with piano are splendidly virtuosic music and display, in addition, a lyric gift of an intensity which I have hitherto encountered only in the music of Leon Kirchner.

Impressive, sonically as well as musically.
Educator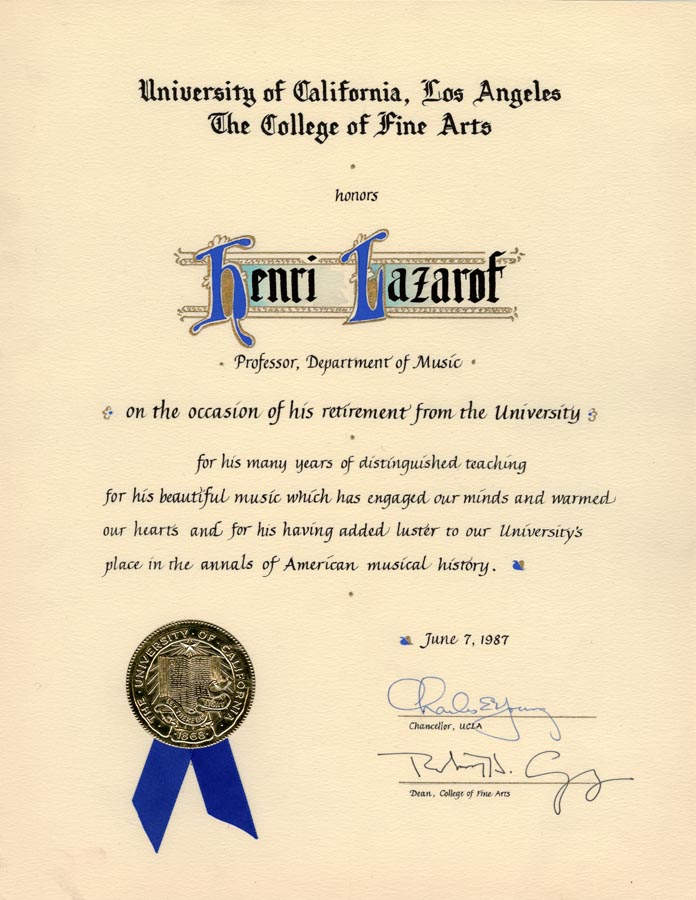 Certificate honoring Lazarof's service to UCLA
June 7, 1987
Transcript

University of California, Los Angeles The College of Fine Arts

Honors

Henri Lazarof

Professor, Department of Music

on the occasion of his retirement from the University for his many years of distinguished teaching for his beautiful music which has engaged our minds and warmed our hearts and for his having added luster to our University' place in the annals of American musical history.

June 7, 1987
[signed] Charles E. Young
Chancellor, UCLA

[Signature illegible]
Dean, College of Fine Arts

[Seal]
The University of California
1868

Let There Be Light
Living Legacy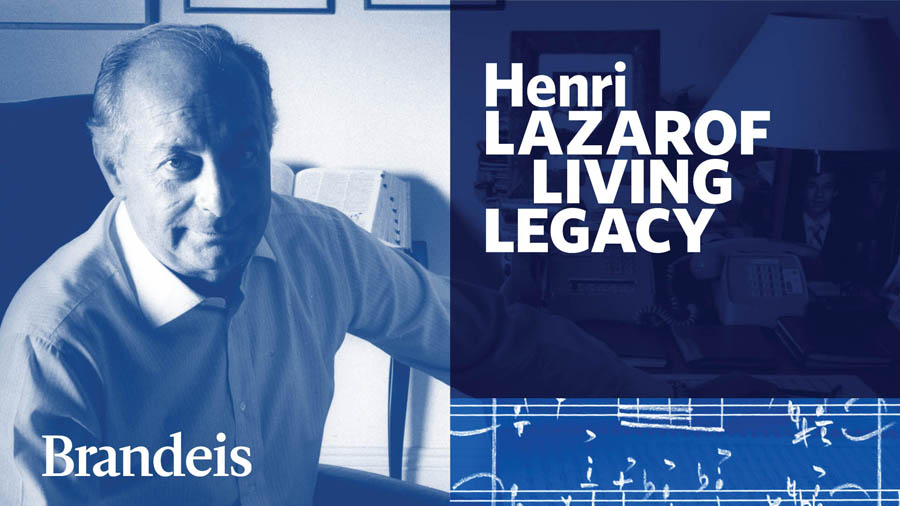 Established by a gift to the university, this multifaceted celebration of the life and impact of Henri Lazarof includes:
This wonderful and significant archival collection is held at Brandeis' Archives & Special Collections department. The collection is processed and open to researchers. More information on the Contact page.
Henri Lazarof: A Life in Music: This digital exhibit--which you have been exploring today--as well as an accompanying physical exhibit, each provide a little taste of the depth and breadth of materials to be found in the Lazarof archival collection.
Yair Klartag and Ioannis Angelakis were awarded respectively the inaugural and second HLIC prizes.
In addition to the commissioned work, each concert will feature music of Henri Lazarof and other composers with the same instrumentation.
This program will fund the residency of prominent new music performers to work with graduate student composers, giving these young composers the opportunity to have their works performed by outstanding musicians.
And additional orchestral concerts and recording projects!
Most recently, Brandeis faculty member Mark Berger hosted a special episode of Brandeis Concert Series REMIX on WBRS Brandeis radio that featured a tribute to Henri Lazarof as well as a showcase of inaugural commission prize winner Yair Klartag.
Transcript

[Music plays]

DEBORAH ROSENSTEIN
Hello and welcome to Brandeis Concert Series Remix on WBRS 100.1 FM, broadcasting to Brandeis University and beyond. It's Sunday March 14th 2021 and I'm Deborah Rosenstein, concert program manager with the Brandeis Department of Music. I'm thrilled to hand over today's show to Brandeis's Mark Berger who will present a tribute to the Henri Lazarof Living Legacy. Enjoy.

MARK BERGER
Welcome everyone to WBRS Brandeis Concert Series Remix. My name is Mark Berger and I'm the Lydian Quartet's violist and a member of the Brandeis music department faculty. This afternoon, I'm delighted to spend a couple of hours with you to introduce you to the Henri Lazarof Living Legacy here at Brandeis. The Henri Lazarof Living Legacy at Brandeis, established by a gift to the university to honor the music and memory of this great 20th century composer, who also happens to be a Brandeis alum, established a number of exciting new programs for Brandeis, including an annual concert, support for our composers, New Music Brandeis concert series, an international composition competition (more on that later) and the Henri Lazarof Archives, which is an absolute treasure trove of the composer's scores, musical sketches, unpublished works, correspondence, personal papers and nearly 400 audio visual items. In this first hour we'll explore the music of Henri Lazarof and make use of some of the concert recordings and interview footage from the archives. So let's get to know this composer. Here he is in an interview with Gene Pack for KUER, at the University of Utah back in 1965.

GENE PACK (RECORDED)
Mr Lazarof. Tell us about yourself. Where do you come from? Are you French?

HENRI LAZAROF (RECORDED)
No, uh, not by birth. I was born in Sofia Bulgaria, but I have lived in many countries including Paris and I had my education a French college.

GENE PACK (RECORDED)
Are you a graduate of the Conservatoire? Perhaps?

HENRI LAZAROF (RECORDED)
No, I graduated in the Music academy of Santa Cecilia in Rome, where I worked with Alfredo Petrossian, the advanced course of composition academy. But previous to that I stayed in Bulgaria, later on in the Music Academy of Jerusalem. Then at the Santiago Chile as I mentioned, and I also hold a degree from Brandeis University Masters of Fine Arts in Musical Composition.

GENE PACK (RECORDED)
I see. Then you you achieved a bachelor's degree in Rome?

HENRI LAZAROF (RECORDED)
Well, no, my bachelor's degree was in Bulgaria, but parallel to it, I had also my music education Music Academy, nothing to do with the so called regular high school. As you know, the educational system is quite different. Then I graduated from the Music Academy in Jerusalem, afterwards from the Music Academy in Rome. And the last step, my degree from Brandeis University.

GENE PACK (RECORDED)
Well, you originally came to the United States to study at Brandeis.

HENRI LAZAROF (RECORDED)
That's right. They were the ones to bring me into this country and I was taking a degree and also teaching involved, the french department and the music department.

GENE PACK (RECORDED)
And then after you graduated from Brandeis in '59?

HENRI LAZAROF (RECORDED)
I came to Los Angeles and I taught there until '62 in the French Department. And since 1962, I'm in the music department exclusively

GENE PACK (RECORDED)
Exclusively?

HENRI LAZAROF (RECORDED)
Yes.

GENE PACK (RECORDED)
Do you like that?

HENRI LAZAROF (RECORDED)
Oh, yes, music is my field, but I have done some work with several languages in writing articles, translations, criticism and so on.

MARK BERGER
A true polymath, Henri Lazarof was fluent in nine languages. He began his academic career not as a composer but in the french department and would go on to hold one of the most important teaching positions in an American university at UCLA, where his predecessors included no less than Arnold Schoenberg. He was an extremely prolific composer, having 126 of his works published during his lifetime. His catalog includes symphonies, concertos, string quartets, and many other works for orchestra, chamber orchestra, small ensembles, solo instruments and vocal works. One jewel that comes to us from the archives, is a live recording of his viola concerto, which was premiered in Turin Italy in 1963. This early work completed just a couple of years after his studies at Brandeis is currently unpublished in no commercial recording is available. Perhaps being a violist makes me a bit biased towards this concerto, but it is truly a substantial piece and winner of an international competition in Monaco at the time. Let's listen to an introduction to this work, followed by the live recording of the premiere, compliments of the Henri Lazarof Archives.

GENE PACK (RECORDED)
Well, let's talk for a moment about the first work we're going to hear, the Concerto for Viola and Orchestra. This was composed in 1959 and 60. It was written on a commission.

HENRI LAZAROF (RECORDED)
Yes

GENE PACK (RECORDED)
For whom?

HENRI LAZAROF (RECORDED)
It was commissioned at the time by Joseph dePasquale, who was the first violist of the Boston Symphony Orchestra. However, things of this nature happened quite often, has never performed the work. And in Los Angeles in 1960, I met Mr Milton Thomas, who immediately, fortunately, I must say, fell in love with the work, dedicated an entire year studying the work, which is very demanding and quite difficult. And I realized that more and more. The first performance of the work took place in 1962 with the Symphony Jerusalem Symphony Orchestra. And the same year I entered the score in an international competition in Monaco and I was very fortunate two win the first international prize with this work. As a result of this, the work was performed last October with the Radio Symphony Orchestra Turin in Italy conducted by Andre Markowski, a polish conductor very well known in Europe. And a week later it was done in Paris with Radio Symphony Orchestra which was conducted by Georges Tzipine. It has never been done in the United States. And my sincere wish is that perhaps one day [to have a] Utah Symphony performance.

GENE PACK (RECORDED)
Well, I hope so too. We have an excellent first violist.

HENRI LAZAROF (RECORDED)
Yes, I have met the lady. We met about a couple of years ago in Santa Barbara.

GENE PACK (RECORDED)
Really that's,

HENRI LAZAROF (RECORDED)
At that time Mr Abravanel heard the tape of the concerto. And my hope is that I would have a conductor of his stature conduct this work. He's just excellent, magnificent.

GENE PACK (RECORDED)
Well, let's hear the performance. The concerto is in one movement?

HENRI LAZAROF (RECORDED)
No the concerto is in three movements.

GENE PACK (RECORDED)
In three movements.

HENRI LAZAROF (RECORDED)
As I said this tape is with Mr Milton Thomas, soloist, and the Italian Radio Symphony Orchestra of Turin, conducted by Andre Markowski.

GENE PACK (RECORDED)
All right. Here is the Concerto for Viola and Orchestra by Henri Lazarof.

[Music plays]

MARK BERGER
A truly hair raising performance there by Milton Thomas, wow. And what a treasure it is to have access to this recording. One of many examples of the incredible resources that the Henri Lazarof archives provide for the music world. I'm here now with Cecil Greenstreet, who has taken on the enormous task of setting up the Henri Lazarof archives. Cecil tell us what sort of research opportunities these archives provide.

CECIL GREENSTREET
This collection will be a fantastic resource for anyone who's interested in learning more about Henri Lazarof, his life and his works. Also, anyone who is interested in studying contemporary music and composition. I think in particular, the manuscript series is a real treasure because it is a large collection of very detailed notes and drafts and it shows his entire creative process. So, I think there's a lot here if you're interested in these subjects.

MARK BERGER
Tell us a bit about the archives in general, what sort of materials are in this collection?

CECIL GREENSTREET
Well, this is a large collection and it's rich with a lot of different types of materials. These materials span Henri Lazarof's entire life and his career, and they offer some really great insight. Just to give a broad overview, we have recordings of premieres and notable performances of his works from all across the country and across the world. We also have a great series of manuscripts, sketches and finished scores of his many prolific works. We have some correspondence and files related to his careers, both as a composer and as a professor. We have some programs and posters and other materials from his performances. And we also have some photographs and some artwork.

MARK BERGER
A truly magnificent resource for anyone interested in 20th century music. Cecil, could you tell us how this material can be accessed?

CECIL GREENSTREET
Well, obviously visiting in person is a little difficult right now, but the collection is open to interested researchers and we do have quite a few of the materials that have been digitized. So if you'd like to work with the collection, please don't hesitate to contact us. We'll work something out. You can email the archives and special collections at ascdepartment@brandeis.edu or you can call us at 781-736-4657.

MARK BERGER
A very special thank you to Cecil Greenstreet for the tremendous work that he's done in setting up the Henri Lazarof archives. Speaking of which, let's dig in a little bit more to one conversation that was very interesting from that same interview earlier. You'll hear Henri Lazarof discussing some contemporary composers including Schoenberg and Stravinsky.

GENE PACK (RECORDED)
We have Mr Lazarof in our studio today and we're talking to him about himself and about contemporary music. Now that Schoenberg is gone, Mr Lazarof, whom do you admire among contemporary composers?

HENRI LAZAROF (RECORDED)
Well, there are several excellent composers, I would say one of the still living classic composers of our days is of course Stravinsky, who has gone a long way into many different styles. In this respect, he's an olympic champion. There is no doubt that he's a living genius.

GENE PACK (RECORDED)
How do you feel his recent works like Threni and so forth, Agon, compared to the rest of his works, do you think are you in favor of them? I know a lot of people aren't.

HENRI LAZAROF (RECORDED)
Well, I'm on those who have an open mind and I'm always intrigued to see what an old master, the master of the Petrushka and the cycle dependent on, and the symphonies and piano concerto and the violin concerto and whatnot can come up with in his second youth, so called.

GENE PACK (RECORDED)
He's 82, isn't he?

HENRI LAZAROF (RECORDED)
He's 82 years or he will be,

GENE PACK (RECORDED)
He will be in June. He'll be 82. Remember two years ago, there were all kinds of special celebrations.

HENRI LAZAROF (RECORDED)
Well, I almost have the feeling that Stravinsky has become a permanent fixture to our world.

GENE PACK (RECORDED)
I really hope so. There are men like him and Casals that we could stand to do with forever.

MARK BERGER
It is so fascinating to hear a composer talk about the music of Stravinsky, but at a time when Stravinsky was still alive and actively composing. This interview goes on into some other interesting areas as well. Listen to this section where Lazarof begins talking a little bit about his philosophy of music in general.

GENE PACK (RECORDED)
Well, you believe then in progress in music?

HENRI LAZAROF (RECORDED)
But this is the only thing to believe in music. There is no need to believe in the past is there? It will always remain. We don't have to fight for the recognition of Beethoven 3rd 5th, 7th or 9th Symphony or his quartets or piano Sonatas or whatnot. It's a fact. They exist. They will always exist. There is no doubt in our mind, they're masterpieces. So there is no battle to be fought. We know about it. But, however, we cannot be buried in the past because music, the world of sound is not a static one. It always changes, and the moment we put everything under the same denominator, it's something is being destroyed.

MARK BERGER
"The world of sound is not a static one. It always changes." Elegant words by Henri Lazarof there, and words that ring true when applied to his own music, for sure. Let's listen to one more orchestral work by Lazarof. His second concerto for orchestra, subtitled Icarus from 1984, commissioned by the Houston Symphony. Lazarof decided to take his inspiration from NASA for this work. In the CD liner notes, Paul Schiavo writes,

"The ambition, achievements and occasional tragic setbacks of NASA's efforts lead to thoughts of the mythical Icarus who took flight on wings fashioned by his father but perished after flying too close to the sun. Icarus is not, however, a piece of programmatic or descriptive music. Rather, its three movements convey something of both the ages old desire to escape the confines of our earth and the danger inherent in that desire."

The performance here is by the Seattle Symphony, led by Gerard Schwarz, a longtime advocate for the music of Henri Lazarof. If not for the pandemic, this very piece would have been ringing throughout Jordan Hall in Boston last spring as a partnership between the Boston Modern Orchestra Project and the Henri Lazarof Living Legacy at Brandeis. We very much look forward to resuming that partnership once state health guidelines allow orchestral live concerts to take place. In the meantime, enjoy this richly textured and dramatic piece: Henri Lazarof's Second Concerto for Orchestra, Icarus.

[Music plays]

MARK BERGER
That was the dramatic ending of Henri Lazarof's Second Concerto for Orchestra, Icarus. I'm going to now turn focus to another aspect of the Henri Lazarof Living Legacy at Brandeis. And that is the annual international composition competition. This is a huge prize, which every year will commission a new composer to compose a new work which will be performed on the Lazarof Chamber Music Concert. And it will be premiered alongside one of Henri Lazarof's own works. And the new commission will be written for the same instrumentation. The first competition that we held was completed last spring and we selected the winner, Yair Klartag, who lives in Tel Aviv Israel. I was very fortunate to get to have a zoom conversation with Yair to talk about music, his work and the competition. So here is that interview with Yair Klartag.

MARK BERGER
All right. And I am now here with Yair Klartag, who is Zooming in with me from Israel, I believe. Hello Yair.

YAIR KLARTAG
Hey! Nice to meet you.

MARK BERGER
Nice to meet you. And Yair is, we are extremely fortunate that we have Yair on the phone with us today. Yair is the first winner of our Henri Lazarof International Composition Commission Competition. So, congratulations to you. I'm happy to have just recently received the score to your new piece, which looks fantastic. Might you be able to tell us a few words about it?

YAIR KLARTAG
Yeah, of course. Thank you for inviting me and everything. Really nice to see you. Yeah, I think for me, so this piece is mostly, like, my starting point was the instrumentation in a way, which was very challenging for my language. There are some of these specific three instruments, harp and flute and viola, are not sort of my native instruments. And it was also inspired by, so I always do every once in a while do these projects of sort of deep dive into one composer, which I think is very helpful for me. So I have this thing I do for years that I would take a composer and buy his biography or her and then sort of read through their life and listen to every piece twice. These are the rules of my game. And I feel like then I understand the composer in a way because then you see like from childhood and you see the way they develop and you read the biography next. So I just did it with like a year ago with Debussy. So it was really in my head all these ideas which really obviously are, I mean, they are very prominent with this instrumentation. It's like a sort of right, classical piece.

MARK BERGER
Of course it's because of Debussy that this instrumentation actually became sort of a chamber music genre.

YAIR KLARTAG
Yeah exactly. So yeah so I think when, so there were a lot of ideas floating around this area. And I think that my feeling when trying to write and sort of improvising compositionally with ideas was just the sense of lightness, like the lightness of everything came to me like again and again of all these things. So it's really like a sort of ensemble without sort of strong base or stronger, a lot of weight. Everything is very like floaty and and it's something also very essential in the music of Debussy for me. And and it's something it's kind of a thought that's been developing around also looking out of Debussy, this idea of sort of weight and lightness. That's, for me it's sort of metaphorical in sound and in life in a way. And it's almost like that. It's like, if you look at the overtone series for me, yeah, you have like music that happens around the fundamental and you have music that happens around the higher harmonic. So for example, I would say that Beethoven happens in the fundamentals. He writes the music around the fundamentals and Debussy writes, it's sort of happening, in the higher overtones. And it's really reflected in I think it's kind of a deep thing, it's not just a technical thing. And then also it related for me too. So I just wrote another piece called Six Memos from the Last Millennium, which is really inspired by this book, by Calvino, you know. So Italo Calvino the Italian writer was supposed to give these lectures in Harvard, not far from you I guess. And he died before he gave them. But the first lecture was titled Lightness and it talks about lightness and like this sort of lightness in literature. So what's weight in literature? So I think all these concepts, all these different concepts were really interesting for me of what's weight? And I really played with lightness both in the sound, but like there is a lot of lightness and so it's titled Unbearable Lightness and there is a lot of sort of freedoms that we we identify with lightness. And another important thing for me was the issue of repetition, I would say, which also has to do with the title Unbearable Lightness is quoting this famous book by Milan Kundera and there is a sense of the heaviness that comes from repetition in life. So like if life, if things are sort of repeated endlessly and the structure and this is what create heaviness. But if you, if you live without repetition and every event is sort of just happens, then you create a sense of lightness, which is kind of the opposite of what we think in music, right? Like there is a sense of lightness in music and repetition. So all of these thoughts were kind of around the thing. So it really starts with these very almost dance rhythms almost, I would say very almost related to pop music, I would say at some point. But then go through, so everything happens kind of in the high overtones of life and music.

MARK BERGER
Yeah, so the piece is called The Unbearable Lightness or just Unbearable Lightness. And in particular, you know, in what you were talking about being inspired by the music of Debussy and taking a deep dive into Debussy's music. Of course with the music of Debussy, there is a strong emphasis on timbre and, you know, the role of color in the orchestration of all of his works, even his chamber works. And I can tell just by looking at the score of your piece as well, that timbre is a primary focus of you in part of your musical language. So we will listen to a few of your pieces, but before we get into that I just wanted to just dive into a little bit into your background. So maybe could you tell us a little bit about your musical childhood, if you will, you know how where do you come from? Where did you study? How did you become a composer?

YAIR KLARTAG
Yeah, so I grew up here in Israel. I live now in Tel Aviv, I grew up in the city nearby really not far away and in a way I got to music a little bit by chance. I come from, like, my family is very sort of scientific and a lot of scientists and engineers and this is sort of the background I was raised into. I had an electric piano at home because my sister learned when she was a kid, and I started and somehow I got into learning piano and I was really immediately very much into it. But then, you know, then somehow and when I was 15 there was a composition class in my school and there was a really great teacher who would, so it was really not technical, I think that was what for me was amazing. When I was 15, he was not teaching us anything technical, it was more like he would give us these assignments that were very imaginative. You know, I can't think of an example now, but they were very very abstract and for me, I mean I don't know, when I was 15, something really clicked there and I remember walking to school and thinking about the assignment and I loved it, the way that you can think about something that's so abstract that you cannot touch it. It's not what is it, but you can think about it and you can imagine it and you can develop it in your head. Yeah. And it really related to other things that I liked, somehow like thinking of ideas in sound because it was very exciting thing for me and still is so.

MARK BERGER
Yeah. Great. And then of course you went on studying composition in college and that brought you to many different places. You studied at Columbia, I believe?

YAIR KLARTAG
Yeah. Right. So I studied in the beginning here in Tel Aviv and then I also had some time in Switzerland and in Germany, in Berlin. And then I studied and then I went to Columbia. I did my DMA there.

MARK BERGER
Great. Of course, part of the huge legacy of Henri Lazarof is the mentorship that he showed towards many composition students over the ages so, sort of in that spirit, I was wondering if there were any teachers in particular that you would say had a particular influence in your work today?

YAIR KLARTAG
Yeah, definitely. I was very fortunate in this regard, I must say. It's really a matter of luck too. So, first I had this guy, when I was a kid, when I was a teenager, who was teaching in my high school who was just a really great person for me in this time. And then I had my teacher, Ruben Seroussi, who's the head of the composition department in Tel Aviv University, who is also an amazing person and was, yeah, I was just really, I mean the whole of this thing with teaching composition, of course it's always very tricky and everyone always asks, what do you do, what can you teach in composition and what is there to teach? But yeah, I think it's a really interesting process and it's a lot of sort of reflection and feedback and just sort of your first audience, but it's a really good audience. Uh So, so yes, I had proven for a long time is very important for me. And after that I had Georg Friedrich Haas, the Austrian composer who with whom I studied in Basel. And I actually moved to America with him. So he was teaching in Basel in Switzerland. And then he got this job at Columbia and I moved with him actually. So yeah, I've been with him for a long time. So it was a social, really, really important influence for me both musically and yeah, everything.

MARK BERGER
That's great. I'm wondering if we could maybe talk about some of your music you sent me, some pieces. And they're all very interesting. If I could ask you, pick your brain about a couple of them. The first one that I want to talk about, and we'll play it on the radio, is your piece, Nothing to express. Now I know this was part of your submission for the Lazarof Competition, in which you were chosen as the winner. And I would say that this piece in particular really stuck out to myself and the rest of the jury. So tell us a little bit as piece for string quartet and electric guitar.

YAIR KLARTAG
Yeah. So some of what I really wanted to write for this formation for electric guitar because for a long time and I even have a piece for me, I don't know, 15 years ago, I would say, for electric guitar and string quartet. And I was really, really young, but I don't know why. It was always, I always tried it. It's a good combination. There is something with electric guitar that I love. I love what it references and I love the sort of elasticity and flexibility you get with the sound. And also, I feel like it's a really good force against strings, it has so much power, so it can be also against string orchestra. For some reason it feels sort of balanced powers. So yeah, and then my friend Nadav Lev was a guitar player that used to live in New York until actually few months ago, he did a project and he asked me and I said, okay, I want to write for electric guitar and string quartet, this was the since the idea and the piece itself. Yeah, it I think for me it was a piece that I really started from the sound. So it was after a long time that I was very thinking a lot about like conceptual things and philosophies and and in this piece I was actually very much connected from ideas and really only in the sound. So I started from just taking an electric guitar. I think I borrowed this guitar one of his guitars and just found sounds. And then it was really very organic. The end result is sort of has this, I think what you get as a listener thing can we expect is a sort of pulsation that's always there. So there is this pulsation repetition, it's being every time sort of destructed every time in a different way and then comes back and then it's sort of destructed another way and then it comes back.

MARK BERGER
Yeah, my observation was that, you know, it's a very complex rhythmic language that you're using, but at the same time, there is a very strong groove to this piece, that that makes it easy to sort of latch onto. And also impressive, I think was the integration of the quartet and the electric guitar. You know, it was done in such a way the types of sounds that you're using from all the instruments really, you know, that you might think that an amplified guitar would not mix well with an acoustic string quartet. But the types of sound effects that you get from the strings are often very distorted and mix well with the amplified sounds of the guitar.

[Music plays]

MARK BERGER
Fascinating, dynamic music there by Yair Klartag, winner of the first annual Henri Lazarof International Composition Competition, performed in stunning fashion on that recording by the Mivos Quartet and guitarist Nadav Lev. The next work I discussed with Yair was his chamber ensemble work called, There's no lack of void, which has been performed several times by the Israel Contemporary Players conducted by Ilan Volkov, who I had the pleasure of working with back when he was an assistant conductor for the Boston Symphony.

YAIR KLARTAG
Yeah, great. Actually, I'm just doing right now a project. So, some of the orchestra here in Jerusalem decided to do a recording, they already got permission to do a recording project. And he's here in Israel. So we're doing now, not this piece, but the piece Con forza di gravità, which I think I also sent you. It's a string orchestra. So yeah, actually it was today, I just came back a few hours ago back from Jerusalem. Yeah, There's no lack of void, you want to talk about this. All right. So it's a peaceful ensemble. Again, it has some of the conceptual ideas that I keep coming back to. I love Beckett and I always come back to it, like I think all the composers love Beckett a little bit. So it's also for me, what maybe it was interesting for me with this piece is that the first time for me, I really worked in with revisions, which is something I haven't done before and sort of, you know, the circumstances of the first performance of this piece, I really didn't have enough time, so I was writing it very, very quickly. But then there were a few performances lined up after it already. And what happened that it's like I had sort of every performance, I changed the piece quite significantly. So for me, it's kind of interesting to see what's left there is, especially in the beginning part. So it starts with this texture that's sort of as the sort of courts that take the whole space on the range of all the orchestra of the ensemble. And they are sort of played in a way, and which was the original idea. There is an original harmonic idea with fifths that go apart and come back. But then with the revisions, they sort of marked out and you just have traits of it and it became something a little bit different with the time. But it still has the traits of what it was in the beginning. So for me it has sort of this archaeological side which I like.

MARK BERGER
That's fascinating. Over how long of a time did these revisions take place?

YAIR KLARTAG
So not super long. I guess I wrote it really quickly within a month or something originally. And then I would say there was like a year or a bit over a year with somehow there were few performance, but the changes were. So for example, at one point I decided I want to add electronics and then the next time I removed the electronics and then I added percussion. So the end result, what we have now is the end. The definitive version with percussion. But yeah, there was complete parts that were removed and changed. I think now it works.

MARK BERGER
Fascinating how structures change over time based on experience that you get as a composer from, you know, seeing performed, in hearing it performed live.

YAIR KLARTAG
Yeah, definitely.

MARK BERGER
Yeah, this is a beautiful point. And who is, who is performing in this recording?

YAIR KLARTAG
It's an ensemble called Israel Contemporary Players. It's a group from here. Ilan Volkov is now their artistic director or something like that. Yeah, we're lucky to have him here.

[Music plays]

MARK BERGER
Again, that was the work, There's no lack of void composed by Yair Klartag, who was with me and performed by the Israel Contemporary players led by Ilan Volkov. The next work we discussed is an interesting one with a fantastic title, Goo-prone.

YAIR KLARTAG
Yeah. So, I mean the title is, I had a sort of obsession for some years with David Foster Wallace, who I love. So I wrote sort of three pieces that are a little bit form a series together. All all taking from this like very beautiful for me quote from Infinite Jest, the book. So there is Unavoidably Sentimental, Goo-prone and Generally Pathetic. So it kind of talks about being an artist today and dealing with cynicism and irony and all these issues and how you can survive as an artist with all these forces around you. And in this quote, I don't remember now exactly, it ends up saying what you actually wanted to do is be unavoidably sentimental. So he sort of has in all his writing this on one hand, it's very complex, very sort of intellectual background and with a lot of literary tricks and very elaborate, like it's very educated in literature and uses very complex literary structures. But then all he wants is sort of communicate in a very basic human level, which I find very touching and really identify. So, yeah, all these pieces I thought about. So in Goo-prone is a piece for also a strange instrumentation. It's for a group in Berlin. I wrote it when I lived in Berlin for a year. It's for accordion, trombone, cello, piano and saxophone. And it's sort of a little bit continuation. So Unavoidably Sentimental is the first piece that was it's a really big piece. It's a 30 minutes piece for a big ensemble. So, Goo-prone was sort of a short, smaller, smaller, I don't know, uh, maybe offspring of it. And in practice it has it has a sort of, so all from Wallace. I got this the way he treats as popular writing. I mean, internet of books has this talk that's almost like I will say it was like hip hop talk or something like that. We would have a character that are very, as this thing with pop culture, is a very complicated relationship with pop culture. So here there is a sort of I think something that for me comes from electronic dance music from this world, a bit industrial sound world. But then, so you did the starting points around this. So it doesn't really sound like you know or anything like that. But it has these elements there inside a you know much more. But there is this sense of so one of the things that especially this piece is that the saxophone player has a contact mic on the microphone. And they have an electric guitar amplifier and they have wawa and volume pedal. So they can do certain sound and get very, yes sounds very electronic. Yeah very filtered.

MARK BERGER
You capture what would otherwise be very faint sounds and have them amplified and shaped by the electronics.

YAIR KLARTAG
Yeah. Which I really love because I love when the musician can control it, it's not so electronics that there is a technician that's it's the musician. It was in the recording herself with the pedals and the amplifier and she can really shape the sound like a musician. So it goes between these two sort of states that are very clean and try to sort of communicate in a very direct way. These were my thoughts around it.

[Music plays]

MARK BERGER
Wow, that was Goo-prone by Yair Klartag, performed there by the fantastic new music ensemble from Berlin, Ensemble LUX:NM. And now we'll go back to the end of that interview with Yair Klartag, the composer and winner of the first annual Henri Lazarof International Composition Competition. And then I think maybe the last thing I wanted to just talk about, you know, of course you were the winner of the inaugural Lazarof competition. And you know, of course competitions are always incredibly difficult to predict and they're in some ways a lot of people have, you know, they're kind of a necessary evil in a way for for composers I know, but could you tell us a little bit about your experience with competitions and some of the opportunities that have come out because of them and you know, what are some of the really good things that come out of competitions?

YAIR KLARTAG
Yeah, I really agree with your statement that you said now. So it is a necessary evil in a way. And, and they are sometimes very stressful. I mean, depends in the format and it's kind of hard to put yourself in this situation. But for me, there is something that on the other hand, I really like, especially about the anonymity. So there is the music world can be sometimes very hard, especially in the beginning of your life. And for me growing up here and studying in Tel Aviv, so I think we are the generation where things have changed. But definitely my teacher felt very disconnected from the music world and not very well connected or anything like that. So for me it was really important to be able to send the piece sort of anonymously and having a judge just based on the music itself, not based on connections or who do you know or how well are you in, I don't know, a cocktail party or something like that. So it definitely, it was very, very helpful. So there were, the first time I was in a competition was when I was, I don't know, 23, I would say I was really young and and it was actually a really strange event because I just wrote a piece for children's choir in Israel and I was in my undergrad and then the children's choir here thought it was too difficult for children to sing and so they didn't want to perform it. But then I saw sort of a voucher or sort of a paper for another competition in Spain and it was, I didn't even notice what it was, I said okay, I'll just adapt this piece for this one. So it ended up being a really big competition in Spain near Barcelona, there is a place called Montserrat. It's a mountain, it's beautiful, it's one of the most touristic places in Spain and I had to adapt the lyrics to be Salve Regina, so it became a liturgical Christian piece, which was so strange for me and I ended up winning that. It was a big prize also and in fact, I had to spend the time in the monastery, it was my first time in my life in the church. So it was, but in a way, as a kid that, you know, didn't have much connection in Israel there and, and it was, yeah, I think these experiences were super important for me and still are. I mean, I mostly love the anonymous part, the way the music is judged just by itself without knowing the context.

MARK BERGER
Yeah. And of course, the Lazarof composition competition was done anonymously. So everyone that entered the competition admitted from scores and two recordings with no identification for the judges to be able to see. And of the 360, some people that applied to this competition, we zeroed in on your work. So, your music definitely speaks for itself. And we are thrilled that you have composed this new flute, harp and viola trio for our concert series, which will premiere as soon as we're able to have it premiere. Great. So thank you so much for joining me today and it was wonderful to meet you and so wonderful to hear your music and I can't wait to work with you again in the future sometime.

YAIR KLARTAG
Yeah, thank you so much. I hope that the situation that allows us to meet in real life soon enough.

MARK BERGER
Okay, a huge thank you to you Yair Klartag for joining me over Zoom for that informative interview. His new work for flute, viola and harp titled Unbearable Lightness will be premiered at Brandeis, hopefully next season. So stay tuned. As I mentioned, the International Composition Competition selected Yair from a pool of over 360 applicants. His new work will be performed alongside Henri Lazarof's own trio for flute, viola and harp. And that will definitely make for an interesting context to hear both works. The second annual international composition competition is currently in the final stages of judging so stay tuned as well for the announcement of our next commission. I hope you found this program stimulating and I really encourage everyone to visit www.brandeis.edu/lazarof and explore the wonderful offerings that the Henri Lazarof Living Legacy at Brandeis can provide. Thank you for listening. c

DEBORAH ROSENSTEIN
Thank you Mark for compiling such a wonderful show. We hope you can join us next Sunday, March 21 at 2 p.m. for another episode of Brandeis Concert Series Remix on WBRS 100.1 FM, sponsored by Chillbox, Prime Deli and the students of Brandeis University. I'm Deborah Rosenstein signing off and wishing you all a wonderful week ahead.

[Music plays]