Class of 1988
Class Correspondent
Beth Fleischman Zweibel
69 Northgate

Avon

, 

CT

 

06001
Jay Ruderman was the focus of a story in the Jerusalem Post about the Ruderman Fellows Program at Brandeis. In hopes of helping political leaders in Israel develop a deeper understanding about the Jewish community in the United States, the Ruderman Family Foundation partnered with Brandeis to bring six members of the Knesset, the Israeli legislature, to the United States for a week of meetings with leading scholars, community leaders and professionals. The inaugural class of Ruderman Fellows visited Waltham, Boston and New York from April 3–8.
Marc Tobin lives in Beit Shemesh, Israel, with his wife and four children. He was the starting catcher on the Israeli national master softball team that finished fourth in the 2009 Maccabiah Games. Last year Marc coached an Israeli national Little League baseball team that won an international tournament in Tuscany, Italy. When not playing softball or coaching baseball, Marc serves as general counsel at Oplon Pure Science.
There was a mini Brandeis reunion in Northern California when Debbie Moeckler Berman '87, Liz DeLott Reisman, Karen Rubenstein Wyle and their families joined Susan Fritz Sweedler at the bar mitzvah of Susan's son, Ari, in mid-February. Susan and her husband, Jonathan, have been married for 16 years. After staying home for 10 years to raise Ari and their daughter Maya, 15, Susan has been a personal trainer for the past four years  — and loving every minute devising programs for people of all ages and needs, as well as trying to stay in shape herself.
Sarah Wilner was appointed assistant professor of marketing at Wilfrid Laurier University's School of Business and Economics in Canada.
Gary Pave writes, "I have been doing distressed debt and real estate deals at U.S. Asset Funding, an asset-based lender that I founded more than a decade ago. Our three kids, ages 6, 8 and 11, are into sports and generally running us ragged. It was great seeing Ed Rubinchik '89 and Alex Azbel when they visited me in Pennsylvania. They are both doctors, Ed in New York and Alex in Orlando, Fla. I recently reconnected with Rusty Bederman '88, who is drilling teeth in NYC. It seems like everyone I hung out with at Brandeis went into medicine!"
Adam Feldman has worked in the entertainment ticketing industry for 15 years. For the last 10 years, he has also served as men's tennis coach at American International College in Springfield, Mass. Adam, wife Karen and their five dogs live in nearby Southwick.
Adam Moskowitz and his wife, Batya, had a baby boy, Yaakov Alexander, on Aug. 25, 2010, in Mineola, N.Y. Adam writes, "Batya and I are happy to welcome the newest member of our clan. Kovi is loved by his brothers and sisters."
Steven Oxman writes in to report that he recently accepted a job as executive director of curriculum for Western International University. He has lived in Chicago since 2006 and continues to write theater criticism for Variety, as he has done since 1999.
Jacqueline Geschwind moved from Northampton, Mass., to Los Angeles with her husband and their three children during summer 2009. She is a realtor with Coldwell Banker in Beverly Hills, the company's top-producing office in the country. You can reach her at jackie.geschwind@coldwellbanker.com or 310-740-6511.
Sara Dobbs is married with two children — ages 11 and 9 — and practices pediatrics in the San Francisco area.
Thomas Linfield lives in Madison, Wis., with his wife, Lisa, and two young children, Harper and Jonah. He coordinates grant making for the Madison Community Foundation. His exhibition "Cover to Cover" is touring the county's libraries for a year. The exhibition features sculpture and paintings inspired by books (www.tomlinfield.net or www.arts-tribe.com). He writes, "I've also been one of the vocal protesters at our state Capitol, marching for workers' rights. Pretty amazing to partake in the energy of 100,000 progressive people!"
Karen Wyle has moved again — for the eighth time in 12 years — due to her husband's new job at Moody's Analytics. They live in the East Bay of San Francisco. She writes, "Our daughter has adjusted beautifully and, as we get more settled, I will begin a job search in the area. We don't have many friends or any family in the area, so we'd love to reach out to fellow alums to help expand our social horizons."
Evan Cohn and his wife, Amy, live in Dallas. He is a radiologist and has practiced in Dallas for about 12 years. The Cohns have two daughters, 17 and 15. He writes, "I can't believe it has been so long since we graduated. I have been able to keep up with some of the class through Facebook."
Hildy Silverman is publisher of Space and Time, a 45-year-old magazine of fantasy, horror and science fiction. She has had short stories published in several fiction anthologies, including "Witch Way to the Mall?" and "New Blood." She is also in her second year as vice president of the Garden State Horror Writers. For her "day job," she works as a freelance writer/editor. She and husband David Silverman are celebrating their 20th wedding anniversary this year.
Mark Altman is the executive producer and co-creator of "Femme Fatales," a TV series steeped in classic film noir (which he learned all about from professor Tom Doherty) that premiered on Cinemax in May. He is also a producer on USA Network's "Necessary Roughness" and recently co-authored a novel, "Elvis Van Helsing." He lives in Beverly Hills, Calif., with his two children, Ella and Isaac, and wife Naomi and three cats, much to his everlasting shock and chagrin. And he still thinks about the Justice every Sunday night.
Kenneth Osherow recently opened his third food establishment in Boston, a neighborhood bistro named the Savin Bar and Kitchen. His McKenna's Café, located across the street, has been serving breakfast and lunch for more than 10 years. Last year he opened the Savin Scoop, an ice cream café that is located down the block.
Rachel (Gubitz) Feingold, P'14
, reports that her older daughter,
Gabriella '14
, lives on the third floor of Shapiro — just as Rachel did as a freshman. "She is singing with Manginah and focusing her future plans on theater education. She loves the school. It is really a blast to live it again through her eyes," Rachel writes. Her second child, Jake, has been admitted to the Berklee College of Music, where he will study guitar performance. Serena is 15 and a sophomore in high school. Jesse is 13 and finishing middle school. Rachel is the business manager of her husband David's medical practice, but has reduced her hours in order to write a novel. The book is about a 15-year-old girl with a traumatic brain injury, her twin brother and her large family. The novel centers around the question of what happens when the life we imagined for a loved one is no longer possible. She writes, "I am really enjoying my work on this story and feel that it somehow links me to the literary exploration that was my first love at Brandeis."
Ellen Jawitz writes in to say that she lives with her husband and two sons in the Boston area, where she maintains an appellate law practice. She serves as the co-chair of the Parent Association of the Solomon Schechter Day School of Greater Boston. She often sees other Brandeis alumni living in the Boston area, including Sara Smolover '82, Larry Kraus '84 and Stephanie Maroun, and had a reunion in Jerusalem last summer with Rhonda Adessky.
Mimi Lind is a single mom of an active 2-year-old boy in West Los Angeles and is the director of mental health in a private free clinic. She's not on Facebook, but would be happy to be in touch with people at mlind@mednet.ucla.edu.
Gabriel Aizenberg joined Greenberg Traurig's Chicago office as a shareholder in the international firm's litigation practice. He had been a partner at Howrey. He focuses his practice on commercial litigation and represents corporate and individual plaintiffs and defendants in complex proceedings in federal, bankruptcy and state courts and arbitration forums. Gabriel, who earned a law degree from Northwestern University, lives with his wife, Deborah Weiss, and their two children in Highland Park, Ill.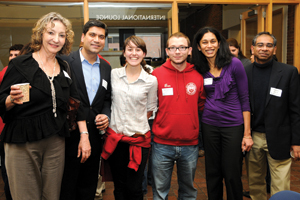 Past and present Wien Scholars had a chance to meet President Fred Lawrence during a special event for Wien alumni at Brandeis. Pictured (left to right): Frederique Apffel Marglin '63, Ph.D.'80, Bhaskar Banerjee '88, Laura Velez '11, Ben Gorelick '11, Bela Apparao Labovitch '87 and Nadeem Malik '88.
Submit a Class Note