1980s
Joan Wallace-Benjamin, Ph.D.'80, the CEO of the Home for Little Wanderers, was one of 50 women named to Boston Magazine's "Women of Power" list.
"The Understudy," written by Theresa Rebeck, M.A.'83, M.F.A.'86, Ph.D.'89, had a one-month run at Boston's Lyric Stage Company in January. The well-reviewed comedy pokes affectionate fun at the inner workings of the world of theater.
Jeanette Takamura, Ph.D.'85, dean of Columbia University's School of Social Work, received the Order of the Rising Sun from the government of Japan for her contributions to the promotion of social welfare policies and programs and the status of Japanese-Americans. From 1997–2001, Jeanette was assistant secretary for aging at the U.S. Department of Health and Human Services. She has also served as first deputy of the Hawaii State Department of Health.
Mohamed Alamgir, Ph.D.'85, is part of the group at South Korea–based LG Chem that developed the lithium ion cells being used in the Chevy Volt, promoted as the first mass-produced plug-in hybrid electric vehicle.
Jeff Lurie, Ph.D.'87, and his wife, Christina, were executive producers of "Inside Job," which won the Oscar for best documentary. The movie dissected the reasons behind the worldwide economic meltdown.
Amy Potozkin, M.F.A.'87, is the casting director at the Berkeley Repertory Theater in California. She was profiled in a recent story in the Contra Costa Times.
Paul Anastas, M.A.'87, Ph.D.'90, the chief scientist for the Environmental Protection Agency and the recognized father of the "green chemistry" movement, was profiled for "Marketplace" on National Public Radio. The report mentioned that 20 years ago, as a young scientist at the EPA, Paul began using the term "green chemistry" and trying to convince people to design chemicals to be nontoxic from the start instead of having to regulate and clean up afterward.
Eric Furfine, Ph.D.'88, was appointed president of research and development at Eleven Biotherapeutics, a biopharmaceutical company focused on translating breakthrough discoveries from science and medicine to engineer and develop innovative protein-based therapeutics. He has more than 20 years of experience in drug research and development.
THE ALUMNI ASSOCIATION and the International Business School held the first-ever event in Hong Kong with a reception and dinner hosted by Tony Chang, Ph.D.'83. Robin Tyrangiel '04, M.A.'05, and Aviva Zyskind '09 flew in from Beijing to attend.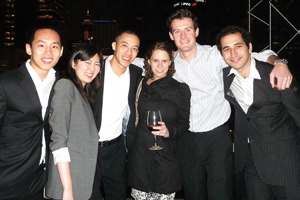 Tom Chen '09, Julia Kwong '09, David Wu '09, Zyskind, Brenton Harris '03, M.A.'04, and Tyrangiel
Submit a Class Note