West Medford Walking Tour Instructions with Map
last updated by
Mark Auslander
on December 18th, 2005 at 6:12 pm
Here's a map of West Medford– the tour will start at the (starred) Hervey School at 122 Sharon Street.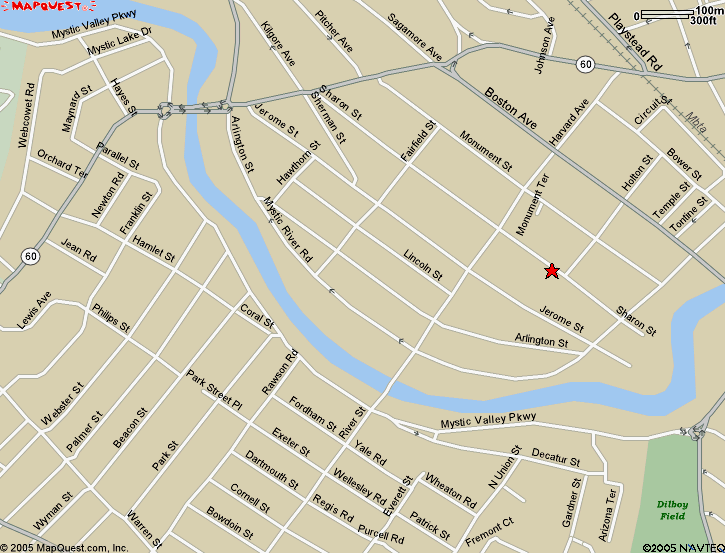 WALKING TOUR OF HISTORIC WEST MEDFORD AFRO-AMERICAN COMMUNITY
Our tour begins at the Hervey School, 122 Sharon Street (corner of Sharon & Holton Streets), Medford.
Standing in front of the school, please listen to the following audio segments:
1. Introduction (Andrea)
2. Introduction (Dr. Auslander)
3. Neighborhood Memories (Cyanna)

4. Community Education (Deb and Christine)
5. Still more neighborhood memories of family and community (Jason)
6. Hervey School (Andrea and Sara)
7. School segregation and desegregation (Alex and Sabrina)
8. Formal Education (Abigail)
- Strong belief in education
- Higher education
Now walk one block west on Sharon Street, make a right on Harvard Avenue, walking towards the Mystic River. Turn right on Jerome street.

Walk a few doors to 103 Jerome Street, on the left. Listen to the next segment:
9. Little Store (Jason)
Retrace your steps and make a right back onto Harvard street, walking to Dugger Park, at the corner of Harvard Avenue and Mystic River Road. Please listen to:
10. Dugger Park (Darnisa and Aliza)


11. Tennis Courts (Dave)

Make a right on Mystic River road, go about 50 yards west and on the left stop at the site of the West Medford Community Center:
12. West Medford Community Center (Beth and Laura)

Continue walking west along along Mystic River Road, passing by the Tennis Courts on the left. Merge onto Arlington Street. On the left by the river are the 'flats,'

Here you can learn about
13. Fellowship spots (Hayley)
At the intersection of Arlington Street and Route 60, in the middle of the rotary (Nelson Circle) is a memorial to Vietnam veterans from Medford (please be careful crossing this busy street!)


Here you may listen to:
14. Vietnam Memorial: Vietnam Memories 1 (Dana and Guy)
15. Vietnam Memorial: Vietnam Memories 2 (Dana and Guy)
16. Vietnam Memorial: Vietnam Memories 3 (Dana and Guy)
Now cross back across the street (carefully!) and walk east on Jerome Street. On the right, at 13 Jerome Street, the former site of the Kelley Stables and Riding School, stop to listen to:
17. Riding Stables (Elana)


Proceed two blocks down Jerome Street. At the diagonal intersection of Jerome and Sherman streets, you will see a small memorial l for WW 11 Veterans dedicated on July 4, 1946 as well as a A memorial for Elmer Kountze, veteran, dedicated on August 24,1991 for his civic contributions to the city.

In this small park, please listen to the following segment:
18. Memories of World War II (Dana and Guy)
Continue half a block more on Jerome. Make a right on Fairfield. Go one to the corner of Lincoln & Fairfield Streets. On the far left (southeast) corner you will see the former site of Old Shiloh Baptist Church. Please listen to the following segments:
19. Old Shiloh Baptist Church:History and Introduction (Catherine and Jocelyn)

20. Old Shiloh Baptist Church: Reverend Phillips and the Congregation (Catherine and Jocelyn)
21. Old Shiloh Baptist Church: Events and Celebrations (Catherine and Jocelyn)
To conclude our tour, please listen to two segments—about how the community has changed s through the rise of automobile ownership and about the importance of voting and civic participation:
22. Community and Cars (Cyanna)
23. The Meaning of Voting and Civic Participation (Cyanna)
You have now reached the end of our walking tour of West Medford's historic Afro-American neighborhood. We hope you have enjoyed the tour. We'd love to hear your thoughts on the tour and suggestions for improving it.
Here's a view of the West Medford neighborhood from the air (via Google Maps, modified by Dave). [Click the map to see a full-screen view]: