Meet the Staff
Sue Levine, M.Ed., Assistant Director for Career Services


Sue leads and manages GSAS Career Services for a broad array of arts and sciences graduate programs at Brandeis. Her role also includes building career connections and relationships with employers with the goal of expanding job development and on-campus recruitment activity. She also works with students and alumni in their career decision making and job seeking skills.

Sue joined GSAS Career Services in 2008 and loves working with such dedicated graduate school staff and motivated graduate students. She has previously held positions as Assistant Director for Career Services at Emerson College, Assistant Director of Career Services/Technology at Brandeis' Hiatt Career Center, and Career Development Specialist at Quinsigamond Community College. Other professional experience includes Human Resources/Learning and Development Associate at the New England Division of the American Cancer Society and Computer Software Trainer for Catapult, Inc.

Sue is a proud Brandeis alum, having earned her Bachelor's degree in English and American Literature from Brandeis. She received a Master of Education in College Student Affairs Administration from The University of Georgia.

Sue's advice to students is to embrace informational interviewing. She views the ability to connect with working professionals while you are a student as an invaluable way to explore career options, make connections, uncover job and internship leads and "humanize" the job search process beyond a static resume or cv. The career decision making and job search process can seem overwhelming at times, but start the journey by taking "baby steps" and know that we are here to support students and alumni.
---
Rachel Dreilinger, Ed.M, M.A., Career Services Specialist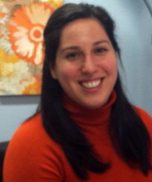 Rachel enjoys working with graduate students and alumni to help them navigate the career process through all stages. She helps job seekers to conduct self-assessment, write and edit documents, improve their interviewing skills, and make professional connections. She also enjoys creating and presenting workshops and connecting with academic departments to meet their students' career needs. Rachel uses her counseling background to make students feel comfortable and supported through what can often be a stressful or overwhelming process.
Rachel completed her undergraduate work at The George Washington University in psychology. Post graduation, she spent two years working on various research projects before deciding to continue her education in the counseling field. Rachel completed her Master of Arts and Master of Education at Columbia University in Counseling. She has worked in various settings including academic research, community mental health, and university career services.