Class of 1961
Class Correspondent
Michael Schatz, P'87, G'18, and Martin Zelnik
Martin continues his architectural practice, designing private residences and commercial interiors, and providing pro bono architectural and planning services. He submitted a white paper to the city of New York that proposes to address the city's affordable-housing crisis by constructing new rooftop additions to existing residential buildings. Martin also formed the Riverdale Community Coalition to oppose large-scale development of apartment houses in single-family and special areas throughout NYC, particularly in the Riverdale section of the Bronx. He and his wife, Lassa, celebrated their 55th wedding anniversary in September.
Stephen Bluestone's new volume of poetry, titled "The Painted Clock," will be published by Mercer University Press in the spring. Steve says he has officially retired from stickball but looks forward to a baseball workout with Ron Carner at the next Reunion during Alumni Weekend. Judith Tarnpoll Chambers has a speech therapy practice in Chico, California, that incorporates bioacoustics. She has restored people's memories, resolved facial paralysis in 12 weeks, and enabled 4- and 5-year-olds who were not speaking to speak normally. Marion Liniado Cuba contributed an essay to the collection "Letting Go: An Anthology of Attempts." In the anthology, writers address getting rid of everything from abusive relationships to unopened boxes in the attic. Marion's essay, contrarily, deals with not letting go of grief. She writes, "I myself still have a copy of 'The Iliad' from my Brandeis days that cost 35 cents." She is at work on a historical novel, "The Crucible of Vichy," which, like her previous book, "Shanghai Legacy," recounts stories of people saved from the Holocaust. Stan Davis is still happily married, with five grown children and 10 grandchildren. He's in his 13th year at the Harvard Institute for Learning in Retirement, where he's taken 74 courses; taught; and written essays, fiction, memoir and poetry. In November, Arthur Drache and his wife, Judy, celebrated his 78th birthday and their 25th anniversary. Arthur says he considers Judy his trophy wife — not because of age, but because of accomplishments. He'll soon mark 50 years as a lawyer in Ontario, and Judy will mark her 75th birthday. George Grayson and his wife, Teresa, closed his pulmonary-disease private practice in Virginia Beach, Virginia, and moved to Oceanside, California, in 2016. George works for the San Diego County Health Department as a part-time tuberculosis control physician. He writes, "On nonwork days, my wife and I have breakfast in bed; lunch at poolside; and dinner on the patio, enjoying the sunset." Since her retirement in 2015, Leslie Neiman Kingsley stays busy. She regularly participates in yoga classes, walks four days a week, attends her granddaughters' volleyball games, volunteers at a local elementary school and takes part in a lifelong-learning program. She reports, "I make every effort to live my life to the fullest and contribute to society, and I urge my classmates to do the same." Walt Klores writes, "Ron Carner and I have been friends since we were freshmen. For seven years, we have also been business partners in the world of consumer litigation financing, co-managing investments for plaintiffs who are suing insurance companies. For perhaps the 40th time, we are planning another ski week at Vail, where we're often joined by Jack McGuire. This past summer, Ron and I were in Israel to support the World Maccabiah Games. Ron has served as president of Maccabi USA for the past eight years." Bruce Litwer did a lot of traveling in 2017: to the Galápagos Islands on a Brandeis Travelers trip, and to Machu Picchu, England, Germany, Ireland and North Wales. He also took a 21-day cruise from Barcelona to Dubai, followed by a 30-day cruise from Dubai to Cape Town. He closed out the year with a one-week trip to Phoenix to celebrate the bar mitzvah of his oldest grandnephew. Marc Lubin works part time in his clinical practice and teaches. He contributed three chapters to the book "Teaching, Training and Administration in Graduate Psychology Programs: A Psychoanalytic Perspective." He has two grandsons. Robert Moulthrop collaborated on the script for "Buffer," a performance-art piece conceived and directed by Xavier Cha that had its world premiere at the Brooklyn Academy of Music. His play "Breaking Up Is Hard to Do" received a staged reading at the Boog City Poetry, Music, Film and Theater Festival. Dorothy Shubow Nelson is the editor of a new anthology, "The Inner Voice and the Outer World: Writings by Veterans and Their Families From the Cape Ann Veterans Writing Workshop," the product of workshops she has taught for four years. Three of Dorothy's poems were published in the anthology "Carrying the Branch: Poets in Search of Peace," and she was a featured reader at "The First and Last Word Poetry Series," part of Arts at the Armory, in Somerville, Massachusetts. Judith Arnold Traub lives in Wellington, Florida, where she enjoys fall, winter and spring, and endures (or tries to escape) summer. Recent travel has included Amazon and Alaska cruises. A cruise from Beijing to Sydney is being planned.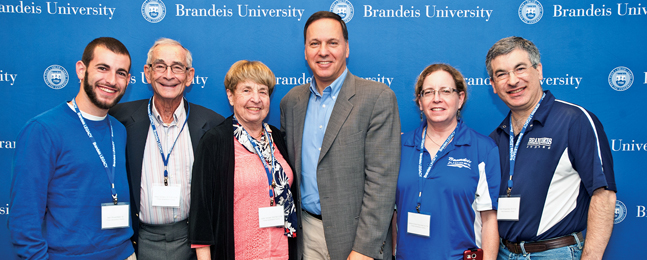 FAMILY AFFAIR: Ben Rosenfeld '18; Mike Schatz '61, P'87, G'18; Judy Schatz '61, P'87, G'18; President Ron Liebowitz; Debbie Schatz Rosenfeld '87, P'18; and Glen Rosenfeld '87, P'18, meet up at the annual Legacy Reception, which recognizes alumni with family ties to current students. The event was held in October during Family Weekend.
Submit a Class Note