Putting inclusivity at the forefront: Student Union President Noah Risley '24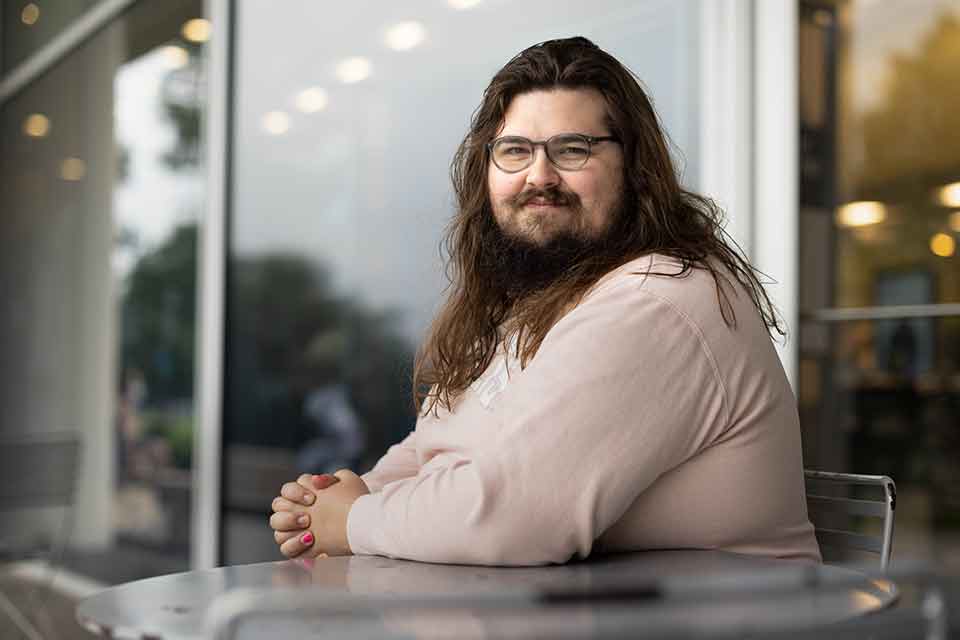 Photo Credit: Dan Holmes
In the spring of 2023, Noah Risley '24 knew they were ready to take on the position of Student Union President. 
The Comparative Literature and International & Global Studies major had participated in student government since elementary school. During their time at Brandeis, they served in multiple leadership positions within the Student Union. As senior year approached, they decided they were ready to take the next step.
"Making big and small changes in my community has always appealed to me," Risley said. "The more I thought about all the things I had done in the Student Union, the more I realized that I'd love to take on the role of president."
Risley spoke with Brandeis Stories about upcoming major Student Union changes, the importance of inclusivity, and ways to get involved in student government. 
What are some of the initiatives that the student union will be taking on this academic year?
Every three years the Student Union calls for a constitutional review. This process gives us the opportunity to look everything over, determining which provisions and guidelines should be removed or added. 
I'm nerdy about what our constitution says. It gives us the chance to make big changes quickly. One of my goals is to add anti-caste discrimination into our discrimination policies. 
We're looking to complete this process over the course of the Spring 2024 semester. It'll be very thorough and allow the student body, staff, faculty, and some alumni to weigh in. There will also be a ballot available for the student body to vote on the final decisions. 
As a leader, how do you create an inclusive and welcoming environment?
As a non-binary person, it matters to me that we forge a relationship with communities across campus. Where we show up is important. 
One of my goals as president is to connect with more students across campus. So far I've joined one roundtable session with members of the Gender and Sexuality Center and we're setting up meetings with student leaders and faculty across the Intercultural Center and Student Accessibility Support. 
We also have an upcoming meeting with Lee Bitsóí, vice president of Diversity, Equity and Inclusion, to see how the Student Union can continue to connect with the Diversity, Equity, and Inclusion office. We hope to meet regularly through our Student Union Director of Diversity, Equity, and Inclusion, Rani Balakrishna. We'll also be meeting one on one with Julián Cancino, director of the Gender and Sexuality Center, on a monthly basis.
It's also important to me that we're always working to provide a comfortable environment for meetings. When conducting icebreakers we always include pronoun introductions. We have open dialogue, encourage criticism, and share honesty through conversation. We want our community to feel empowered to say what they feel. 
What advice would you give to a student looking to get involved with student government?
Just do it. There are five branches for students to join and apply for positions. However, not many people know that our Senate meetings are open to the entire Brandeis community.
We love when students join and give us feedback. We're always excited when people attend. Come to one of our meetings and we will make you feel like a superstar.
There are also constant ways to get involved outside of meetings. For example, last year the Student Union created an initiative to provide free menstruation products across campus. We found ourselves always looking for volunteers to help us stock these products in restroom facilities. Little things like that make a big impact.