LeManuel "Lee" Bitsóí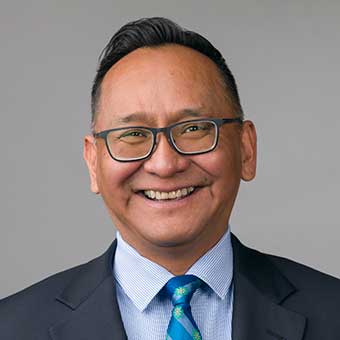 Vice President of Diversity, Equity and Inclusion
LeManuel Lee Bitsóí (Diné/Navajo), EdD, is a critical ethnographer and bioethicist who specializes in guiding institutions and organizations to become more diverse, equitable and inclusive for equity seeking students and scholars. Dr. Bitsóí currently serves as Vice President for Diversity, Equity and Inclusion at Brandeis University. In his prior role he served as Associate Vice President for Diversity Affairs and Special Advisor to the President for Indigenous Affairs at Fort Lewis College. He has served in administrative and faculty roles at Harvard University, Dartmouth College, Georgetown University, Rush University and Stony Brook University. In addition, Dr. Bitsóí serves on various national boards and associations, including the Editorial Board for INSIGHT into Diversity and the Native American and Indigenous Affairs Committee for the Society for Advancement of Chicanos/Hispanics and Native Americans in Science (SACNAS).
Admirably, Dr. Bitsóí has devoted his career to broadening the participation of underrepresented, underserved and unmentioned students to become scientists, researchers and scientifically-informed community members. Dr. Bitsóí relies on indigenous epistemologies to guide his work and emphasizes that diversity is a constantly evolving interdependent ecosystem that requires mindful participation by everyone. Dr. Bitsóí has been honored and recognized for his diversity, equity and inclusion accomplishments by various entities and institutions including the Navajo Nation, Harvard Medical School, University of Central Florida, University of Nebraska Medical Center, Northern Arizona University, North American Indian Center of Boston and SACNAS.
Dr. Bitsóí earned a bachelor of science degree from the University of New Mexico (Phi Beta Kappa), holds a master of education degree from Harvard University (Phi Delta Kappa) and a doctorate degree in higher education administration from the University of Pennsylvania.