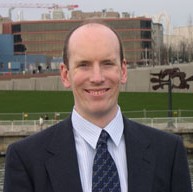 What are the benefits of working for an airline?
I took advantage of United's travel benefit, and I recommend the same to students with wanderlust to explore careers in the airline industry. If you hunger to travel the world, it's a great move to make.
Please describe your career path.
I began my work in the airline industry as an International Business School intern for United's Financial Planning and Analysis group. My summer internship grew into full-time positions in Financial Analysis and United Express. In my role with United Express, I managed the financial relations with United's regional jet partners.
I always felt the allure of the West Coast, and after three years at United's headquarters in Chicago, I packed up my car and drove to Seattle. I was offered a position as Manager of Pricing Strategy at Boeing. In that role I addressed the question, "What are the market values of Boeing's airplanes now and in the future, as well as the values of competing products?"
What role has your IInternational Business School education played in your career?
The International Business School instilled in me a genuine intellectual interest in finance, which combined with the nuts and bolts courses — accounting and corporate finance — has served me well.
The rigor of economic modeling has stuck with me and contributed to the quality of the work I do. As Senior Manager of Airline Revenue Analysis, I now take a long-term view of the global airline business and contribute macroeconomic perspectives to the company's market forecasting activities. I've leveraged the importance of my Brandeis education many times along the way.