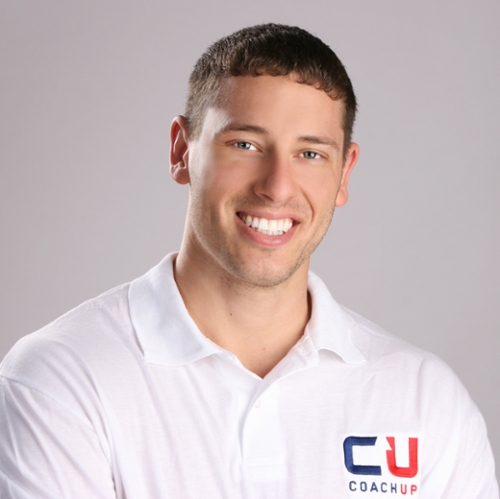 Jordan Fliegel, MBA'10 has a theory about why parents hire private athletic coaches for their kids.
"Sure, parents want to see their kids get better at sports and more playing time, but they also want to see their child develop discipline and confidence. Parents want their kids be part of a team and build skills and good habits that transcend other areas," he says. "I believe that a private coach is the secret to reaching the next level in sports and in life."
As founder and CEO of CoachUp, the online company that connects athletes with private coaches, Fliegel understands this better than most. As a high school basketball player Fliegel was average at best. Until, that is, his father hired him a private coach: former Brandeis basketball captain Gregory Kristof. Working with Kristof helped Fliegel—a 6'6 power forward—perfect his game. Fliegel went on to play for Bowdoin College and led the team to its best season in school history. He then played professionally in Israel for two years.
"I built this company to help athletes get better at what they do and to help parents support and encourage their kids. CoachUp is for people like my father, and the kid that I once was."
Fliegel completed his MBA at Brandeis International Business School as an exchange student from the University of Tel Aviv. "I really enjoyed it," he says. "There's a growing energy around the startup ecosystem and I made a lot of great connections there."
At the International Business School he caught the attention of trustee member, Stuart Lewtan '84, the founder and CEO of Waltham-based Zintro, the online consultancy portal. Fliegel worked at Zintro for a year before launching CoachUp in May 2012. "Stu taught me how to build a marketplace and how to build a business. He's my mentor and friend," says Fleigel.
Today, Boston-based CoachUp boasts more than 7,000 coaches across the U.S. specializing in nearly 60 sports. In November, CoachUp received a $2.2 million round of investment led by General Catalyst Partners and Breakaway Innovation Group. Cam Neely, Boston Bruins president and former star player, is a member of its board of directors.
Over the past year, CoachUp's revenue has grown 40% month-over-month. It has sold thousands of training sessions over the past year.
Fleigel attributes his success so far to a simple, straightforward business model. "A successful business idea needs to make sense and it needs to address a real need," he says. "Whether it's sports or starting a company: it's all in the execution."