Henri Lazarof and New Music Brandeis

Starting in 2022, the Henri Lazarof New Music Brandeis Annual Concert will fund the residency of prominent new music performers to work with graduate student composers, giving these young composers the opportunity to have their works performed by outstanding musicians.
New Music Brandeis (NMB) is programmed and managed by current Brandeis graduate student composers and features professional concerts of student works. It falls under the larger initiative, Brand New Music, which is a contemporary music concert and residency series that showcases the work of Brandeis student, faculty, and alumni composers, including current Brandeis composition faculty members Yu-Hui Chang, Eric Chasalow, Erin Gee and David Rakowski.
---
2022 Henri Lazarof New Music Brandeis Annual Concert: Hub New Music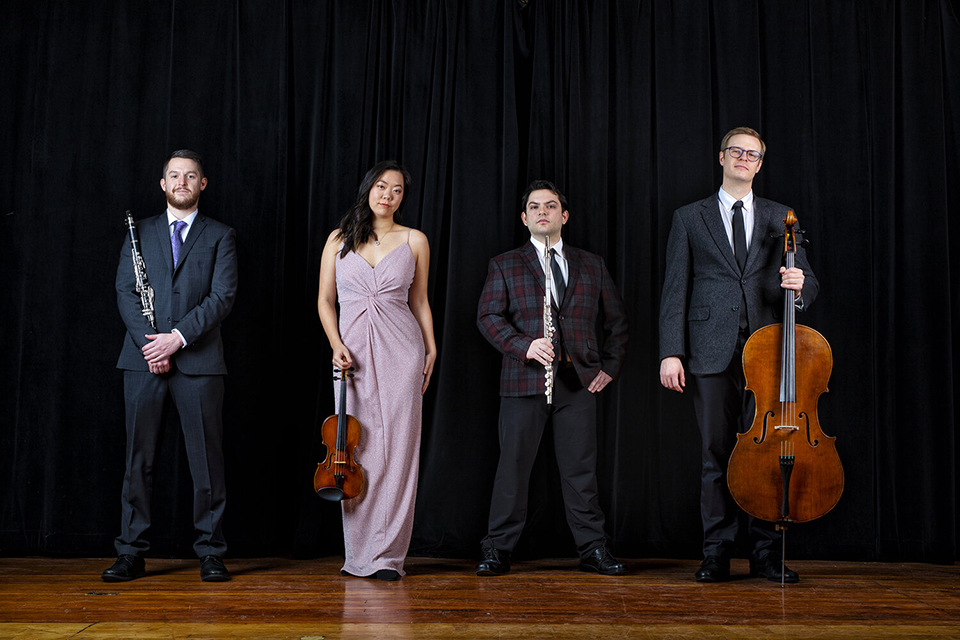 Photo Credit: Robert Torres
Friday, April 1, 2022, 7:30 p.m. ET
Slosberg Music Center
Called "contemporary chamber trailblazers" by the Boston Globe, Hub New Music – a quartet of flute, clarinet, violin, and cello – is forging new pathways in 21st-century repertoire. The ensemble's ambitious commissioning projects and "appealing programs" (New Yorker) celebrate the rich diversity of today's classical music landscape. Its performances have been described as "gobsmacking" (Cleveland Classical), "innovative" (WBUR), and "the cutting edge of new classical music" (Taos News). In the inaugural Henri Lazarof New Music Brandeis Annual Concert, this acclaimed ensemble will perform new works from Brandeis graduate student composers.