Letters from Dean Acheson to Alice G. Brandeis
October, 1941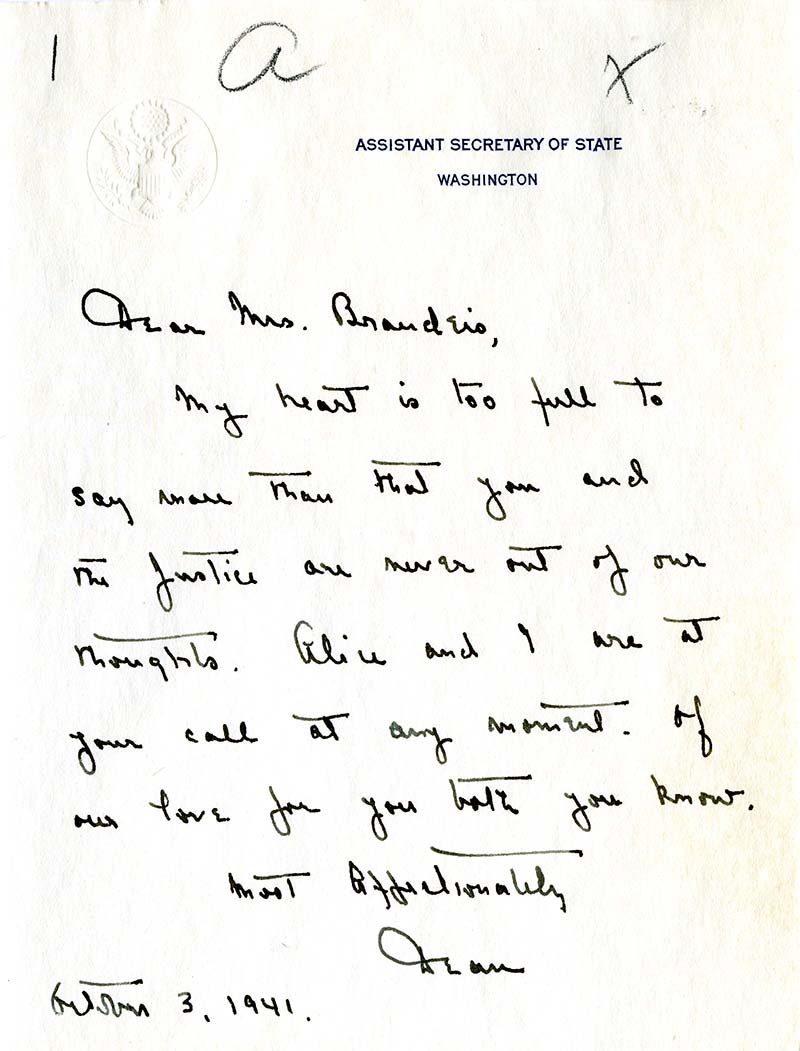 Transcript
[Assistant Secretary of State letterhead] My heart is too full to say more than that you and the Justice are never out of our thoughts. Alice and I are at your call at any moment. Of our love for you both you know.
Most Affectionately,
Dean
October 3, 1941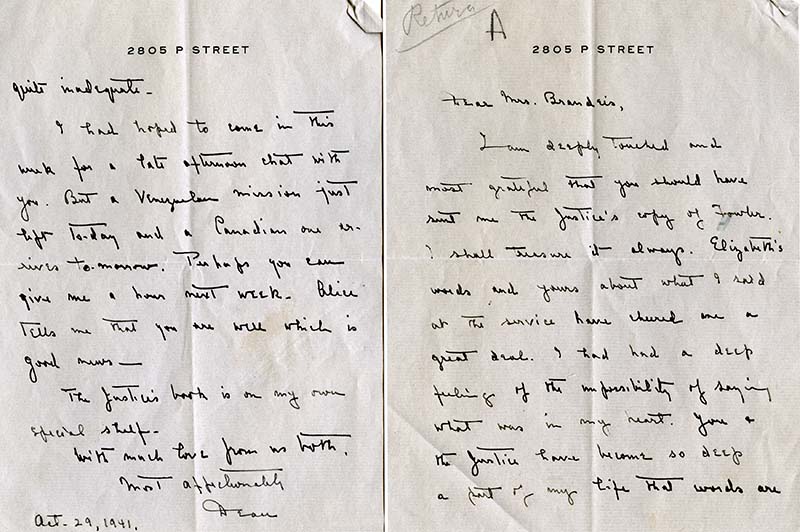 Transcript
Dear Mrs. Brandeis,
I am deeply touched and most grateful that you should have sent me the Justice's copy of Fowler. I shall treasure it always. Elizabeth's words and yours about what I said at the service have cheered me a great deal. I had had a deep feeling of the impossibility of saying what was in my heart. You and the Justice have become so deep a part of my life that words are quote inadequate.
I had hoped to come in this week for a late afternoon chat with you. But a Venezuelan mission just left today and a Canadian one arrives tomorrow. Perhaps you can give me a[sic] hour next week. Alice tells me that you are well which is good news--
The Justice's book is on my own special shelf.
With much love from us both.
Most affectionately,
Dean
Oct. 29, 1941.
| | |
| --- | --- |
| CREATOR | Dean Acheson |
| DATE | 10/03/41 and 10/29/1941 |
| LOCATION | Washington, D.C. |
| LANGUAGE | English |
| FORMAT | Text (Letter) |
| COLLECTION | Louis Dembitz Brandeis Collection |
| BOX, SERIES | 49, I.IId.1 |
| RIGHTS | Copyright restrictions may apply. For permission to copy or use this image, contact the Robert D. Farber University Archives & Special Collections Department, Brandeis University Library |