Letter from The American Civil Liberties Union to Alice G. Brandeis
October 7, 1941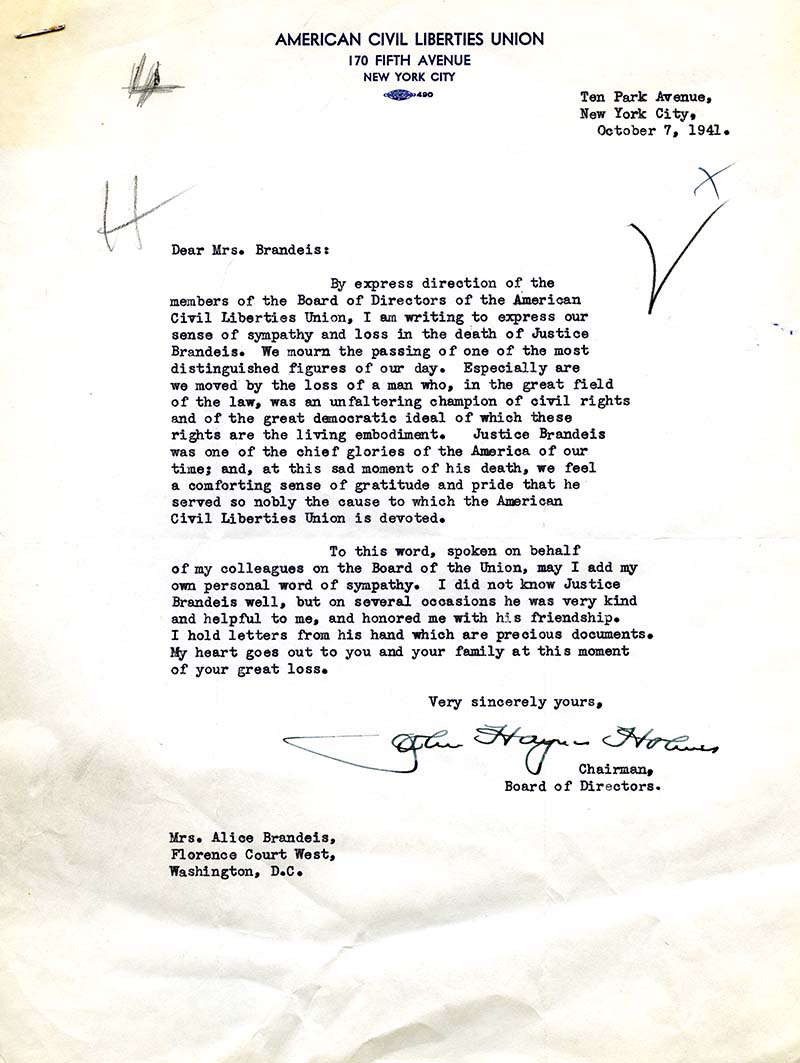 Transcript
[American Civil Liberties Union letterhead]
Ten Park Avenue, New York City, October 7, 1941.
Dear Mrs. Brandeis:
By express direction of the members of the Board of Directors of the American Civil Liberties Union, I am writing to express our sense of sympathy and loss in the death of Justice Brandeis. We mourn the passing of one of the most distinguished figures of our day. Especially are we moved by the loss of a man who, in the great field of the law, was an unfaltering champion of civil rights and of the great democratic ideal of which these rights are the living embodiment. Justice Brandeis was one of the chief glories of the America of our time; and, at this sad moment of his death, we feel a comforting sense of gratitude and pride that he served so nobly the cause to which the American Civil Liberties Union is devoted.

To this word, spoken on behalf of my colleagues on the Board of the Union, may I add my own personal word of sympathy. I did not know Justice Brandeis well, but on several occasions he was very kind and helpful to me, and honored me with his friendship. I hold letters from his hand which are precious documents. My heart goes out to you and your family at this moment of your great loss.

Very sincerely yours,
???
Chairman,
Board of Directors.

Mrs. Alice Brandeis,
Florence Court West,
Washington, D.C.
| | |
| --- | --- |
| CREATOR | American Civil Liberties Union |
| DATE | 10/07/1941 |
| LOCATION | New York, New York; Washington, D.C. |
| LANGUAGE | English |
| FORMAT | Text (Letter) |
| COLLECTION | Louis Dembitz Brandeis Collection |
| BOX, SERIES | 49, I.IId.1 |
| RIGHTS | Copyright restrictions may apply. For permission to copy or use this image, contact the Robert D. Farber University Archives & Special Collections Department, Brandeis University Library |