News About Brandeis University
Printed in July, 1947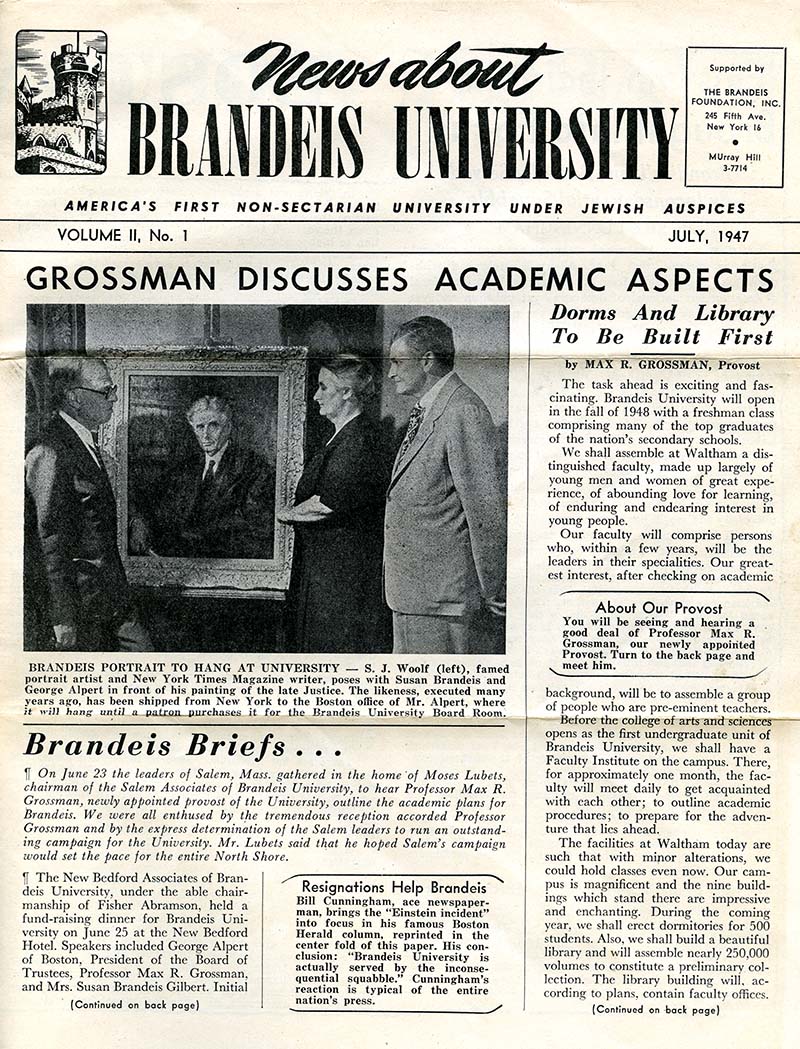 Transcript
News about Brandeis University
Supported by The Brandeis Foundation, Inc.
245 Fifth Ave. New York, NY 16
Murray Hill 3-7714
America's First Non-Sectarian University Under Jewish Auspices
Volume II, No. 1
July 1947
Grossman Discusses Academic Aspects

Dorms And Library To Be Built First
by Max R. Grossman, Provost.

The task ahead is exciting and fascinating. Brandeis University will open in the fall of 1948 with a freshman class comprising many of the top graduates of the nation's secondary schools.

We shall assemble at Waltham a distinguished faculty, made up largely of young men and women of great experience, of abounding love for learning, of enduring and endearing interest in young people.

Our faculty will comprise persons who, within a few years, will be the leaders in their specialties. Our greatest interest, after checking on academic background, will be to assemble a group of people who are pre-eminent teachers.

Before the college of arts and sciences opens as the first undergraduate unit of Brandeis University, we shall have a Faculty Institute on the campus. There, for approximately one month, the faculty will meet daily to get acquainted with each other; to outline academic procedures; to prepare for the adventure that lies ahead.

The facilities at Waltham today are such that with minor alterations, we could hold classes even now. Our campus is magnificent and the nine buildings which stand there are impressive and enchanting. During the coming year, we shall erect dormitories for 500 students. Also, we shall build a beautiful library and will assemble nearly 250,000 volumes to constitute a preliminary collection. The library building will, according to plans, contain faculty offices. (Continued on back page)

Insert: About Our Provost: You will be seeing and hearing a good deal of Professor Max R. Grossman, our newly appointed Provost. Turn to the back page and meet him.

Photo caption:

Brandeis Portrait to Hang at University -- S.J. Woolf (left), famed portrait artist and New York Times Magazine writer, poses with Susan Brandeis and George Alpert in front of his painting of the late Justice. The likeness, executed many years ago, has been shipped from New York to the Boston office of Mr. Alpert, where it will hand until a patron purchases it for the Brandeis University Board Room.

Brandeis Briefs...

On June 23, the leaders of Salem, Mass. gathered in the home of Moses Lubets, chairman of the Salem Associates of Brandeis University, to hear Professor Max R. Grossman, newly appointed provost of the University, outline the academic plans for Brandeis. We were all enthused by the tremendous reception accorded Professor Grossman and by the express determination of the Salem leaders to run an outstanding campaign for the University. Mr. Lubets said that he hoped Salem's campaign would set the pace for the entire North Shore.

The New Bedford Associates of Brandeis University, under the able chairmanship of Fisher Abramson, held a fund-raising dinner for Brandeis University on June 25 at the New Bedford Hotel. Speakers included George Alpert of Boston, President of the Board of Trustees, Professor Max R. Grossman, and Mrs. Susan Brandeis Gilbert. Initial (Continued on back page)

Resignations Help Brandeis

Bill Cunningham, ace newspaperman, brings the "Einstein incident" into focus in his famous Boston Herald column, reprinted in the center fold of this paper. His conclusion: "Brandeis University is actually served by the inconsequential squabble." Cunningham's reaction is typical of the entire nation's press.
| | |
| --- | --- |
| CREATOR | Supported by The Brandeis Foundation, Inc. |
| DATE | 07/01/1947 |
| LOCATION | New York, New York; Waltham, Massachusetts |
| FORMAT | Text (Newsletter) |
| LANGUAGE | English |
| COLLECTION | Louis Dembitz Brandeis Collection |
| BOX, SERIES | 133, VI.I.a.1 |
| RIGHTS | Copyright restrictions may apply. For permission to copy or use this image, contact the Robert D. Farber University Archives & Special Collections Department, Brandeis University Library |