Letter from President Franklin D. Roosevelt to Alice G. Brandeis
October 6, 1941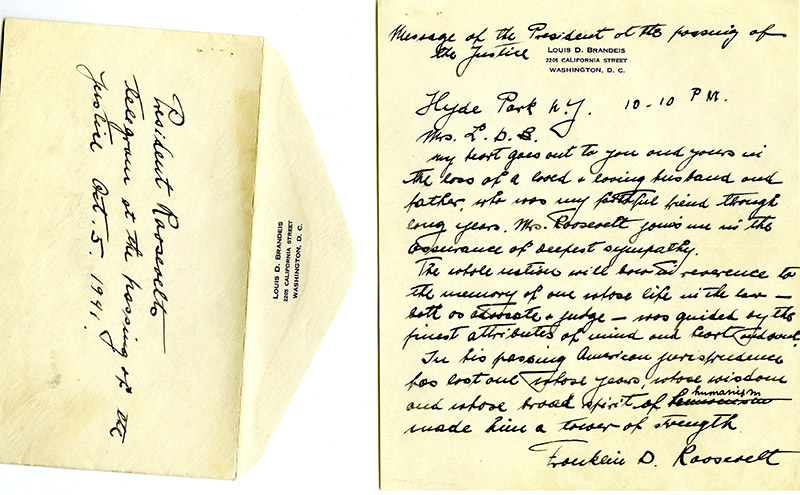 Transcript
[Printed letterhead:
Louis D. Brandeis
2205 California Street
Washington, D.C.]
Message of the President on the passing of the Justice
Hyde Park N.Y. 10.10 M.
Mrs. L.D.B.

My heart goes out to you and yours in the loss of a loved and loving husband and father who was my faithful friend through long years. Mrs. Roosevelt joines me in the assurance of deepest sympathy.

The whole nation will [bow in reverence] to the memory of one whose life in the law - both as advocate and judge - was guided by the finest attributes of mind and heart and soul.

In his passing American jurisprudence has lost one whose years, whos wisdom and whose broad spirit of humanism made him a tower of strength Franklin D. Roosevelt

[Printed on envelope:
Louis D. Brandeis
2205 California Street
Washington, D.C.]

President Roosevelt's telegram on the passing of the justice Oct. 5, 1041."
| | |
| --- | --- |
| CREATOR | Franklin D. Roosevelt |
| DATE | 10/06/1941 |
| LOCATION | Washington, D.C. |
| LANGUAGE | English |
| FORMAT | Text (Letter) |
| COLLECTION | Louis Dembitz Brandeis Collection |
| BOX, SERIES | 51, I.II.d.3 |
| RIGHTS | Copyright restrictions may apply. For permission to copy or use this image, contact the Robert D. Farber University Archives & Special Collections Department, Brandeis University Library |