Class of 1991
Class Correspondent
Andrea C. Kramer
1212 Drake Street SW

Vienna

, 

VA

 

22180-6523
Now that it's summertime, perhaps you're enjoying a bit of rest and a break from your regular routine. How about using this time to reconnect with the people and places that were an important part of your past? If you were unable to make our 20th Reunion and haven't been back to the Brandeis campus in a while, consider planning a trip. You'll be amazed at how much the campus has changed since we were there. Better yet, drop me a line about your latest personal or professional news. Your classmates and I would love to hear what you have been doing!

Josh Berkowitz's new book, "Third Base for Life: A Memoir of Fathers, Sons and Baseball," was released in March. It is the true story of 12 bungling fourth-grade boys from a small Jewish day school who band together to challenge the top 10-year-old baseball talent in the country at Cooperstown Dreams Park, one of the nation's most prestigious youth tournaments. Josh writes, "The story includes some personal flashbacks, and a few Brandeis classmates may even recognize themselves in the pages." Ari Marcus was recently promoted to principal biostatistician and director of statistical programming at Outcome Sciences.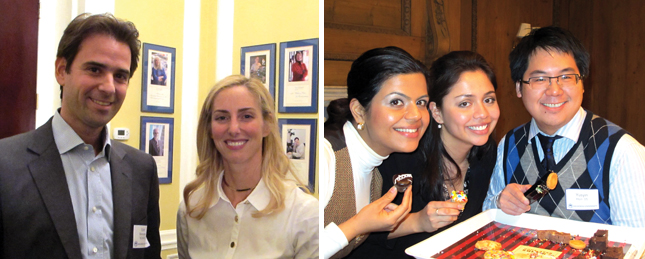 Sweet success. Mia (Kozicharow) Bauer '91, who founded Crumbs Bake Shop, which now has more than 50 outlets around the country, visited Brandeis House to share her entrepreneurial secrets (and her cupcakes) with an overflow crowd of alumni. Left: Event moderator Izzet Bensusan '98, M.A.'99, and Bauer. Right: Arti Dua '04 (left), Yusyin Hsin '05 (right) and a friend enjoy some samples that Bauer brought along.
Submit a Class Note