Class of 2005
Class Correspondent
Judith Lupatkin
254 West 98th Street, #2B

New York

, 

NY

 

10025
I hope you're all doing well. It was great to hear back from some of you with your Class Notes. As for me, I've had a busy couple of months. I had the opportunity to staff two Birthright Israel trips during the winter. There was a fellow alum on one of the trips, and we saw a Brandeis yarmulke for sale in Tzfat. I guess Brandeis pride reaches overseas! Additionally, I recently accepted a position marketing HBO films. It's still new, but I'm really enjoying it and learning a lot. It's definitely an exciting place to work.

Sarah Kaplan has opened a new business in southern New Jersey, B Positive National Blood Services. It is the state's only dedicated plasmapheresis center. She has taken on the roles of chief development officer and head of quality assurance. Aron Klein ran in the Los Angeles Marathon on March 18. He finished in 5 hours, 26 minutes and 41 seconds in his first-ever marathon. Michelle Junger recently accepted a position as assistant dean of graduate admissions at Hofstra University and will be completing her second master's degree later this year. Deirdre Mooney and Richard Oberdorf '04 are delighted to announce their engagement. After a stint as executive director of N.Y. Tech Meetup, the monthly gathering where startups can demo their products, Nate Westheimer has returned to being a full-time tech entrepreneur. He has co-founded a new startup with Charles Forman of Omgpop and Jacob DeHart, the co-founder of Threadless. The company, an online photo-storage and syncing service called Picturelife, has raised $600,000 from local angels. Picturelife is still in beta, but a landing page describes it as "the best way to keep all your photos backed up, synced and organized so you can access them anywhere." Sara Friedlander married Matthew Siegel on March 24 at the Metropolitan Building, a restored factory in New York. Sara is a vice president specializing in postwar and contemporary art at Christie's, the New York auction house. She received a master's degree in fine and decorative arts from the Sotheby's Institute of Art in London. Matthew founded and served as chief operating officer of Indaba Media, a music technology company in Manhattan. As a child, he was a star of the situation comedy ''Brooklyn Bridge,'' which was created by Gary David Goldberg '66. Lauren Freeman is engaged to Aaron Reisner. Lauren earned her law degree from Temple University and works at Legal Services of New Jersey as a Social Security disability attorney. Aaron, a graduate of Cornell, works as a geographic information systems analyst at New Jersey Transit.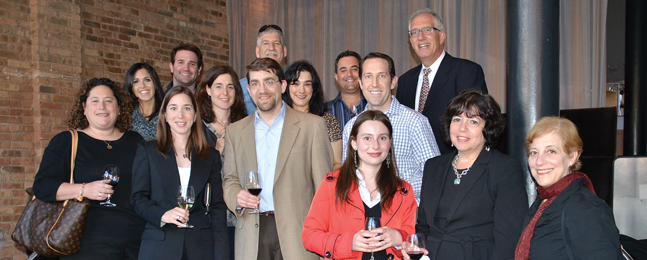 A VINTAGE EVENING. Alumni gathered in the lounge of mk, an acclaimed restaurant in Chicago, for an evening of great food and wine. The Alumni Club of Chicago sponsored a guided tasting of favorites from the restaurant's award-winning wine list, which allowed participants to sample wine pairings and explore affordable wine options.
Submit a Class Note