Class of 1963
It is always interesting to see classmates undertaking new challenges. I am still an attorney in New York at the law firm Duane Morris. I represent Brazilian financial institutions and other businesses in their endeavors outside Brazil, and travel to that country frequently. For R&R, I study piano.
After teaching journalism and creative writing at Baruch College for 42 years, Roslyn Laufgraben Bernstein retired last year. She writes about arts and culture in such venues as Guernica, Tablet and HuffPost. She just completed a young-adult novel set in Jerusalem during the 1961 Adolf Eichmann trial. She and her husband, architect Shael Shapiro, have 10 grandchildren, seven in Israel. Bruner/Cott & Associates, led by founding principal Simeon Bruner, was hired to restore the former Boston University Theatre, a historic space that is now the property of the Huntington Theatre Company. Bruner/Cott was also recognized for its renovation of the Massachusetts Museum of Contemporary Art, in North Adams. Since retiring, Doris Stein Cohen and her husband, David, have continued their stewardship of the Young Scholars Fund, a program they founded to instill and nurture in inner-city third- and fourth-graders the idea of going to college. Donna Robinson Divine, P'01, was elected president of the Association for Israel Studies, the international organization for professors and scholars who write and teach about Israel. Charles Giuliano published his fourth book, "Gloucester Poems: Nugents of Gloucester." It includes information about his mother, Josephine Flynn, the only woman to graduate from Middlesex College of Medicine and Surgery in 1933. Middlesex College was housed in Usen Castle, built by John Hall Smith, who sold the campus to Brandeis' founders. His son, C. Ruggles Smith, served as Brandeis admissions director. A poem by Robbie Pfeufer Kahn, MA'83, PhD'88, titled "Family Outing," was published in the journal Maternal Subjectivities. For the past 43 years, Steven Kazan has been an asbestos victims' advocate, trial lawyer and activist. His firm, Kazan, McClain, Satterley & Greenwood, handles mesothelioma cases throughout the U.S. Steven is particularly proud to be at the top of the U.S. Chamber of Commerce's and The Wall Street Journal's asbestos-lawyer "enemies lists," and says he strives daily to continue to earn such disaffection. He writes, "I was a fencer at Brandeis, which is a tough sport to continue in the local schoolyard; was a lousy tennis player; and never learned to play golf, so I continue to work." Jewel Naxon Klein's husband died of pancreatic cancer on March 3, 10 weeks after diagnosis. She writes, "As he said to me, 'We had a good ride.' He wanted me to be strong and resilient, and our three daughters and I are just that." Jewel works part time as an administrative law judge for the city of Chicago, and represents clients in real estate, probate and divorce matters. Abbe Stahl Steinglass has an art studio in the Berkshires and continues to work with artists at the Meeting House Gallery, in New Marlborough, Massachusetts. At the suggestion of his loving spouse, Nancy, Frank Susman, P'90, has agreed to semi-retirement from the active practice of law, which has included trial litigation in 17 states, and the briefing and argument of 155 appeals, including nine before the U.S. Supreme Court. His latest endeavor is organizing nationwide opposition to a federal constitutional convention, which has now been called for by 28 states and needs only six more state calls to become effective. Frank believes such a convention, the rules for which would be established by Congress, would pose the greatest threat to civil liberties our country has ever faced.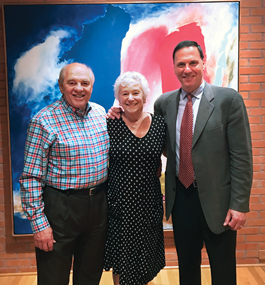 TEXAS HOSPITALITY: Sixty Brandeis alumni, parents and friends welcomed President Ron Liebowitz to a Houston event hosted by Bobbi and Vic Samuels, both '63 (shown here with Liebowitz). Francyne Davis Jacobs '95, president of the Alumni Club of Houston, and several members of the club's steering committee also attended.
Submit a Class Note