Class of 2006
Class Correspondent
Catherine Heffernan Gibson
I am delighted to be serving as class correspondent. I am the development director at the Religious Action Center of Reform Judaism, in Washington, D.C., building on my years of fundraising (starting at Brandeis) and my commitment to social justice/tikkun olam.
Hannah Berg had baby Leon Mavrick in September 2016. She lives in Portland, Oregon. Margareth Del Cid-Haines was awarded the American Psychological Association's Minority Fellowship Program Award, given in recognition of her commitment to reducing mental-health disparities in underserved communities of color. She is a doctoral candidate in clinical psychology at Palo Alto University. Amanda DeMartino was named athletic director at the College of New Jersey. She had previously served in similar positions at Raritan Valley Community College, in New Jersey, and at Northwood University in West Palm Beach, Florida. As a student at Brandeis, Amanda was a four-year starter for the women's basketball team; she was team captain during her senior year. Josh and Karen Travis Goldfischer welcomed their second son, Jacob Miles, on April 28. Big brother Benjamin is enjoying his new role. Josh earned an MBA from NYU Stern School of Business in May and works at NBCUniversal. Karen completed an advanced degree in psychoanalysis and is a social worker. Rachel (Beaulieu) and Jason Goldsmith, MS'06, had a daughter, Tessa Rose, in April. Her brother, Logan, is 3. Hannah '05 and Michael Hofrichter are delighted to welcome their son, Elnatan Aryeh, born on March 23. Big sister Razele is thrilled with the new addition. Monica Katz-Lapides married Jeff LaBoskey on Feb. 19 at The NWBLK, in San Francisco, where they live. Attendees included Tim Suzman; Krystel (Ariel) Harvey; Ken Goff, IBS MA'07; Bekka Saks, MA'06; Samantha Laub; Michelle Pilloff; Tara (Steinberg) Goldman; Jacob Baron, IBS MA'07; Hannah Berg; Mas Uchino; Nate Goldman; and Stacey Levine, IBS MA'07. Monica is a partner at a law firm, and Jeff is an architect. Elyse Seener Nagiel and her husband, Isaac,had a son, Rahm Ezra, in April. Lianna Levine Reisner and Elnatan Reisner '05 welcomed their third child, Aviva Miriam, in February. Big siblings Maayan, 6, and Lev, 4, are thrilled. Lianna is an organization development coach and consultant, working primarily with synagogues through the UJAFederation of New York. In May, UJA published her study about synagogues' use of a voluntary-dues model, co-authored with Rabbi Dan Judson, PhD'16. Josh Simmons and Dave Harris were married at the Brooklyn Museum during Memorial Day weekend. A contingent of Brandeis alumni were in attendance. Josh has been appointed to serve as an adviser to the National Conference of Commissioners on Uniform State Laws' study committee on right of publicity. The Legal 500 named him a Next Generation Lawyer. An Vo, IBS MA'07; his wife; and their two sons have started a new adventure in Paris, where An is CFO for an American-French joint venture.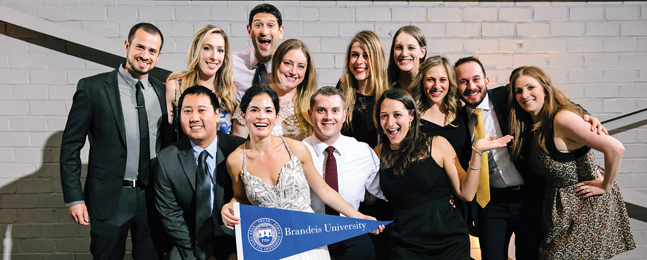 Many Brandeis alumni attended the wedding of Monica Katz-Lapides '06 and Jeff LaBoskey on Feb. 19 at The NWBLK, in San Francisco.
Submit a Class Note