Class of 2010
Tamar Ariel and Matthew Kravitz '07 were married on Nov. 12, 2016, in Durham, North Carolina. In May, they moved back to Washington, D.C., after spending two years in the Tar Heel State while Tamar pursued an MBA at Duke's Fuqua School of Business. Matthew worked on political campaigns in North Carolina throughout 2016. Nicholas Brown received an MS in library and information science from the Catholic University of America. He is president-elect of the District of Columbia Library Association and the Iota chapter of the Beta Phi Mu honor society. This year, he marked his fifth anniversary of working at the Library of Congress, where he co-produced the recent Bibliodiscotheque event series, featuring Gloria Gaynor. (Be sure to read his Turning Points essay, here.) Ann Carver married Patrick Murphy on June 24. Geoffrey Cohen is sales manager at Domaine Montrose in Pézenas, France, managing exports for the centuries-old family estate specializing in rosé wines. Will Collins is halfway through his PhD studies at Tufts' Sackler School of Graduate Biomedical Sciences. He's a member of the pharmacology and experimental therapeutics group, working on tissue engineering models of neurodegenerative disease. Previously, he worked in materials science and analytical chemistry at defense contractor QinetiQ North America. Alex Epps married Emily Muller on Sept. 3. They celebrated with friends and family in both New York and the Berkshires. They look forward to singing and dancing together many more times in the years to come. Parker Fader IV married Mark Barber on May 28 at Thalassa, a New York City restaurant. Parker, a second-year psychiatry resident at the Mount Sinai Hospital, graduated from Rutgers Robert Wood Johnson Medical School. Mark, an intern at Lenox Hill Hospital, begins a neurology residency next year at Mount Sinai. Jeremy Gonzales-Gottlieb married his partner of three years, Francis Gonzales. They live in New York City's Astoria neighborhood. Sarah Gross has handled residential real-estate sales at Rutenberg, in Manhattan, for the past five years. Jared Hite, Heller MPP/MBA'17, is a policy analyst at the Long-Term Quality Alliance, in Washington, D.C. Gabe Marwell married Shea Carney on a hot April afternoon in Alexandria, Virginia. They felt fortunate to be surrounded by so many friends and family members, including Gabe's parents, David '73 and Judy Marwell '71, P'10. Other attendees included Alex Blutinger, Alex Cemaj, Clifford Cohn '73, Sami Druss '09, Jesse Hershman, Marcel Baker Kuhl, Richard Magee, Ethan Palmer, David Schwarzberg, Jeremy Sherer, Kayla Sirkin, Deborah Spitalnik '70, John Weingart '70 and Zach Zorfas. Meghan McHale and Christian Dangremond '07 are parents. Owen McHale Dangremond was born on April 16 in Cambridge, Massachusetts. Shira Rosenblum, who graduated in May from the Jewish Theological Seminary with rabbinic ordination and a master's degree in Jewish education, is second rabbi at the Jacksonville (Florida) Jewish Center. In July, she represented Maccabi USA as the sole member of its inaugural archery team at the 20th World Maccabiah Games, in Israel. Linnea Sage wrote and stars in her first self-produced short film, "I Lost My Wife," which is being shown at film festivals. She also writes as an expert contributor at Backstage.com. Elizabeth Setren completed a PhD in economics at MIT. Her research focuses on the potential of education policies to ameliorate achievement gaps. She will be a postdoctoral fellow at the National Bureau of Economic Research for a year before joining Tufts as an assistant professor of economics. Jessie Steinberg married Shaun Hautly on March 17 in St. Louis, Missouri. The bridal party included three Brandeisians: Anne Schweitzer; Rebecca (Shapiro) Ruberg, MA'11; and Leah Levy. Miriam von Guggenberg married William Fasoli on April 28 in Redondo Beach, California, after dating for five years. They live in Sunnyvale.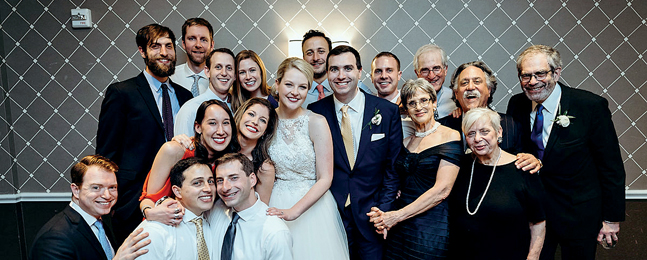 Two generations of alumni joined the celebration as Gabe Marwell '10 married Shea Carney on April 29 in Alexandria, Virginia. Many of Gabe's classmates attended, along with classmates of his parents, David '73 and Judy '71, P'10.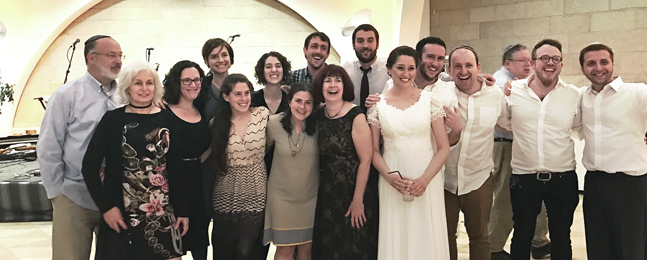 Adam Ross '10, son of Deborah Zecher '77, P'10, married Eliya Freund in March in Jerusalem. Rabbi Avram Mlotek '09 officiated. Many alumni attended, including Deborah's sister, Elaine '83, and brother, Steven '80. 4. Last winter, Noam Steinman '15 married Leora Jaffe in Jerusalem.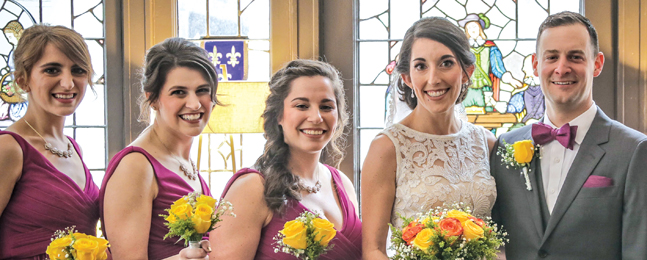 Jessie Steinberg '10 married Shaun Hautly on March 17 in St. Louis, Missouri. Anne Schweitzer, Rebecca (Shapiro) Ruberg and Leah Levy, all '10, were members of the bridal party.
Submit a Class Note