Class of 1973
The older we get, the more we make plans and then life gets in the way. I hope you will take a moment to send me a note so we know what you are up to. Over the summer, I visited Taos School of Music to see my son play cello at the string-quartet festival, and celebrated my mom's 95th birthday at a family reunion in Newburyport, Massachusetts.
Four years into retirement from the faculty of the University of Colorado Law School, Al Canner has stepped into a new persona: fiber artist. During the past year, his knotted-cord sculptures were selected to appear in international contemporary fine-craft exhibitions in Philadelphia and Houston (his work won third place at the latter). Jon Fobia was inducted into the Joseph M. Linsey Brandeis Athletics Hall of Fame on Oct. 7 during Homecoming. One of the top men's soccer players of the pre-Mike Coven era, he was an All-New England selection in each of his three seasons, at a time when the team included Division I, II and III players. As a sophomore, he scored 13 goals and added five assists in just 11 games. He played a variety of positions during his Brandeis career. Sheila Katz spent much of last year on sabbatical, speaking about her new book, "Connecting With the Enemy: A Century of Palestinian-Israeli Joint Nonviolence." She visited universities, synagogues, churches, a Buddhist center and bookstores in the U.S., Spain, Ireland and Northern Ireland. The first event was the annual Topol Lecture on Nonviolence Practice, sponsored by the coexistence and conflict program at Brandeis' Heller School. After living in Santa Fe, New Mexico, for 17 years, Jakki Kouffman and her husband, Jonathan Sperber, moved to St. Petersburg, Florida. Before leaving the Southwest, Jakki received first place in oil/ acrylic at MasterWorks of New Mexico, an annual statewide juried exhibition in Albuquerque. She recently showed her paintings at St. Pete's Morean Arts Center and the Dunedin Fine Arts Center. Lorne (Richard) Prupas writes, "When I arrived at Brandeis in 1969, I felt overwhelmed. How could I have been accepted by a school with so many smart people? And so many rich people? Someone must have made a mistake. Only after completing a PhD and being an agent of change in the lives of men and women who suffered with PTSD did I feel I had earned the honor of that Brandeis degree. Now I am attending the Yiddish Institute at Vilnius University, in Lithuania. Who knew I would find comfort in studying the mother tongue of my parents and grandparents? I wish you good health. Long life. And wonder." Paul Trusten has been a pharmacist at Texas' Midland Memorial Hospital for 17 years. He has undertaken two pilgrimages to honor his family's service in World War II. In October 2013, he visited the former U.S. air base in Wendling, England, from which his Uncle Samuel served as a tail gunner in 30 missions over France and Germany. The second journey, the following May, was to Guadalcanal, Solomon Islands, where his father, Hyman, was a cryptographic technician.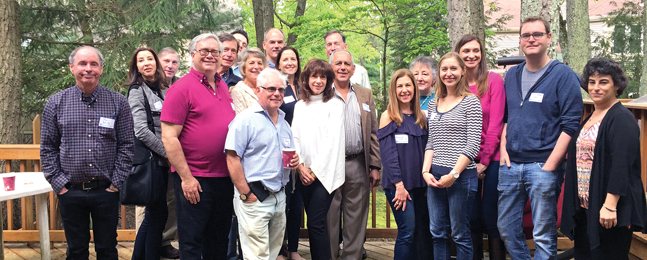 CABLE READY: Twenty alumni, parents and friends enjoyed a Faculty in the Field event featuring Tom Doherty (far left), professor of American studies, who led a discussion titled "The Great American (Television) Novel." Ellen and Lee Brooks '73, P'13, hosted the event at their home in Voorhees, New Jersey.
Submit a Class Note