New students energized despite unusual move-in
Class of 2015 weathers hurricane together, receives words of advice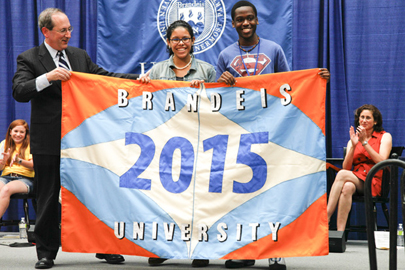 Brandeis leaders shared various kinds of wisdom, told of many personal experiences and gave lots of advice as they welcomed the Class of 2015 to campus in the aftermath of Hurricane Irene.
The storm that delayed orientation by a day created "an unusual move-in, to be sure," but one that "in many ways captures all that I like best about Brandeis," said President Fred Lawrence at the annual Brandeis Beginnings event in Gosman Sports and Convocation Center.
"The hallmark was flexibility, it was creativity, it was the remarkable energy level of our staff, of our under-slept, over-caffeinated orientation leaders," Lawrence said. "It's about teamwork, it's about optimism, it's about remembering that none of us is as smart as all of us."
Some 650 members of the 860-strong entering class moved in early and weathered Irene together. By the time orientation events got rolling with the academic fair and Brandeis Beginnings, the sky was deep blue, the temperature was balmy and seemingly everyone was smiling at the sunny brilliance of the day.
"Those of you who haven't lived through hurricanes before, you now know that when the hurricane passes, it doesn't just stop raining, it's just drop-dead gorgeous," Lawrence said. "When you come through the storm and you come through the storm together, what you pick up with and what you run with is just extraordinary."
Lawrence told the first-years they were joining a family, and he called out the names and accomplishments of some of Brandeis' most outstanding alumni. But, he added, the entering students also would discover other new family members whom they do not yet know, and who will be of tremendous importance.
"Someplace in this room, someplace on campus, are friends who will be lifelong friends," he said. "They will celebrate the good things in life and will help get you through the hard things in life."
"For many of you there's a spouse in this room," he continued, to appreciative laughter. "We consider ourselves a full-service university." Others will find "a professor who is going to change the way you see the world, change your life and change your outlook."
Steve Goldstein '78, who officially becomes provost of Brandeis on Sept. 1, told the students of aspects of his own career – researching sudden infant death syndrome, building a hospital, transferring medical knowledge to the Third World – that demonstrated the longstanding, substantive commitment of the university to social justice. Then, he challenged them.
"Take control," he said. "You are your own destiny...take risks. If you make no mistakes, you are playing it too safe."
Goldstein got big laughs with his ruminations on "What is a provost?" – particularly historical references to provosts as prison guards.
Susan Birren, the professor of neurobiology who this summer was named dean of arts and sciences, told the class that the faculty's passionate commitment to its work would "provide opportunities for you to be not merely a consumer, but an active participant in your education…"
She urged them to explore the opportunities of study abroad, experiential learning and the new Justice Brandeis Semester programs.
"What makes professors excited about their field also makes them passionate to share that sense of wonder, excitement, awe and beauty with the next generation of scholars, doers and creators," Birren told the first-years. "That would be you."
Hours before wind and rain had cut through the campus, but not even hurricane Irene could keep the Class of 2015 from their first days of college life. While some families experienced delays, the campus was buzzing this morning under a cloudless blue sky. Potted plants and suitcases were carried into their new homes, everyone eager to meet new friends.
Youngil Jo, from Williamsville, N.Y., arrived on Saturday, just before Irene. Jo and his father were relaxed and headed to orientation after moving in on the Massell Quad.
"I'm not completely sure what I'd like to major in, but I'm planning on neuroscience," said Jo, who was on his high school's math club.
Zachary Bardwell of North Andover, Mass., spent part of the morning dodging scattered tree branches near his home, but said the ride to Waltham was an easy one. Bardwell will play baseball for the Brandeis Judges, possibly as a center fielder or pitcher.
"Move-in was designed really well, so we got through pretty quickly," said Bardwell. "I'm really excited to be here starting college. How can you not be?"
Seniors Shirel Guez and Aeisha Lima, both managers with the Brandeis Escort Safety Service, began gearing up for the move-in at 5:30 a.m. on Monday.
"We're here to make sure that cars don't run into each other and that people know where they're going," said Lima. "Everyone's excited to move in and it's a beautiful day. We had a huge chunk of move-ins on Saturday, so today is even easier" than the usual orientation day, in which almost the entire entering class arrives within a short period.
During the school year Escort Safety Service, which is managed by the Department of Public Safety, organizes transportation for students.
Rachel Hirschhaut, of Deerfield, Ill., arrived Thursday night before flights were halted on the East Coast. The Midwesterner says that she enjoys the humanities and is considering a major in English, American studies or history.
"All went very smoothly getting into my dorm," Hirschhaut said. "I wish I had moved in yesterday, but I'm here now!"
Jeremy Coffman, from Los Angeles, arrived Friday. "The whole process, from checking in, to getting keys, to students helping us move in, was awesome," said his father, while waiting for Jeremy to return from an orientation event.
Both of Jeremy's parents are architects.
"Jeremy's here for a great liberal arts education," says his father. "We're hoping he has no interest in architecture. It's a tough profession."
"People are happy to come to Brandeis," Lima said. "Nothing could stop them."
Not even a hurricane.
Return to the BrandeisNOW homepage