Justice Brandeis Semester expands its offerings
Last summer, Justice Brandeis Semester (JBS) programs exposed students to areas of study like healthcare and nutrition, mobile apps, and American politics through experiential learning. In summer 2014, Brandeis will offer at least 10 different JBS programs to students at Brandeis and other universities.  
JBS is an engaging, immersive academic program in which small groups of students explore a thematic topic through inquiry-based courses linked to real-world experiential opportunities.
JBS field-based research, creative work, community-engaged learning or internships allow students to gain real-world experience, build close relationships with professors and small groups of students, and acquire skills that will make them stand apart from their peers after Brandeis.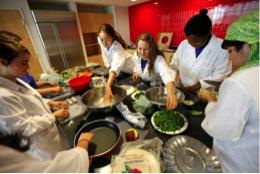 The following JBS programs will be offered:

•    American Democracy: Version 2.0, professor Dan Kryder
•    Architectural Design Study, professor Chris Abrams
•    Brand Marketing and Communications, professor Grace Zimmerman
•    Breaking Boundaries: Immigration and Education, professors Kristen Lucken and Mitra Shavarini
•    Civil Rights and Educational Equity in the U.S., professor David Cunningham
•    Exploring the Past, Impacting the Future: Archeological Field School, professors Donald Slater and Javier Urcid
•    Food, Lifestyle and Health, professors Elaine Lai and Lindsay Rosenfeld
•    Health, Law and Justice, professors Sarah Curi and Alice Noble
•    Real Estate Development and Investment, professor Ed Chazen
•    Voice, Web and Mobile Applications, professors Tim Hickey and Marie Meteer
 
To learn more about the upcoming programs, please visit JBS on the web.


Return to the BrandeisNOW homepage