Rare film gems to sparkle at NCJF's mini-festival
'Hollywood and Hitler' author Thomas Doherty to introduce films at Oct. 9 event
You won't see the film "I Was a Captive of Nazi Germany" on Netflix or Pandora. And don't bother to search Amazon to download the 1939 short, "Sons of Liberty."
But if you're a film aficionado with a taste for the obscure and quirky, you can see both features at
The National Center for Jewish Film Mini-Festival
at the
Museum of Fine Arts
, Boston, Oct. 3-13.
Brandeis Professor of American studies
Thomas Doherty
, author of the critically acclaimed new book, "Hollywood and Hitler, 1933-39," will introduce both films at a screening Oct. 9.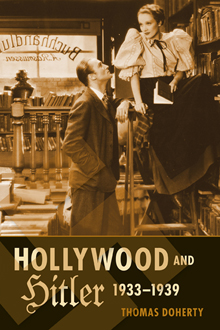 "It's exactly the kind of project that we love to do — archival films with a strong curatorial and academic push to get them out to general audiences," says Lisa Rivo, co-director at NCJF, which is located at Brandeis and houses the largest archive of Jewish films in the world, outside of Israel.
Doherty's book examines the ways Hollywood mediated Nazism in the 1930s, on screen and off. The book also chronicles the ways Jewish filmmakers were pressured by censors outside and inside the motion picture industry to keep their politics off the theater marquee. Ironically, from writing and directing, to producing and promoting, some of the biggest names in 1930s Hollywood were German and Austrian Jews whose Weltanschauung deeply influenced Hollywood film production.
"I Was a Nazi Captive," an independent feature film released in 1936, and last publicly screened in that decade, follows the true story of Isobel Lillian Steele, who was imprisoned by the Nazis for espionage in 1934. Steele wrote the screenplay and starred as herself in one of the first anti-Nazi films made in America.
NCJF's Rivo also received permission from Warner Brothers — according to Doherty, "the most avowedly anti-Nazi" studio of the time — to screen the 20-minute film, "Sons of Liberty," part of a series of Technicolor "patriotic shorts" released in 1939. From "Casablanca" director Michael Curtiz, it stars Claude Rains and tells the story of patriot Haym Salomon, the heroic Jewish American financial backer of the American Revolution.
"It's really interesting to see how Jews represented themselves and how they were being represented by others," during that period, Rivo adds.
The historical film is "a bit clunky from our point of view, but it gives a real window into how Nazism was perceived," explains Doherty. "World War II hadn't happened, the Holocaust hadn't happened yet and America was just learning."
The screenings will be held at 7:30 p.m. on Wednesday, Oct. 9, at the Museum of Fine Arts, Boston. Tickets are available online.
"In an age in which — especially for our students here at Brandeis, everything is instantly available at the touch of a screen — this is something that's not readily available if you miss this event," Doherty says. "It's been in the archives for decades — a real rarity."
For more on Doherty's work,
see an excerpt
from "Hollywood and Hitler" in Brandeis Magazine.
Return to the BrandeisNOW homepage