Alumnus paints fencing room murals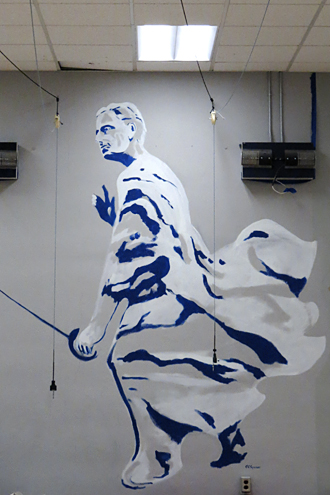 Photo/ Julian Cardillo
The Brandeis Fencing room added a new feature to its decor this off-season.
Thanks to former Judges fencer Chris Spencer '94, the fencing room now has two painted murals. One depicts university namesake Supreme Court Justice Louis Brandeis holding a saber. The other is of three fencers, each representing one of the sport's disciplines — foil, epee and saber — under the words "Brandeis Fencing."
"We've always had a Spartan philosophy in the fencing room, but the opportunity came up to do something new," said Bill Shipman, Brandeis's head fencing coach. "Chris did a nice job. It's very striking, especially the mural of Justice Brandeis holding a saber, it's appropriate. I think the people passing by the fencing room, and the fencers, will enjoy it."
The Judges' take on St. John's University, Yale University, Columbia University, Cornell University and the Air Force Academy for their home opener on Sunday, Dec. 7, at 9 a.m. at the Gosman Sports and Convocation Center.
Return to the BrandeisNOW homepage