Brandeis Achievement Award winners announced
Five rising juniors have earned the Brandeis Achievement Award in recognition of their outstanding scholarship and academic achievements.  
The honor, developed by the Office of Students and Enrollment, in conjunction with the Student Union and the Office of the Dean of Arts and Sciences, includes a scholarship of $5,000 per semester for the students' remaining four terms of study. In order to qualify for consideration, applicants must be sophomores with at least a 3.50 GPA who are not already receiving other merit awards.   
All of this year's recipients have been named to the Dean's list every semester and have cumulative grade point averages of 3.8 or higher.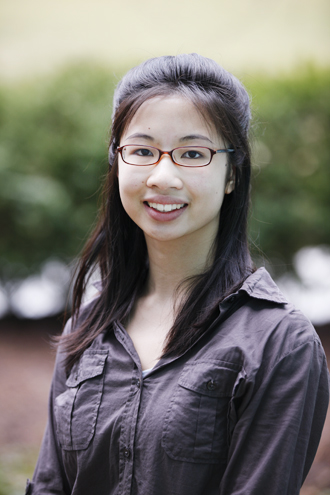 Samantha Chin is pursuing a BS degree in biology, while minoring in Hispanic studies.  Samantha has worked as a laboratory technician in Bruce Goode's lab since her first week at Brandeis. After six months, Chin was given the responsibility of training and supervising the team of five undergraduate technicians, a job usually given to a senior PhD student in the lab. Now, as a sophomore, she trains all new technicians, including the juniors and seniors. Last summer, she began work on a research project, which, through purifying proteins, manipulating DNA, performing biochemical assays and using fluorimeters and TIRF microscopes, assists research on actin disassembly factors that will result in a scientific publication for which she has earned authorship. Goode wrote that Chin has mastered difficult experiments with cutting edge technology and equipment that would be challenging for any grad student. He called her a super star, an extremely fast thinker, a generous teacher, and a leader in the lab.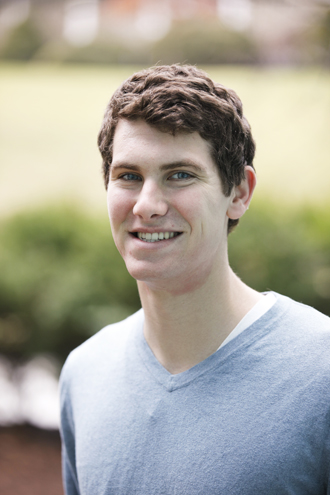 Ian Christie is majoring in both computer science and neuroscience. He has worked in Stephen Van Hooser's neuroscience laboratory since the spring of his first year. Van Hooser said Christie is "quite simply the smartest and most productive Brandeis undergrad" with whom he has worked, and the only lab member, graduate or undergraduate, he has trusted to design, program and modify a sophisticated second generation computational model of the development of motion processing in the primary visual cortex. "Ian constantly challenges himself to learn new skills each week." Out of the lab, Christie serves as coordinator of the Brandeis Habitat for Humanity Chapter, co-leading a spring break "Build" week in York, Penn. Last summer he biked across the country from Providence to Seattle with "Bike and Build," an organization that both "builds" and raises funds and awareness for affordable housing.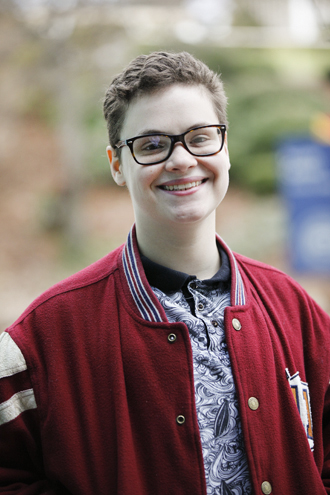 Caro Langenbucher plans to double major in English and women's and gender studies. She received a 2013 grant from the Brandeis Undergraduate Research Fund to study the papers of David Foster Wallace at the University of Texas, in preparation for possible senior thesis work on Wallace's novels. Langenbucher has presented her work on the poetry of Mark Doty at the spring 2013 Sex and Sexualities Symposium, is a co-editor and contributor to Brandeis's Artemis magazine, and an active member of Triskelion. One faculty member ranked her among the three most intellectually gifted students he has taught in 15 years at Brandeis, citing her final paper for his class as one of the most original and persuasive undergraduate papers he has read. Another praised Langenbucher as among the most sophisticated, precise and rigorous undergraduate thinkers he has known in 20 years at Brandeis.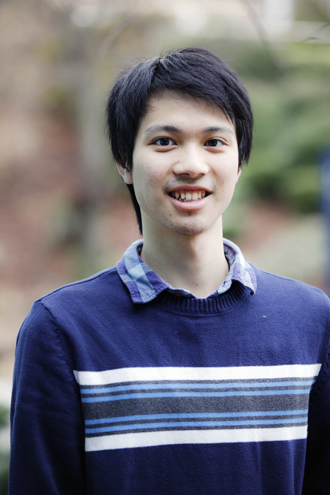 Eric Lin is a double major in psychology and art history. He shared that his definition of social justice was shaped by meeting with professors in the inaugural Global Connections Leader Scholar Community, or first year living-learning community. He is now the social media specialist of World Boston, a State Department professional exchange program, which hosts visiting groups from Russia, the Gulf States, Middle East, Africa, and Asia. Lin was also the chief organizer of the Brandeis Intercultural Center "Around the World" event, and is an event coordinator for the Brandeis Taiwanese Student Association, co-president of the Brandeis Badminton club, and a chaser on the Brandeis Quidditch Team. A future architect, Lin completed a first year independent study on the spirituality and architectural language of Tadao Ando. His faculty recommenders praised his intellectual curiosity.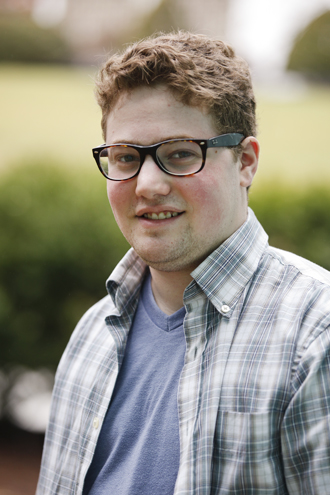 Shane Weitzman is majoring in anthropology and minoring in South Asian studies. This summer, he will intern with the Deshpande Center for Innovation and Entrepreneurship in Hubli, India as a Sorensen Fellow. His plans include to study abroad in Nepal in spring 2015 to conduct ethnographic field research in preparation for a senior thesis. Weitzman is an executive board member of Triskelion, and serves as coordinator of TransBrandeis, as well as a weekly volunteer with the Waltham Group's Afternoon Enrichment program. In his application, he wrote that "it is important to tackle, rather than shy away from difficult conversations." One of his recommenders praised his "integrative, imaginative and far-reaching" intellect, and the "fresh, grounded, and thought-provoking" work he produces. Another stated that: "He clearly articulates his own perspectives and questions with provocative insight while at the same time never hesitating to listen with respect and care to the positions of others."
Return to the BrandeisNOW homepage