Business school honors teaching excellence
Brandeis International Business School (IBS) announced that Andy Molinsky and Jay Leu are this year's recipients of the Excellence in Teaching Awards.
The professors were honored at the school's Friends and Family Reception during commencement weekend. Brandeis IBS Dean Bruce Magid described them both as dedicated teachers and generous mentors who "go above and beyond" for students. "We take great pride in how deeply and genuinely our faculty members care about our students," he said.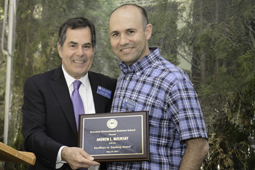 Dean Bruce Magid and Andy Molinsky
Molinsky, associate professor of organizational behavior, is well known for his work on cross-cultural adaptation. His signature course Global Dexterity, a master's level class he created that focuses on the challenges workers face assimilating to foreign business settings.
"As a teacher, my goal is to gently and thoughtfully create an atmosphere in the classroom where students experience the pressures of the real world," Molinsky said. "I want to provide my students not only with the intellectual framework of how to analyze a situation and solve a problem, but also to give them the skills, wherewithal, and courage to take that knowledge and translate it into action."
"Professor Molinsky is a standout," said a former student. "He is passionate about his material, but more importantly, he is passionate about his students. He makes students feel successful in facing their fears and shortcomings."
Molinsky, who earned a PhD in organizational behavior and a master's degree in psychology from Harvard University, also teaches an organizational behavior course in the core MBA program and an organizational psychology class to undergraduates.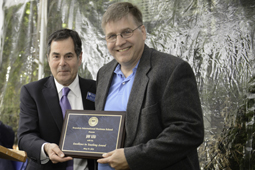 Dean Bruce Magid and Jay Leu
Leu, an adjunct professor, has more than two decades of experience in the institutional money management industry. Most recently, he served as the co-lead portfolio manager of US large cap core equities at Independence Investments and Boston-based Lee Munder Capital Group.
Leu earned a bachelor's degree in chemical engineering from MIT and a master's degree in management from MIT's Sloan School, and now teaches a core course on investments for the masters programs and an elective on fixed income.
A student noted in a course evaluation that Leu "is passionate about what he does and takes interest in each and every student academically, professionally and personally."
Leu likened his role as a teacher to one of a Sherpa. "I help my students on the journey and I provide them with resources for them to learn the material," he said. "But at the end of the day, they're the ones climbing the mountain and doing the work."
Return to the BrandeisNOW homepage