$4.5 million grants to boost hospital chaplain research literacy
Training will advance outcome-oriented chaplaincy care
Two grants totaling $4.5 million over four years from the John Templeton Foundation will better equip hospital chaplains to use research to guide, evaluate and advocate for the spiritual care they provide. The "Training Research-Literate Chaplains as Ambassadors for Spirituality and Health" project seeks to close the gap between hospital chaplains' current limited research literacy and the importance of evidence-based care for all members of the health care team.
"Health care chaplains have embraced the importance of evidence-based practice but lack the training to realize it," said project co-leader George Fitchett, DMin, PhD, professor and director of research in the Department of Religion, Health and Human Values at Rush University Medical Center. "More interdisciplinary collaboration and a growing understanding of how religion and spirituality can positively impact patient health means hospital chaplains are increasingly important members of a patient's care team." More details about the project can be found at this Transforming Chaplaincy website.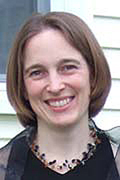 Wendy Cadge
Wendy Cadge, PhD, professor of sociology and chairperson of the Women's, Gender and Sexuality Studies Program at Brandeis University, is the project's co-leader. This project grew, in part, from her book "Paging God: Religion in the Halls of Medicine," which explored religion and spirituality in the work of doctors, nurses, chaplains and others in health care. "Educating chaplains in research is vital for the profession as it continues to develop and as chaplains are members of interdisciplinary care teams," she explained.
The growing body of evidence connecting religion and spirituality with better patient outcomes has led many hospitals to adopt evidence-based guidelines that better integrate spiritual care and assessments into patient care plans. Understanding and applying research is at the core of physicians' and nurses' education. This project will provide chaplains with the research literacy training they need to better provide services and to advocate for their profession. The project's key training opportunities include the following:
Fellowships: A fellowship program will pay for 16 board-certified chaplains to complete a two-year, research-focused Master of Science or Master of Public Health degree in epidemiology, biostatistics or public health at an accredited school of public health.
CPE Grants: Seventy clinical pastoral education (CPE) residency programs, the training required to be a hospital chaplain, will receive grants to incorporate research literacy into their curricula.
Free, online education for chaplains: With the support of select professional chaplaincy organizations (the Association for Professional Chaplains, the Association for Clinical Pastoral Education, the National Association for Catholic Chaplains and Neshama – the Association for Jewish Chaplains), an online continuing education course, "Religion, Spirituality and Health: An Introduction to Research," will be made available at no cost to practicing chaplains who are members of these organizations.
---
Sir John Templeton: Healing is "a partnership between inner resources of mind and spirit and external scientific medicine."
As theologically trained clinicians, chaplains embody the vision that Sir John Templeton wrote about in his book "Possibilities for Over One Hundredfold More Spiritual Information": "More and more healing and health are being seen as involving a partnership between inner resources of mind and spirit and external scientific medicine. Such a vision treats the whole person and also avoids unnecessary conflicts."
Earlier projects supported by the John Templeton Foundation, which were successful in raising enthusiasm for research among the chaplaincy community, discovered that most chaplains currently receive insufficient training in research to take full advantage of their position as the front-line hospital staff whose focus is on religion and spirituality. Nicholas Gibson, program officer for human sciences at the Foundation, said, "Our goal with this project is to help close the gap between enthusiasm and opportunity. We hope that this initiative will bring about lasting changes to chaplaincy education and ultimately multiply the number of leaders in chaplaincy research. The opportunity for the Foundation is in mobilizing the thousands-strong chaplaincy workforce—people who are constantly interacting with patients, families, and other clinicians—as informed ambassadors for the relevance of religion and spirituality for health, and as competent collaborators for new scientific and clinical research on the interface of religion, spirituality, and health."
Return to the BrandeisNOW homepage