American Historical Association awards book prize to Lanser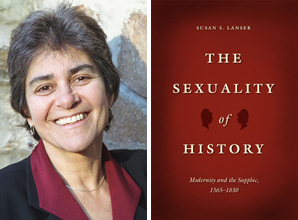 The American Historical Association has awarded
Susan S. Lanser
, professor of comparative literature, English, and women's, gender and sexuality studies, with the
Joan Kelly Memorial Prize
for her book
"The Sexuality of History:  Modernity and the Sapphic, 1565-1830,"
published by the University of Chicago Press.
The prize is awarded annually for the book in women's history and/or feminist theory that best reflects the high intellectual and scholarly ideals exemplified by the life and work of Joan Kelly (1928–82), a pioneering feminist historian.
In "The Sexuality of History," which was also a finalist for the
Lambda Literary Award in LGBT Studies
, Lanser shows how intimacies between women became harbingers of the modern, bringing the sapphic into the mainstream of some of the most significant events in Western Europe. Ideas about female same-sex relations became a focal point for intellectual and cultural contests between authority and liberty, power and difference, desire and duty, mobility and change, order and governance.
She also explores the ways in which a historically specific interest in lesbians intersected with, and stimulated, systemic concerns that would seem to have little to do with sexuality. Departing from the prevailing trend of queer reading whereby scholars ferret out hidden content in "closeted" texts, Lanser situates overtly erotic representations within wider spheres of interest.  In so doing, she demonstrates that just as one can understand sexuality by studying the past, so too can one understand the past by studying sexuality.
The award will be presented at the AHA's annual meeting in Atlanta, Jan. 7-10, 2016.
Return to the BrandeisNOW homepage