Campus candlelight vigil honors Charleston shooting victims
A forum to discuss the shootings and race issues followed
Members of the Brandeis community gathered to remember the victims of the shootings at the Emanuel African Methodist Episcopal Church in Charleston with a candlelight vigil June 30.

The group gathered in a tight circle by Chapel's Pond on the Brandeis campus. Candles were lit, the names of each victim were read aloud, and a moment of silence was held. The vigil was organized by Erica Barnett '17.

"I really didn't know how to process this. I couldn't write a poem or a speech, I couldn't come up with the words," she said before the candle-lighting ceremony. "The only thing I can do is reflect. I thank you for doing the same with me."

Aja Antoine '17 took a moment to look around at the faces of those gathered for the ceremony.

"This is so beautiful, I can't explain how much I needed this moment," she said.

After the vigil, an open forum moderated by Barnett was held in Harlan Chapel to discuss the shootings, and the ways Brandeis, as an institution and a community, can better address racial inequality and discrimination.

Associate Professor of African and Afro-American Studies Chad Williams, who created the twitter hashtag #CharlestonSyllabus in the aftermath of the shootings as a way to open an informed dialogue, encouraged attendees of the forum to find their own ways to contribute.

"I think we all have an individual responsibility. We all have the power to do something," Williams said. "Recognize what you're good at and do what you can do to raise the conversation."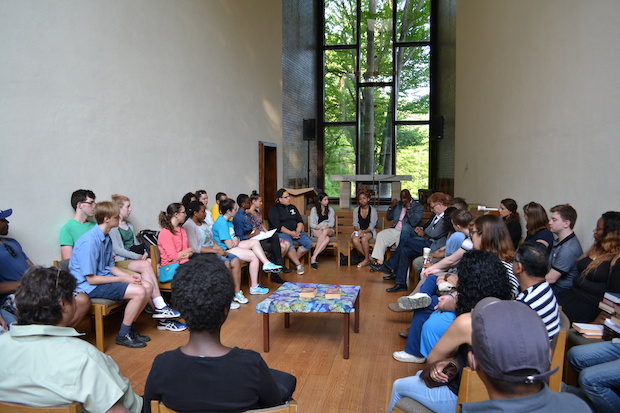 University Professor of Social Policy, Law, and Women's Studies Anita Hill urged those in attendance to not let fatigue cause them to be discouraged.

"I would challenge you to find someone you've never shared with how it feels to be racially oppressed, or how it feels to be in a community with people who are racially oppressed," Hill said. "Don't let the conversation end here."
Return to the BrandeisNOW homepage