Bryson claims UAA cross country title; Men's soccer clinches league
Brandeis women's cross country and men's soccer had some notable achievements this past weekend.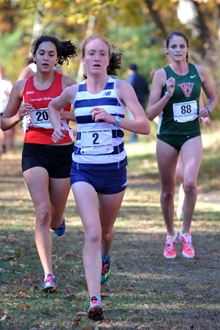 Emily Bryson '19
Emily Bryson '19
won the University Athletic Association's (UAA) women's cross country championship
on Oct. 31, edging a University of Chicago runner down the stretch by 32-hundredths of a second. Bryson and her teammates will next compete in the NCAA New England Regional Championships in Waterford, Conn. on Nov. 14.
The men's soccer team
won the UAA championship
outright for the first time in the program's history when the Judges defeated the University of Rochester, 2
-1, on Nov. 1. The Judges' win improves their record to 15-2-1 overall and 5-1 in the UAA, and they earned the 2015's first berth into the NCAA Division III tournament. They finish the regular season on Nov. 7, 1:30 pm, when they host New York University.
Return to the BrandeisNOW homepage