NPR's 'Says You!' quiz show holds taping at Brandeis
The Osher Lifelong Learning Institute hosted the quiz show for a live taping March 14
It wasn't a typical afternoon at the
Osher Lifelong Learning Institute at Brandeis
on Turner Street Monday.
A panel of six contestants played word games, came up with phony definitions for phony-sounding (but real) words, and tried to guess the names of presidents based on obscure clues. It was all part of a live taping of "Says You!," the weekly quiz program that airs on NPR affiliates around the country and touts itself as "the radio game show of bluff and bluster, words and whimsy."
One of the show's regular contributors, Arnie Reisman '64, said it was a pleasure to bring "Says You!" to campus.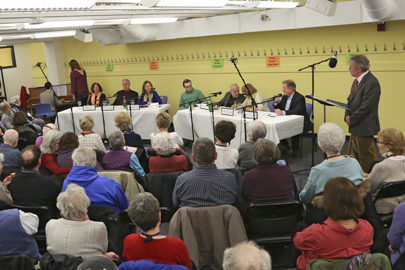 "It was great," Reisman said. "Every time I come back to Brandeis, it's like I'm coming home."
The show was taped before a live audience that packed the function space at BOLLI, and who occasionally got in on the fun by shouting out answers.
Along with Reisman, other contestants included Boston comedian Jimmy Tingle, Francine Achbar, Tony Kahn, Carolyn Faye Fox and Lenore Shannon. "Says You!" is hosted by Barry Nolan.
The show airs locally on WGBH 89.7 FM Saturday at 8 p.m. with rebroadcast Sunday at 2 p.m. The airdate for the episode recorded at Brandeis was not yet determined at the time of the taping. Episodes can also be downloaded from 
Says You! app
.
Return to the BrandeisNOW homepage