Snapshots from Commencement 2016
What was on the graduates' and parents' minds as the day's events unfolded.
For the graduates and their families, Commencement day can go by so fast, it seems like a blur. The donning of the gowns, the march into Gosman Sports and Convocation Center, the speeches and the final throw of the caps into the air -- it's a giant emotional rush then all of a sudden, it's over. You are now officially a college graduate.
We thought we'd slow things down a bit by recording what some of the event's participants felt, moment by moment, as the day progressed.
Getting there early
Cindy and Martin Mussman of central New Jersey were one of the first to enter Gosman, landing some of the best seats in the house. They brimmed with pride and joy over the graduation of their daughter Brianna Kuhs Mussman, a chemistry major. 
"She worked so hard to get here," Cindy said. "She found passion in her life while she was here. She has a passion for helping people."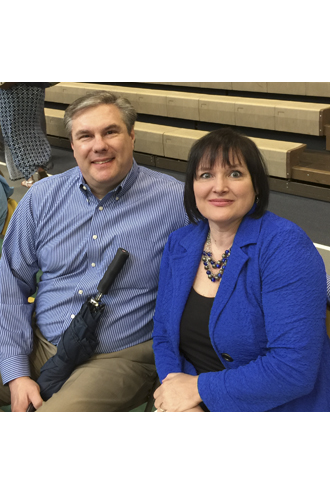 A state of limbo
"It doesn't seem real yet," Ben Greiner from Bedford, New Hampshire, said, sitting outside and waiting for the ceremony to begin. Both he and friend Ashley Klein, right, are bound for medical school. "I feel like Brandeis has prepared me well to move on," Klein, of Manalapan, New Jersey, said. "I'm excited."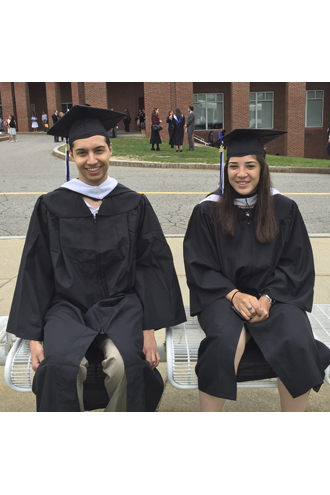 Friends don't let friends wear messy regalia
Judy Nam, right, helped Joy Wang on with her cap and gown. It had to be just right. Which side does the tassel go on again?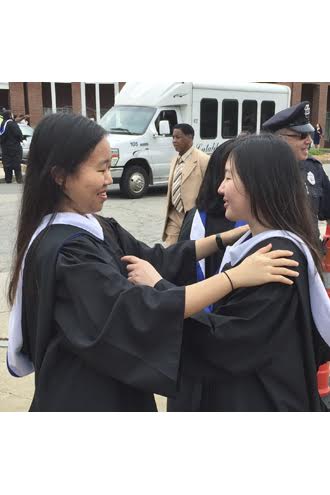 You think you had it tough
Eduardo Depina held down a full-time job and raised a family while earning a master's in Project and Program Management at the Rabb School of Continuing Studies. It was tough, he says, but worth it. "I'm feeling accomplished after a lot of hard work," he said. "I'm feeling great." He's pictured here with his son, Leonardo.
A rush of emotions
What was Hina Bhat feeling after the graduation ceremony? "Excited, scared and a lot of other good things," she said. The Wayland, Massachusetts resident was bound for medical school at the SUNY Downstate College of Medicine in Brooklyn, New York. "I made amazing friends at Brandeis," she said. "I know I'll keep them forever."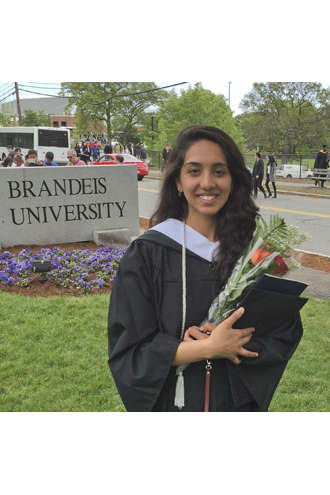 A shout out to Mom
Rachel Keller put a special message of thanks on her cap. It was also her 22nd birthday. "She's been there for me through it all," Rachel said about her mom, Patty, who lives in Albany, New York.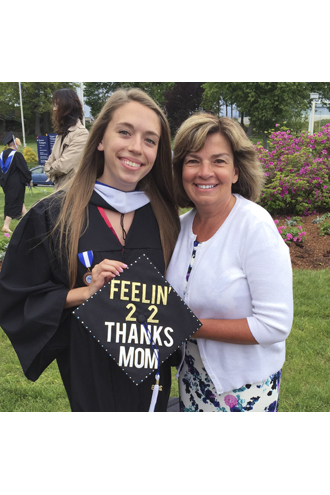 On the fast track
The Myra Kraft Transitional Year Program for students who've had exceptional life experiences, but may not be fully prepared for college-level academics, is supposed to take five years. Janel Ridley did it in 3 ½. "I took classes during the summer, fall, winter. I never stopped," she said. At Brandeis, she worked with the Rape Crisis Center and The Schuster Institute for Investigative Journalism. "I'll just miss the opportunity giving back and working with them," she said. She next plans to study public relations at graduate school in England.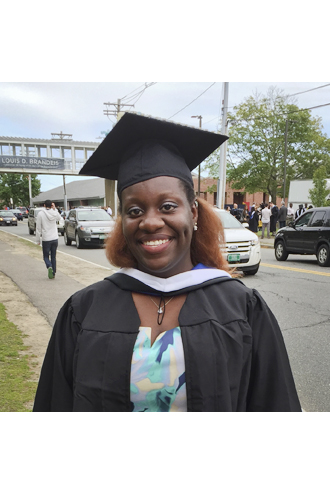 Return to the BrandeisNOW homepage