Embracing the World
Wien Scholarships give international scholars access to a Brandeis education — and encourage all students to see themselves as global citizens.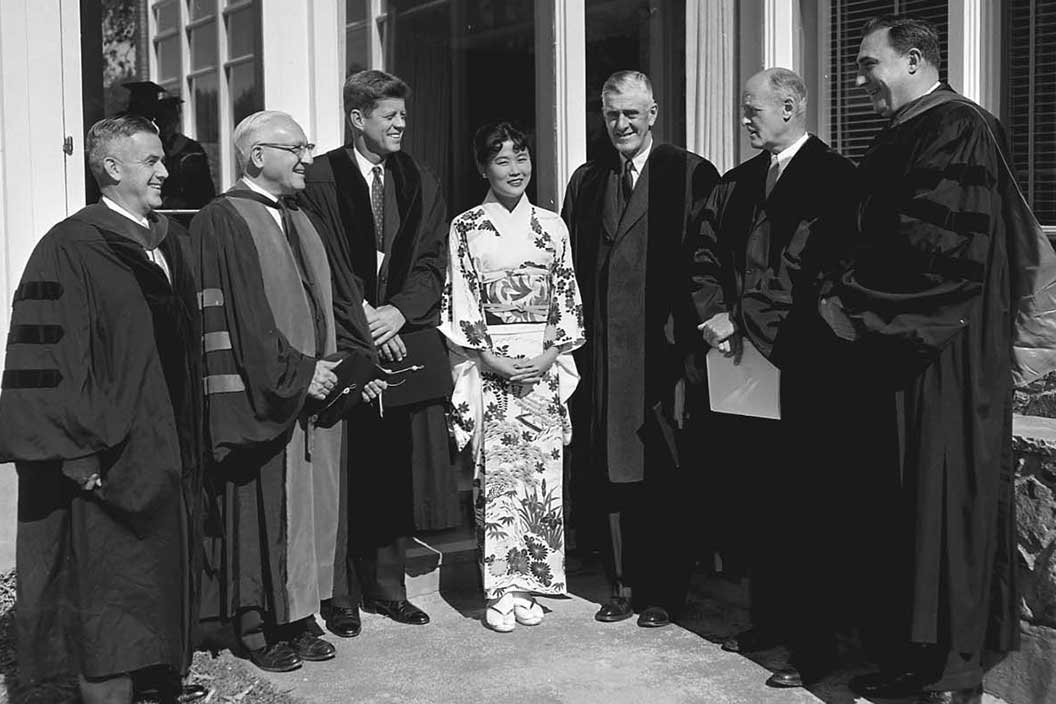 In 1958, just 10 years after Brandeis opened its doors, the university made a sizable commitment to improving the world by founding the Wien International Scholarship Program.
The program, still going strong, remains true to its original twofold mission: to provide an excellent education and an American experience to the international students who come to Brandeis as Wien Scholars, and to enrich the experience of all Brandeis students by giving them the opportunity to interact with classmates from vastly different backgrounds.
Lawrence A. and Mae L. Wien provided the foundational support for realizing this vision. By establishing what was then one of the nation's largest privately endowed international-student programs, the Wiens sought to make Brandeis a center for international coexistence studies.
John F. Kennedy, then a young U.S. senator from Massachusetts, attended the program's kick-off ceremonies in October 1958. So did George F. Kennan, the former U.S. ambassador to the Soviet Union, who advised the first class of Wien Scholars that tolerance "is the basis of all real international understanding."
Lawrence Wien, who served as a Brandeis trustee from 1948-84, developed a personal relationship with many of the early scholars. His collected papers, which now reside in the Brandeis Library, include numerous grateful letters from Wien Scholar alumni around the globe. In 1967, Wien significantly expanded his investment in the program through an additional $2.5 million gift.
Wien's generosity inspired one Wien Scholar, Toshizo Watanabe '73 — chair emeritus and former president/CEO of Nikken Global, an international health products company — to follow in his footsteps. In 1988, Watanabe was a guest at the program's 30th anniversary celebration, at which Wien talked about the joy giving had brought to his life.
"He said he derived more satisfaction from supporting the Wien International Scholarship Program than from making money in business," Watanabe remembered in 2016, the year he established the Toshizo Watanabe International Scholarship Program at Brandeis. "That is when a seed was planted for me. Since then, I have always wanted to repay the Wien family's generosity by helping other students."
Over the years, Wien Scholarships have helped more than 900 undergraduates from more than 115 countries study at Brandeis. Wien alumni are leaders in politics, business, science, and many other fields in their respective countries; Wien Scholar Geir Haarde '73 became the prime minister of his native Iceland. And the program's alumni network is a close and active one, with many Wien alums giving back to the scholarship fund that brought them to Brandeis.
"I am truly excited about what the rest of my time at Brandeis has to offer for me. I am sure it will be amazing, as usual."
Aranjinsuren Enkhbat '24
Alongside the Wien Scholarships, other efforts are bringing deserving international students to Brandeis. For instance, the Peace Scholarship Fund was created by two members of the Brandeis International Business School board of advisers, Alan Hassenfeld, H'20, and Barbara Clarke, IBS MA'91, after the war in Ukraine left thousands of Ukrainian students without a safe place to continue their studies. The scholarships offer support to graduate business students forced to leave their country because of violent conflict or persecution.
"If we are to live up to our highest ideals, Brandeis University and Brandeis International Business School must strive to be a beacon of hope in times of despair," Hassenfeld said when the Peace Scholarships were launched in 2022.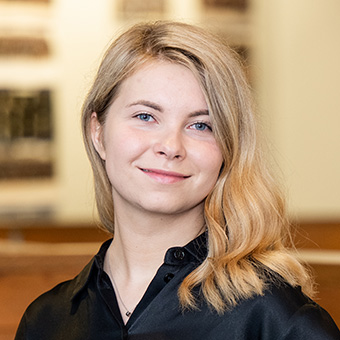 Sofiia Tarasiuk, IBS MBA'24
As the Russian invasion began, Sofiia Tarasiuk, IBS MBA'24, was finishing up her undergraduate studies at the National Technical University of Ukraine, in Kyiv. After receiving a Peace Scholarship, she found a new home at Brandeis.
"When I arrived, everything was new, and I got a lot of support," Tarasiuk says. "It was amazing to me that people from across the world were asking me about my family. At the end of [my first] semester, one professor even wrote me a letter in the Ukrainian language. At this point, I really feel that Brandeis is my new little family."
Today, decades after its establishment, the Wien International Scholarship Program also continues to elicit praise from students. Aranjinsuren Enkhbat '24, who came to Brandeis from Mongolia, plans to enter the tech industry after graduation.
"There are many amazing professors and staff here that treat us like family and go beyond what's asked to make sure we have all the support and help we need," he says. "I have learned, experienced, and seen so much already that I would have never experienced without this opportunity. I am truly excited about what the rest of my time at Brandeis has to offer for me. I am sure it will be amazing, as usual."