Top 10 Moments in Brandeis Athletics History
Sports information director Adam Levin '94, Rabb MS'21, offers his chronology of the Judges' greatest wins.
By Adam Levin '94, Rabb MS'21

Oct. 5, 1951
Brandeis football 24, Hofstra 13. It's the first varsity win in Brandeis athletics history, earned by Coach Benny Friedman and his boys.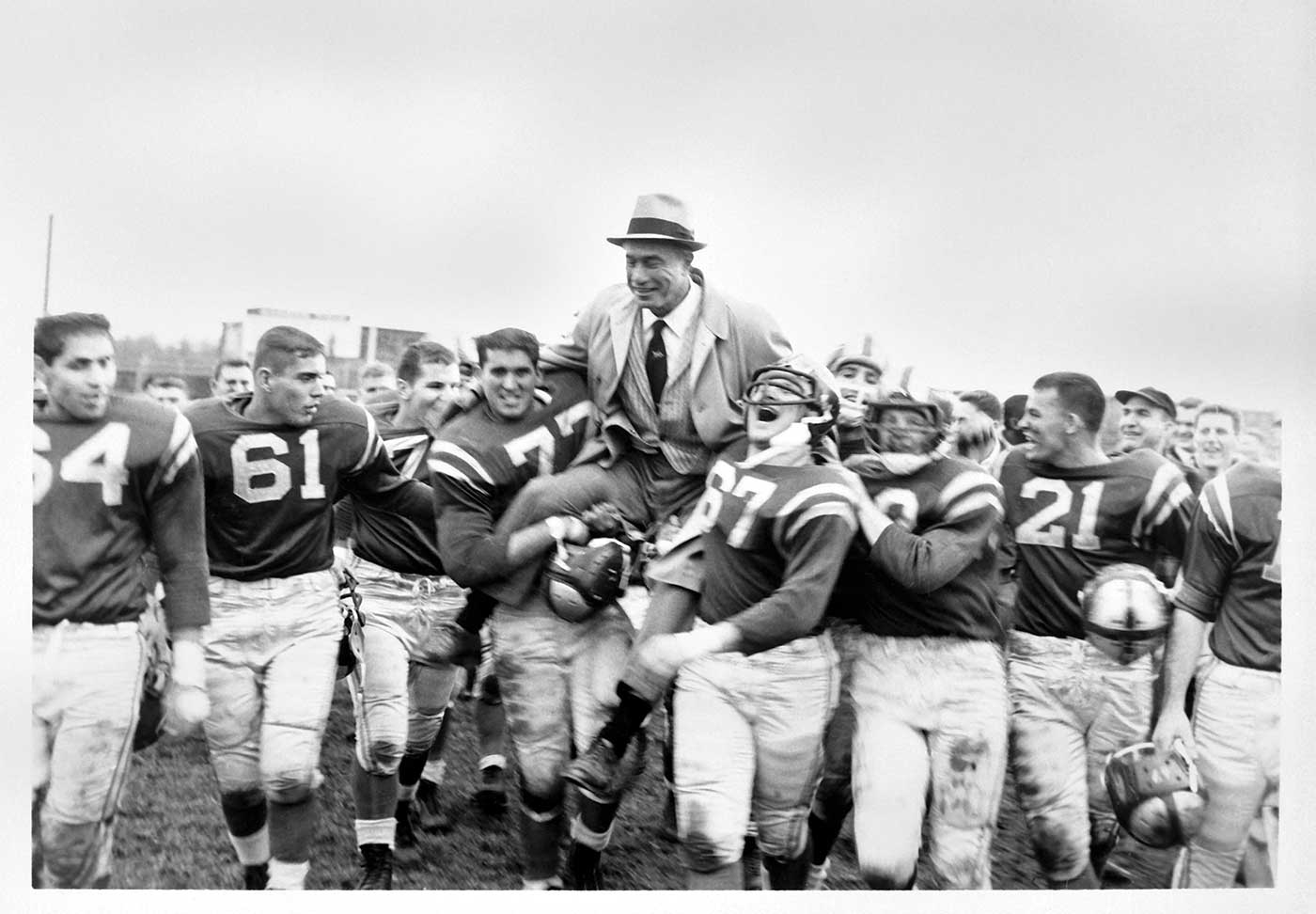 Jan. 5, 1957
Brandeis men's basketball 94, NYU 88. A win against the Violets in Madison Square Garden helps spread theword about the Judges far and wide.
March 13, 1957
Brandeis women's basketball 31, Radcliffe 29. The women's '56-'57 squad, now enshrined in the university's Athletics Hall of Fame, is the first Brandeis team to finish a season undefeated.
Nov. 24, 1976
Brandeis men's soccer 2, SUNY Brockport 1. Cleveland Lewis '79 scores a header in overtime to give Brandeis its first NCAA Division III team championship.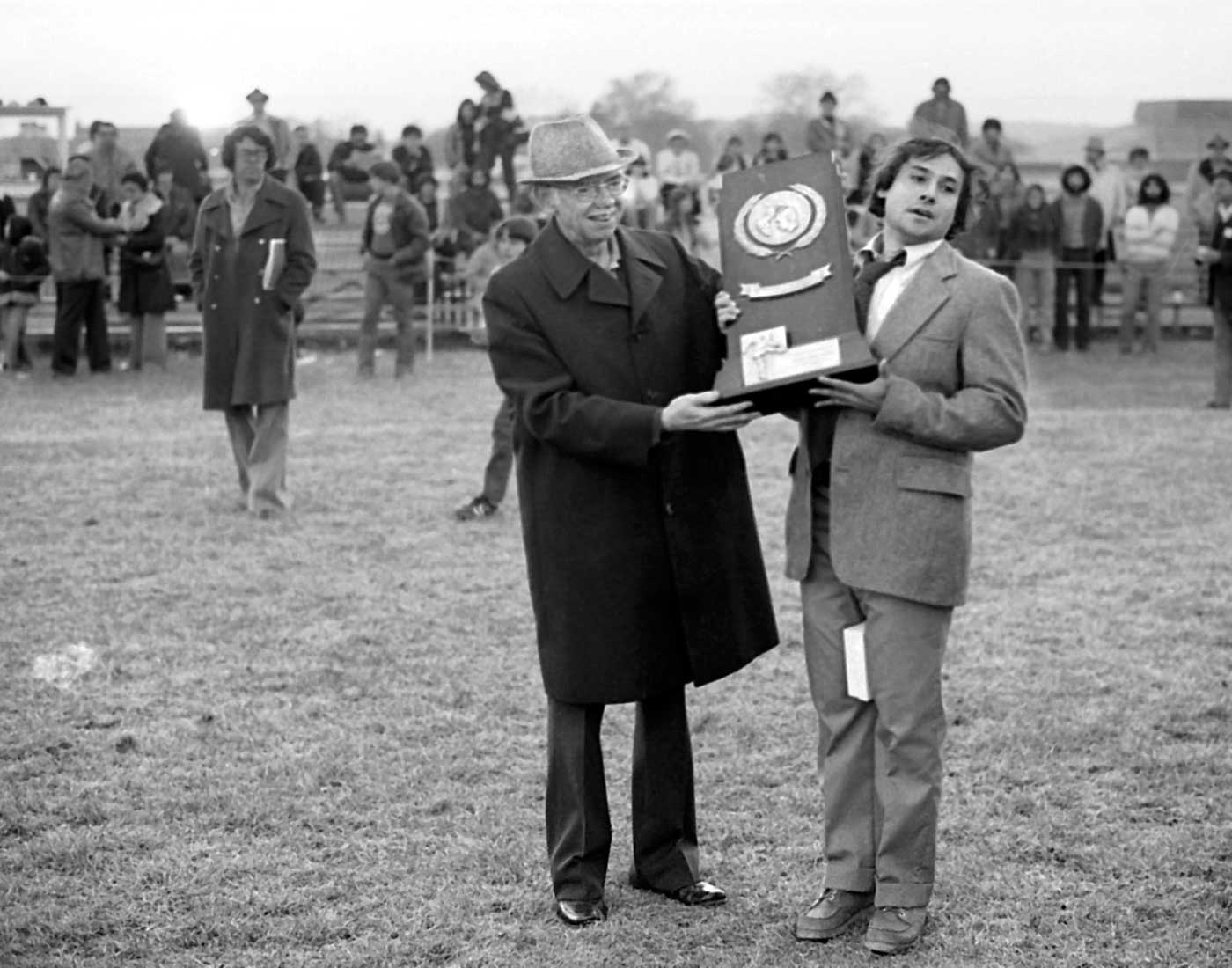 Men's soccer coach Mike Coven (right) accepts the NCAA Division III trophy in 1976.
June 4, 1977
Brandeis baseball 13, Glassboro State 10. The Judges score seven runs in the top of the eighth inning to defeat the Profs and advance to the national title game in the second Division III NCAA Championships ever held.
Nov. 19, 1983
Men's cross-country wins Brandeis' second NCAA team championship. After back-to-back second-place finishes, the Brandeis men put five runners in the top 25 to win the title. Mark Beeman '85 will go on to win the individual title in 1984.
May 1987
Brandeis joins the University Athletic Association, a nationwide group of nine (now eight) schools with similar academic profiles, one of the most prestigious conferences in Division III.
May 27, 1995
Eleena Zhelezov '95 wins her eighth-straight NCAA title in the triple jump, becoming the first athlete in NCAA history to win the same event at nationals four years in a row, both indoors and outdoors.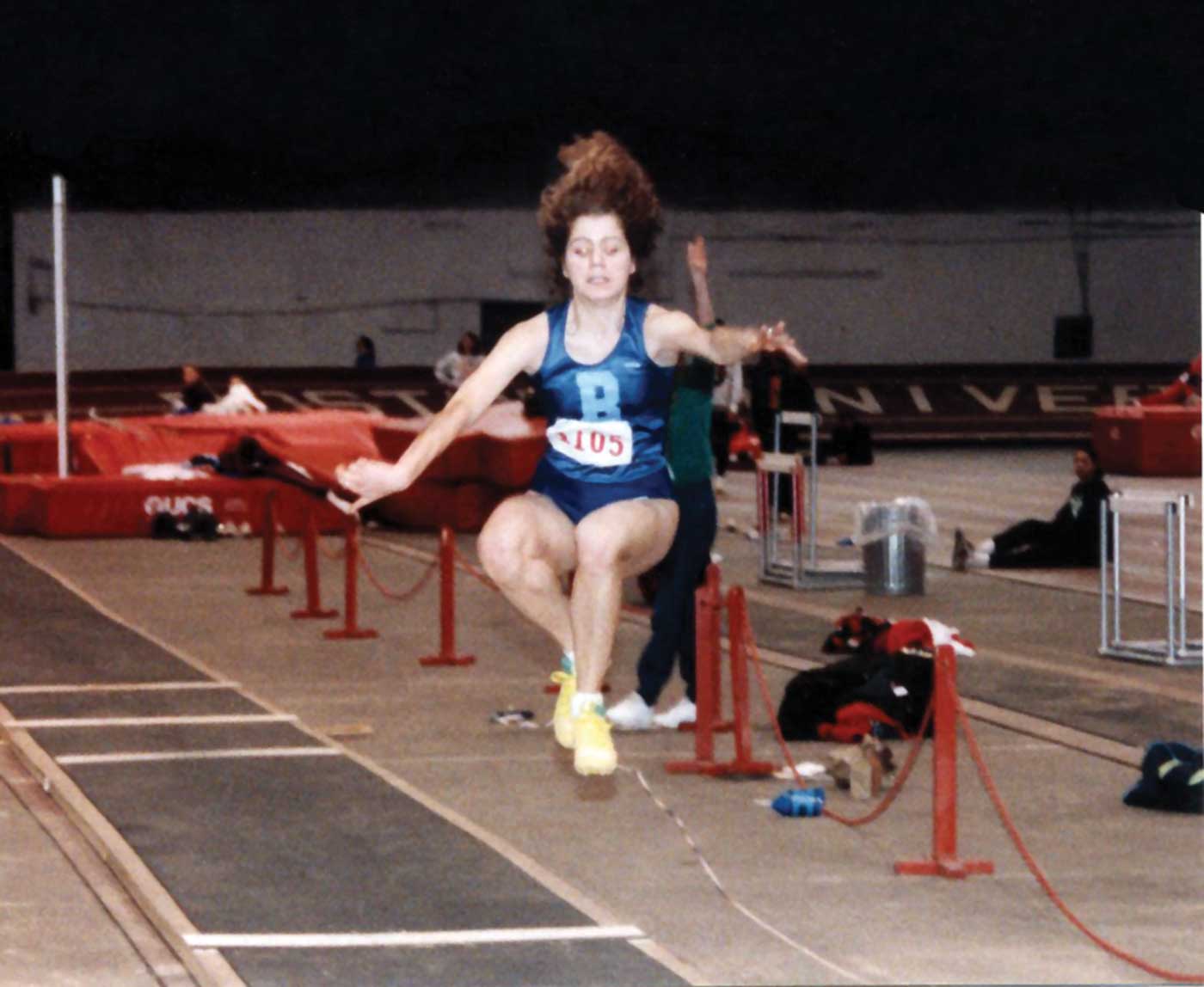 Eleena Zhelezov '95
March 26, 2000
At the NCAA Fencing Championships, Tim Morehouse '00 finishes fourth in the men's sabre and is named national Fencer of the Year. (In 2008, Morehouse wins a silver medal in sabre at the Beijing Olympics.)
Nov. 20, 2016
Brandeis women's soccer 4, William Smith 3 (OT). On the same day the men's soccer team reaches the Final Four for the fourth time in program history, the women knock off top-ranked William Smith — a team that had allowed only four goals during the regular season — with a goal by Jessica Morana '17, IBS MA'18, sending them to their first Final Four.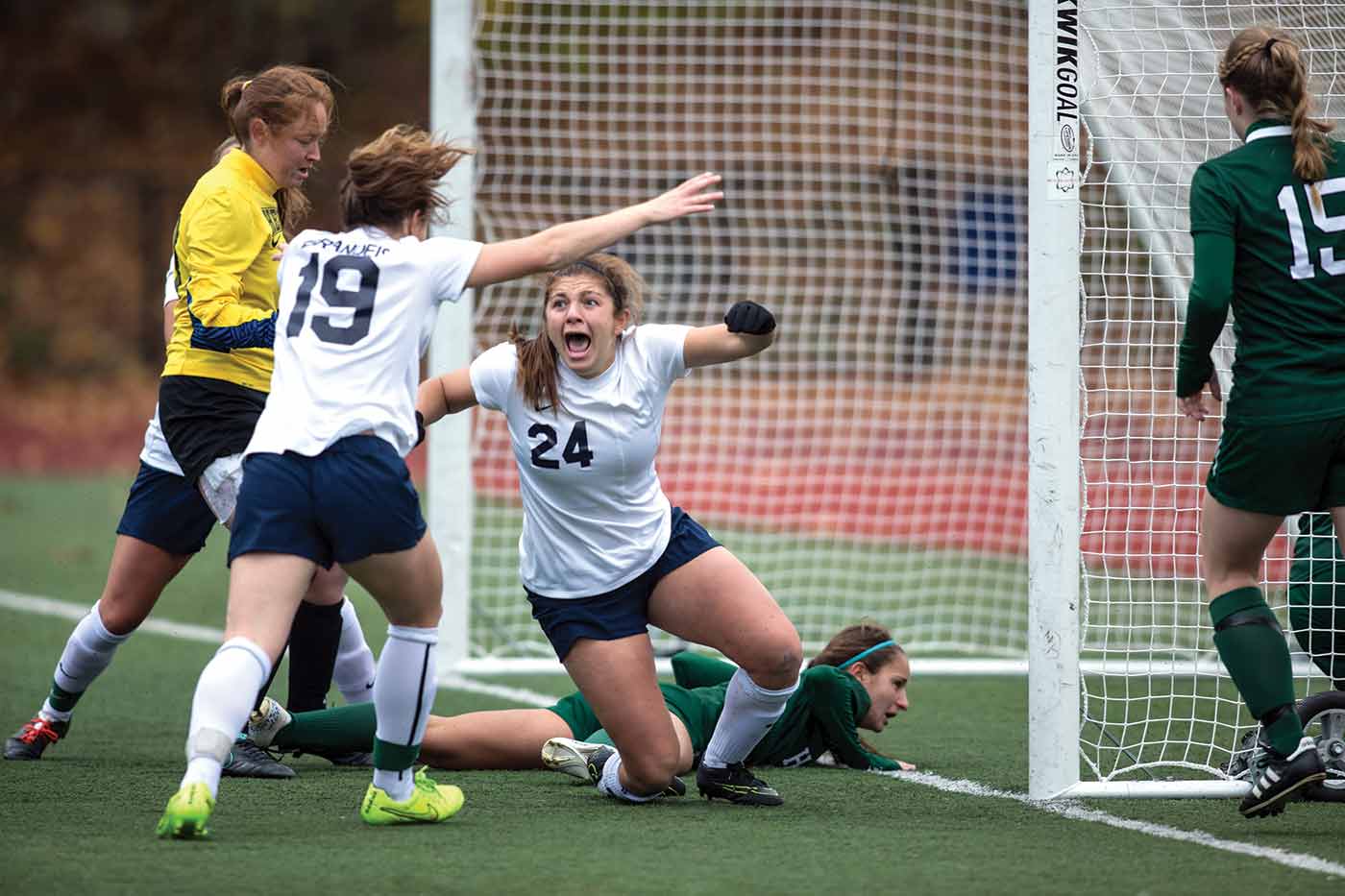 Samantha Schwartz '18 (#19) and Jessica Morana '17 (#24) celebrate the Judges' dramatic victory.
Honorable mention: March 18, 2023
Sam Dienstag '24 places fourth in the nation in the 1,650-yard freestyle, the highest finish by any Brandeis swimmer at the NCAA Championships in school history.
Did we get it right?
Mining 75 years of athletic prowess requires refereeing many tough calls. Did we get it right? Let us know at magazine@brandeis.edu.