Visiting Kibbutz Ein HaShofet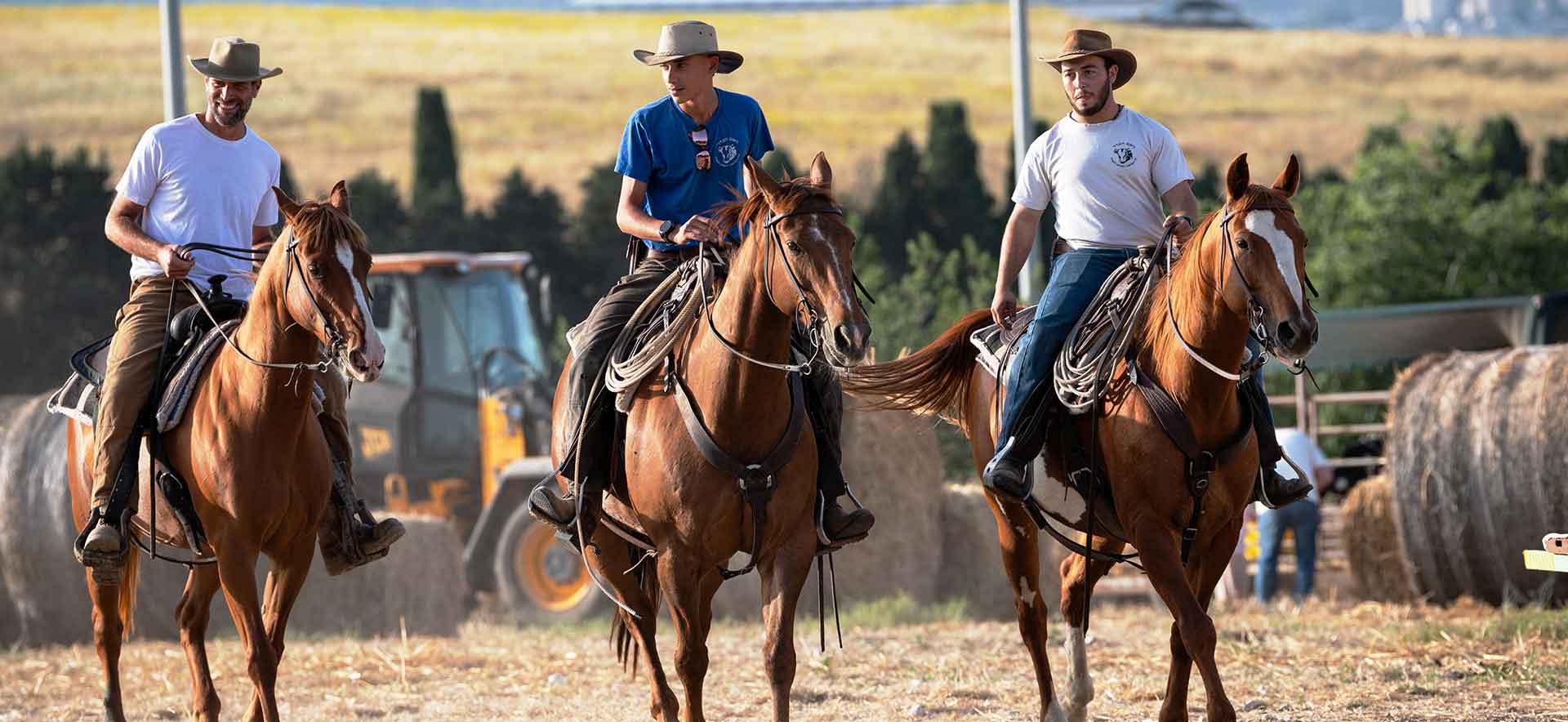 By Ron and Jessica Liebowitz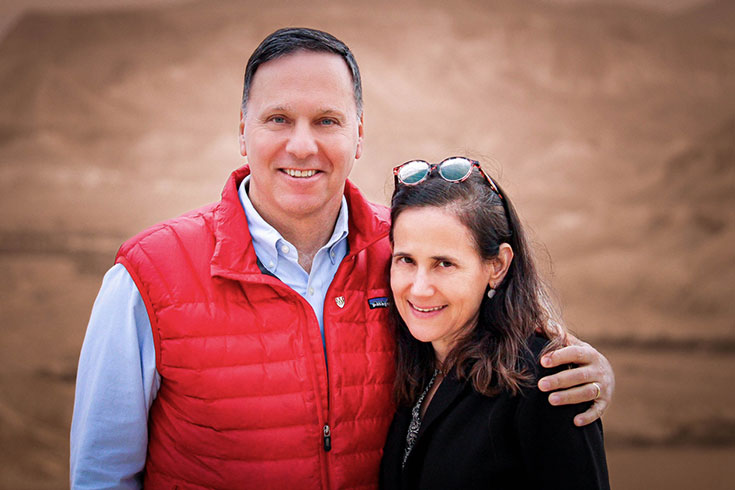 President Ron Liebowitz and Jessica Liebowitz pose for a photo in Israel.
About one year ago, we hosted a memorial lunch in honor of the late Frank Gilbert, Justice Louis Brandeis' grandson and a mainstay of the university's commencement celebrations for many years. Over conversation at that lunch, Frank's niece Louisa Popkin suggested that we plan a visit on our next trip to Israel to Kibbutz Ein HaShofet. Founded in 1937 by the American wing of the HaShomer HaTzair Zionist youth movement, the kibbutz was named "The Eye of the Judge" after Justice Brandeis — and became the first Kibbutz in Israel founded by Americans. We would come to learn that our university and the kibbutz share connections that extend beyond being named in honor of Justice Brandeis.
Louisa worked as a volunteer at Ein HaShofet during her early adulthood, spending six months doing a series of jobs, from running the cafeteria in the kibbutz's automotive factory to working in its plentiful avocado fields. Louisa loved her time there as a part of a community of Jewish people from around the world. She believes her great-grandfather would be very glad to know about the ongoing vibrancy of the kibbutz. She also feels it would be so meaningful if, somehow, it could share a relationship with Brandeis University.
A few months ago, we took Louisa up on her suggestion and had a wonderful visit to Kibbutz Ein HaShofet, discovering many connections between this remarkable place and our university. For starters, the visit helped deepen our understanding of Justice Brandeis' leading role in the Zionist movement. According to University Professor Jonathan Sarna, the Joseph H. and Belle R. Braun Professor of American Jewish History, Brandeis "stood at the helm of the American Zionist movement," elaborating further that "Brandeis's leadership helped to bring about an historic turning point in the movement's fortunes. Where before it had been restricted to a narrow circle of believers, now it emerged as an effective political force." Sarna observed that "next to Theodore Herzl, the father of modern Zionism, Brandeis became the most revered figure in the whole American Zionist pantheon." It is no surprise, then, that one of the founding commitments made by president Abram Sachar in 1948 was that Brandeis University establish close ties to Israeli institutions of higher education.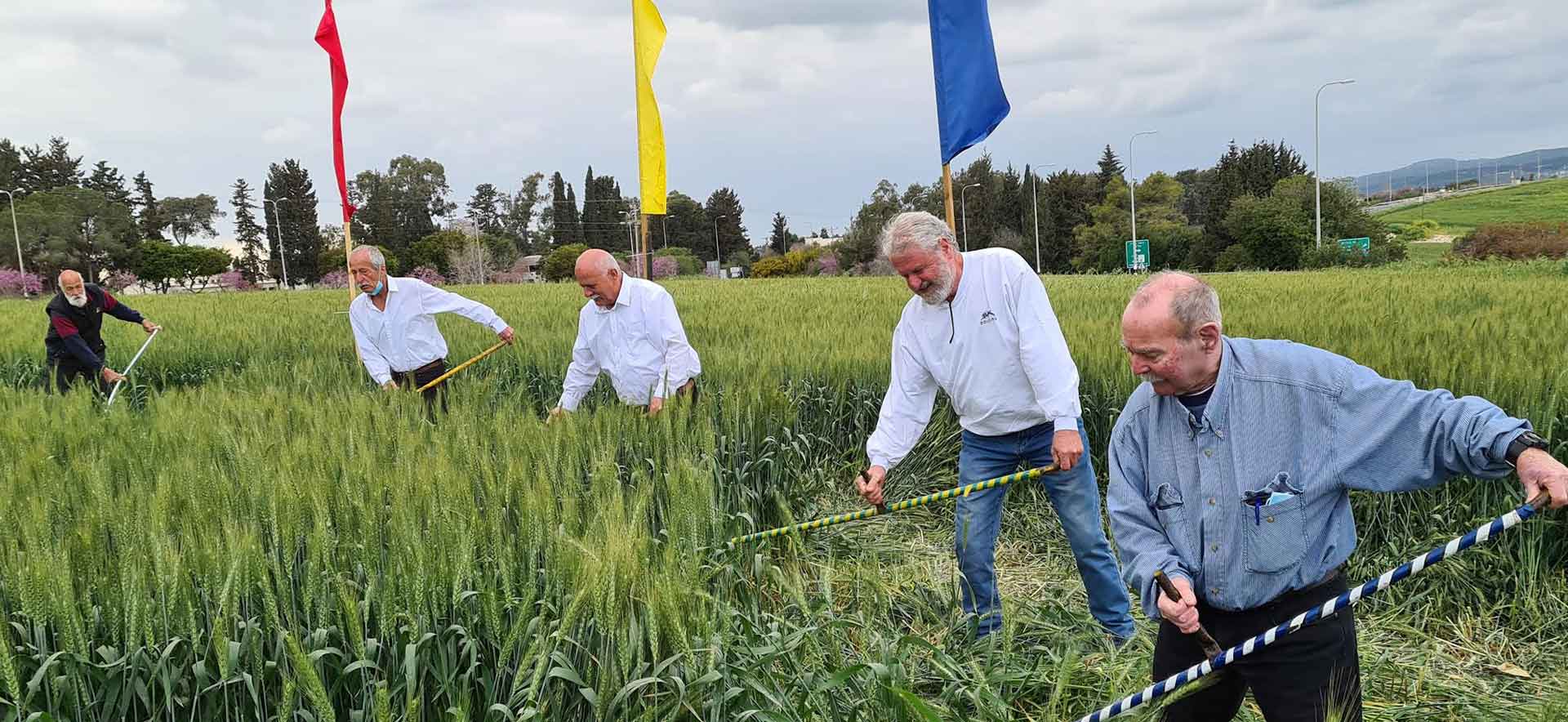 Community members celebrate the holiday harvest in the field.
Our generous host and guide on the kibbutz was Giora Yanai. We were delighted to have the chance to meet him and his wife, Irit, in person. Giora's father, Yona Yanai, was one of Ein HaShofet's founders. While Yona was in the United States, having immigrated from Poland, he worked closely through HaShomer HaTzair with Louis Brandeis and came to know the Justice well. Giora is a lifetime kibbutznik and former director of The Kibbutz Artzi, the federation of kibbutzim associated with the Hashomer Hatzair Youth Movement. At 85, Giora still works in management and has a close view of the success of Ein HaShofet, which over the years has relied more on its factories, and less on its agriculture.
"It is a miracle that you came to visit us," he told us. "We should absolutely have a relationship with one another. On a kibbutz, you can have so many different people with different ideas, that come together, that can create something wonderful, and new. I hope that with Brandeis University, we can also think of ways to do wonderful things."
While speaking with Giora, we learned that our close personal friends living at a nearby kibbutz, Esther Hakim and her family, are Giora's relatives. Esther was a founding faculty member of the School of Hebrew at Middlebury College, where we helped oversee the founding of the School. Coincidentally, Esther has also been a fellow for many years of the Hadassah-Brandeis Institute (HBI) on our campus.
"It is a miracle that you came to visit us. We should absolutely have a relationship with one another."
Giora Yanai, Host and Guide
It was becoming clear that connections between Brandeis and Ein HaShofet, and Brandeis and Israel, may be more extensive, and even more personal, than we might have ever known.
For example, take Eitan Evan and his wife, Malka, who grew up on Kibbutz Ein HaShofet in the 1940s. In the early 1960s, Eitan and Malka settled in Albany, NY, where Eitan became a successful entrepreneur in the newspaper and magazine distribution business, and where they soon came to learn about a budding university founded by the American Jewish community called Brandeis University. Soon thereafter they became cherished friends and supporters of the university, for which we continue to be grateful.
At Brandeis, we often talk about how we "punch above our weight" as the smallest Research-1 liberal arts university in the United States. We've learned that, in some ways, Ein HaShofet shares this mentality. Neta Shapira, grandson of the kibbutz's founding cohort, current Secretary (or CEO) of the kibbutz, and also its de facto historian, explained, "We like our place, and we like our people." More specifically, "while we may be a medium-sized kibbutz, spiritually, we are not medium."
Neta's perspective strikes us as resonating deeply with the Brandeis community. We too may be medium in size, but we are grand in our spirit and in our aspirations. This seems especially timely to keep in mind now, as we celebrate our 75th year, and look ahead to forging a successful future that lasts another 75, and beyond.
We will continue to explore the rich history, and sometimes even unforeseen connections, between Brandeis, Ein HaShofet, and Israel, over the coming weeks, months, and years. We invite you to pay special attention to these relationships as we celebrate our 75th this year, as Israel, too, celebrates its 75th.