Brandeis Women who Changed the World
Anita Hill and Joyce Antler '63 draw connections between generations of women at Brandeis.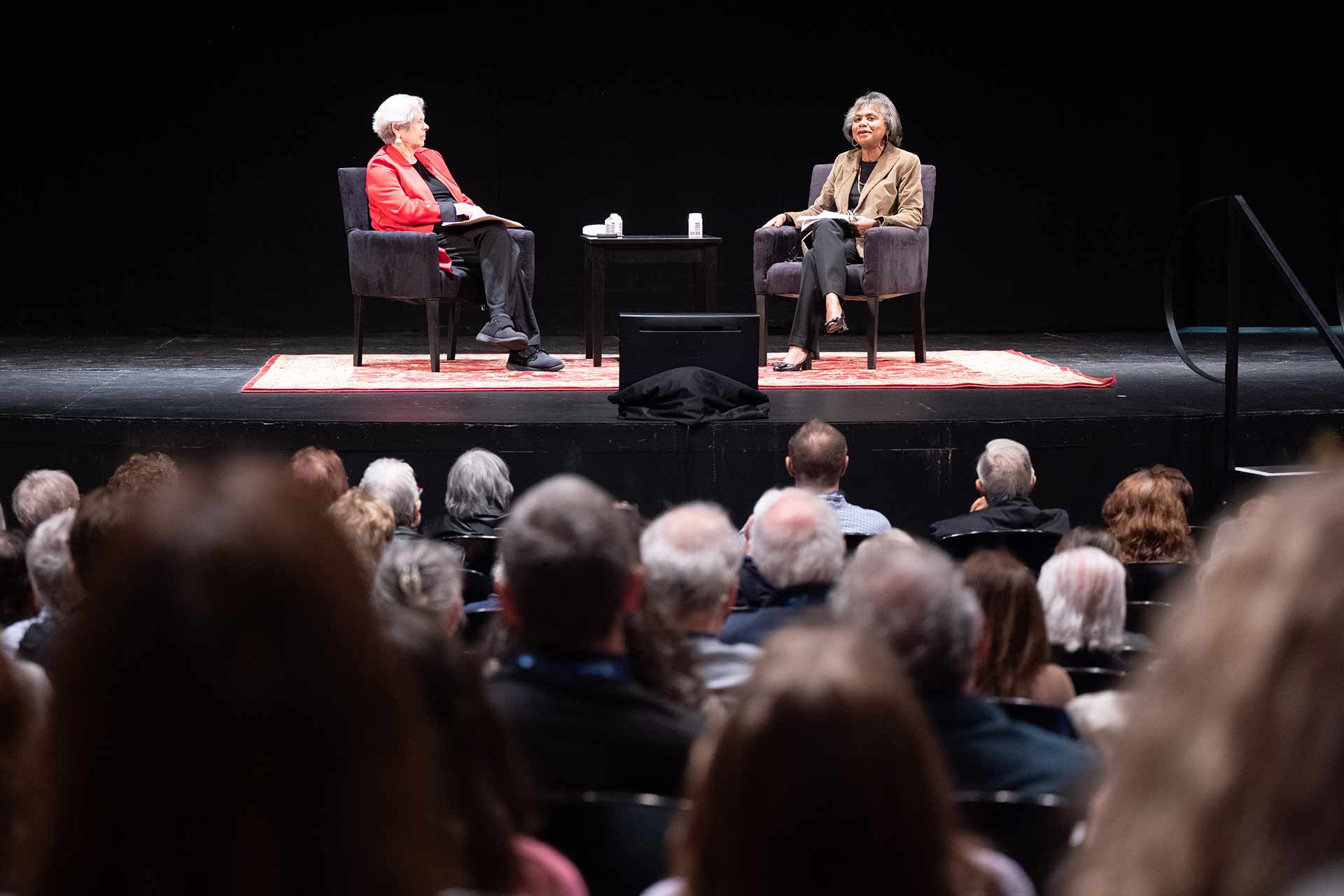 By Julie Jette, Photography by Dan Holmes and Gaelen Morse
October 16, 2023
University Professor Anita Hill and women's studies pioneer Joyce Antler '63 spoke about the proud history of pioneering activist women who studied and taught at Brandeis with a standing-room-only crowd at Springold Theater on Saturday, Oct. 14.
The panel discussion, "Brandeis Women Who Changed the World: A Conversation with Anita Hill and Joyce Antler," explored how several scholars changed society and scholarship, on campus and beyond.
"The search for equality, equity and social justice — that is the thread that goes through, and I think it is not an accident that they all came to Brandeis," Hill said. It was multi-generational: First Lady, early trustee and faculty member Eleanor Roosevelt, H'52, chairperson of the drafting committee of the U.N.'s Universal Declaration of Human Rights, influenced civil and women's rights leader Pauli Murray, faculty member from 1968-73, who influenced renowned sociologist (and alumna and Gittler Prize winner) Patricia Hill Collins, '69, PhD'84, who was a contemporary of Sally Engle Merry, PhD '78.
In a wide-ranging discussion, several common themes about the work of early and current Brandeis students and scholars became apparent.
A dedication to advocacy linked to scholarship
"I think at Brandeis, the role of the activist-slash-scholar has always been respected," said Antler, the Samuel J. Lane Professor Emerita of American Jewish History and Culture and Professor Emerita of Women's, Gender and Sexuality Studies. She recalled that American studies department founder Lawrence Fuchs, "let us know as young faculty that not only was it OK that we live lives of activism, but that it is what we needed to do."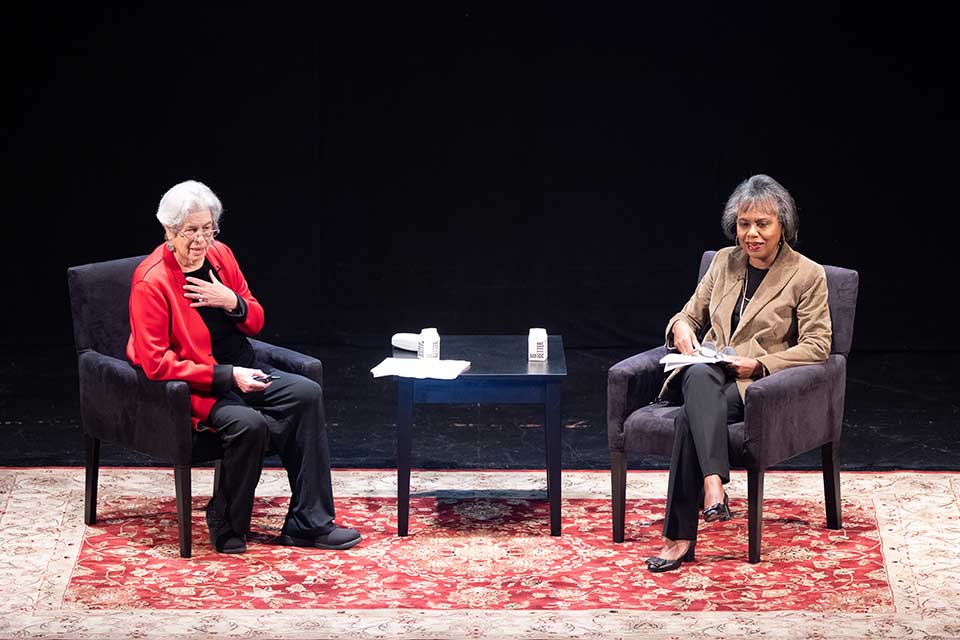 Fuchs was instrumental in recruiting Murray to the faculty, Antler said. And Murray, who was a lifelong activist in the fight for racial and gender equality, brought a long history of fighting for equality in the broader world.
Hill spoke of how Murray advocated for more women's voices to be heard at the March on Washington — which didn't happen.
"She responded by writing about what she called then 'Jane Crow,' and how women of color, especially Black women in the movement, were being disadvantaged by the movement itself," Hill said. "And I'm really thrilled that she brought that same energy with her when she was at Brandeis."
Pauli was instrumental in interpreting the 14th Amendment's equal protection clause to apply to gender as well as race, making arguments later deployed by Justice Ruth Bader Ginsberg in her gender discrimination litigation.
"These were women who were political, legal, and intellectual activists," Hill said, referencing Murray, Hill Collins, and Merry.
Addressing intersecting webs of inequality
Each of these Brandeisian scholar/activists delved into the ways that different forms of inequality interact with each other — in some cases long before the concept of intersectionality existed.
"They looked at gender and race and social class as components of equality that needed to be understood in order to get equality as a whole to ever come into existence," Hill said, adding that Hill Collins and Merry later brought sexuality into their work "as a component of equality that needed to be observed and understood."
Roosevelt's advocacy for women was paired with advocacy on behalf of Black Americans.
"One of her biggest contributions to her husband's administration was her insistence on at least starting to consider race discrimination in this country," Hill said. "She was partnering to move that needle behind the scenes."
Crossing boundaries
Antler and Hill observed that many of Brandeis' influential women spent their careers, inside and outside academics, moving among disciplines.
"Each of these four women chose to really travel between different areas of understanding, to answer the question that needed to be answered," Hill said, noting that Hill Collins has called herself "an intellectual nomad."
Hill noted that the ability to move across departmental boundaries at Brandeis has been vital to her own work. Based at the Heller School for Social Policy and Management, Hill is also affiliated with women's, gender and sexuality studies, the African and African American studies department, the legal studies department, and is working with professor Steven Kryder in the politics department.
Hill said it's unlikely she could have tapped so many fields of study at another university, "especially an institution that had the history and shared the values that I wanted to be associated with."