Calling All Families!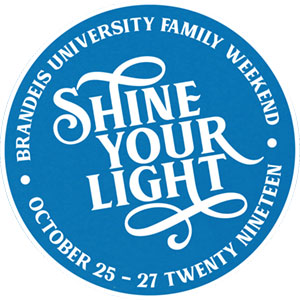 October 25-27, 2019
Participating in Family Weekend is the perfect opportunity to connect with your student(s) and explore our vibrant campus community.
We'll kick off the weekend with a welcome reception and mind-blowing presentation by Craig Karges - who combines the art of magic, science of psychology and the power of intuition to create the impossible.
The weekend includes a variety show to showcase our talented students, off-campus excursions to Plymouth and Concord, MA, the Student Union's Pumpkin Fest 2019, lots of hands-on fall fun, and so much more!
We hope you'll join us to experience a taste of life at Brandeis!
Registration
Registration for the 2019 Family Weekend is closed. Families can register in person on Friday, October  25th in the Shapiro Campus Center Atrium from 10am - 5pm. 
The Family Weekend registration fee is $10 per person and includes access to the welcome reception, presentations, Friday night entertainment, the annual variety show, and other offerings throughout the weekend. Families may also purchase tickets to off-campus excursions which are found in the registration form or purchase tickets for Boston attractions at the Brandeis Box Office. 
 Tickets for the Craig Karges show on Friday, October 25 will be made available during check-in. While there is no cost for tickets, they are only available on a first-come first-served basis. Please note, tickets are NOT guaranteed with registration. Tickets can be collected for registered guests and their student(s) upon checking in.  Doors for the show will open at 8:00 p.m. and seating is general admission.