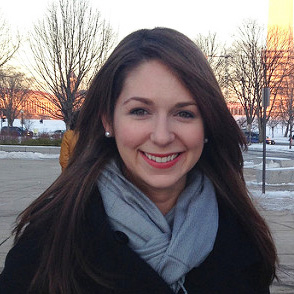 Since receiving her second of two degrees from Brandeis International Business School, Rumanek has established a career in pharmaceutical market research and works at ViiV Healthcare, a company specializing in marketing and manufacturing HIV treatments.
Why Brandeis? In the end, were your degrees worth the experience?
I loved the international aspect. The opportunity to meet people from different countries and cultures was important to me. Other schools have good professors and classes, but I'll tell you this: engaging with people about how they would address business problems based on their backgrounds and understanding similarities despite more obvious cultural differences is something you cant get anywhere else. I would never give up that experience.
Your career goals shifted while you were here. Did you anticipate that?
I thought for sure that 'd wind up in investment banking, but the more I learned in my strategy and marketing classes, the more interested I became in the subject. Grace Zimmerman was a huge influence on my decision to change industries. She made thinking and learning about marketing a really engaging and fun activity, and that's when it clicked: This was something I wanted to do every day. Market research was the perfect combination of my quantitative background and passion for marketing.
The job hunt is always on students minds. What do you wish you knew then that you know now?
Do something you're passionate about. It's OK to turn something down if it's not right for you. I had four solid prospects in March before graduation. I turned down some, others didnt get back to me, and all of a sudden I had nothing and was about to graduate without a job. At the time, I thought that was the absolute worst thing in the world. But the position I accepted was worth the wait, and that brings me to my other piece of advice. The things you learn at a small company could wind up being so much more valuable in the long run. I started out at a boutique firm in Waltham and it was the best thing I ever did in terms of gaining experience. You're hands-on every day, helping to run the business.
How do you define success?
Success is when I'm happy and proud of what I'm doing. It's so easy to set goals for yourself and think, "I'll have this position by this day and make this much money at this time," but if you end up on a different path, that's OK. Titles don't matter—what you're doing and how much you're learning from it does.
What's your advice for women MBAs about to start their careers?
You can be the hardest of workers, but if you need time off, take it. If you need to find something new, listen to that instinct. Know that you are employable. There are times when you have to swallow your pride and take chances. That notion allowed me to feel comfortable, years after my initial hunt, in not taking just any job. And now I'm in a position where my hours are balanced and I have the time to think more strategically. Ultimately, it allows me to be better at my job.