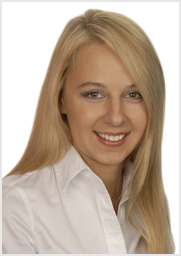 What inspired you to attend graduate school in the U.S.?
During my undergraduate studies, I had an internship in Washington, D.C. at the Polish Embassy. I provided legal advice to U.S. investors and drafted a report on the World Bank Procurement Projects. Walking around D.C. fills you with a great sense of power. It was such a stimulating environment and being there made me realize that I wanted to be involved in international finance and trade issues. I knew that receiving my master's degree from a top American university would be an asset in the competitive job market.
How was the Brandeis international community important to you?
People come from all over the world to study at the International Business School. Students from more than 60 countries work in teams on a daily basis. There's a mutual understanding of equality in that no country is superior to any other. We are all excited to be learning from one another.
How did the Brandeis location contribute to your student experience?
Boston is a great academic center with a very European feel to it. The city is less than 10 miles away from the Brandeis campus so I went to the city as often as possible: to see an art exhibit, to walk along Newbury Street, or to see a matinee.