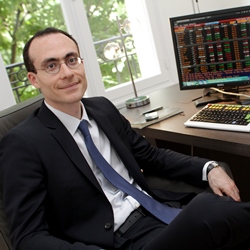 Gregory Benac MA '03 had only played in one live tournament before he decided to put his skills to the test in a World Poker Tour in Paris in 2012. Benac—the only amateur to make it to the finals—emerged with the world title (beating out 370 other players from all over the world) and the top prize of more than $120,000.
What's the appeal of poker for you?
I think poker and investments are strongly related. Both are about assessing the most efficient risk-return profile of an investment or bet. Intuition and creativity are essential in both areas, and I find them sometimes underestimated by poker players and portfolio managers. And in both pursuits, patience is key.
Why Brandeis International Business School, and how has it helped your career?
One of the reasons I decided to go to the U.S. was to gain additional knowledge and experience on hedge fund techniques and strategies, an industry not much developed in France. Brandeis IBS offered the program I was looking for. Then the Career Center helped me land a unique one-year position in New York as special assistant to Ronald S. Lauder, heir to Estée Lauder and a renowned businessman and philanthropist in his own right. I traveled with him all over the world and assessed international business opportunities for his personal investing. After that, I worked at Fidelity Investments in Boston, where I joined the international advisory team that manages the international sleeve of a $65 billion portfolio.
What are you doing now?
I returned to my home city of Paris in 2009 and, after a brief stint with Deutsche Bank in Paris, I decided to pursue my dream of launching my own asset management firm. It was a thrilling opportunity, not unlike playing high-stakes poker. I find it hard to manage money without being totally independent and able to think outside the box, which can be tough with the constraints of a corporate organization. It was good timing to start my own firm.