Class of 1990
I was thrilled so many Brandeis friends and classmates joined me and my husband, Aron, to celebrate the bat mitzvah of our daughter Faith on Dec. 13, 2015. Attendees included Michael Guttenberg '89; Stephanie Gruber Ripps '89; Jonathan and Ilene Parish Gershen; Chaim Jaffe, P'19, and Esa Kanter Jaffe, MA'94, P'19; Shelly Kalinsky '87; and Jonathan Lass.
Eric Frank and Gina Bellavia live in the Buffalo, New York, area with their 10-year-old son, Theo, who visited campus for the first time at Thanksgiving. Eric is the principal psychologist at the Office for People With Developmental Disabilities in western New York, where his specialty is forensic psychology. Gina is a researcher and career coach. Jonathan Golden and Priscilla Sanches Salles had a baby girl, Lyla Devora Sanches, on Nov. 19, 2015. Jonathan is director of Drew University's Center on Religion, Culture and Conflict. Solly Granatstein received the 2016 Alumni Award from Columbia University's Graduate School of Journalism. Solly has won nine Emmys, a DuPont, a Peabody and numerous other awards for his work over nearly two decades as a producer at all three major network-news divisions, including 12 years at "60 Minutes" on CBS. Solly earned his degree from Columbia's Graduate School of Journalism in 1994. Nicholas Haber founded NE Distance, an athlete-in-residence fellowship program for post-collegiate track athletes. The program partners with public schools in urban areas to create after-school running programs coached by NE Distance team members. Barak Kushner is a reader in Japanese history at Cambridge University, where he has worked for the past 10 years. He and his wife, Mami Mizutori, a former Japanese diplomat, travel frequently in Europe and Asia. He gets to see the "uddies" from his senior year every so often. When Barak recently gave a talk at Brandeis, he was astounded by the many new and exciting buildings on campus. Michele Lieber was named one of the top 100 women in the U.S. auto industry by Automotive News magazine. She is chief public-policy officer at Ally Financial. Alyson Tarr Popper's family traveled to Cleveland for its annual trip to watch the Red Sox play on the road. While there, Alyson connected with her roommate Sheri Levy Gross for the first time in 17 years. Their families had a chance to meet and share dessert in Sheri's sukkah. Wendy Samuelson is the managing partner of Samuelson Hause Samuelson Geffner & Kersch, a boutique matrimonial- and family-law firm in Garden City, New York. She is also associate editor at the New York Bar Association's Family Law Review, a quarterly publication. Barbie Scharf-Zeldes practices probate and family law in San Antonio. She also serves as president at Congregation Agudas Achim, a 550-family Conservative synagogue. Her husband is a sergeant with the San Antonio Police Department. One son is in college, and the other just received his driver's license.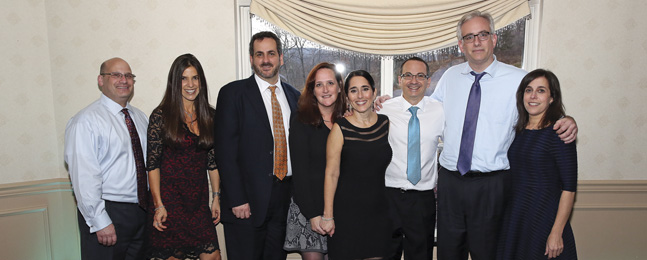 GATHERING OF THE FAITH-FUL: Several Brandeisians celebrated the bat mitzvah of Faith Weber with her parents, Judy Libhaber Weber and Aron Weber, both '90. From left: Michael Guttenberg '89, Stephanie Gruber Ripps '89, Jonathan Gershen '90, Ilene Parish Gershen '90, Judy, Aron, Chaim Jaffe '90 and Esa Kanter Jaffe '90, MA'94. Jonathan Lass '90 and Shelly Kalinsky '87 also attended.
Submit a Class Note