Class of 2012
5th Reunion
June 9-11, 2017
I have finished up my second year at Fordham Law School and am a summer associate at Shipman & Goodwin.
Kate Alexander is the director of policy and outreach at Peace Action New York State and has a permanent pass to the United Nations. Jesse Appell lives in Beijing, where he performs and writes Chinese comedy. He writes stand-up for Chinese and global audiences, looks over movie scripts, and says he uses humor to laugh off life struggles in the crazy capital of the world's largest country. Josh Basseches reports he continues down the long but exciting path toward a doctorate in sociology at Northwestern. His research examines the politics behind state-level public policy developed to combat climate change. He enjoys living in Chicago, where he hangs out with a small but vibrant contingent of Brandeisians. Dafna Gamzeh completed her second year as an account specialist at Risk Strategies, a privately held national insurance brokerage and risk-management firm. Dafna and her husband, Liron, celebrated their second anniversary. Traci Gordon and Michael Baum planned to marry on May 29 in Kissimmee, Florida. Sami Grosser and Ari Pipe-Mazo were married on Jan. 17. Ari's mom is Deborah Mangan '85, P'12. Doug Kanovsky is a health-care analyst at the National Committee for Quality Assurance, where he develops performance measures for health insurance for accreditation. Siddhi Krishna, MA'14, is a second-year PhD student in pure mathematics at Boston College. She spends time thinking about three- and four-dimensional spaces, drawing colorful pictures, and wondering how she got chalk in her hair. In her free time, Siddhi enjoys running through the streets of Somerville, Massachusetts, and dreaming of Brigham's peppermint-stick ice cream. Jackey Lane married Brandeis sweetheart Stephen Gray '11. They are enjoying life in Chicago with their two cats. Justin Lang and Jordana Gluck send regards from Washington, D.C. Justin works on foreign- and defense-policy issues at the American Enterprise Institute, and is pursuing a master's in foreign service at Georgetown. Jordana, who left New York City earlier this year to join Justin in D.C., is a senior consultant at Booz Allen Hamilton, working on the U.S. Navy's budget. They were married on Jan. 3 in Westchester, New York. Amy Melser was named Saveur magazine's advertising salesperson of the year. Nora Mitnick is working as a substance-abuse counselor after receiving her master's degree in social work. Louis Polisson and Gabriella Feingold '14 have been married two years. Louis is more than halfway through his five-year rabbinical school program at the Jewish Theological Seminary. Evan Rabin, who lives in Somerville, Massachusetts, sells data-security products and services at Rapid7. Since earning her master's degree in Jewish education from the Jewish Theological Seminary, Ilana Sidorsky has been teaching at Manhattan's Abraham Joshua Heschel School. She runs Israel education and community-service programs for the high school. Ilana and Joseph Robbins planned to be married this July. Ceci Zhang, who lives in New York City, works at Neuberger Berman Alternatives. She recently started volunteering for Big Brothers Big Sisters NYC.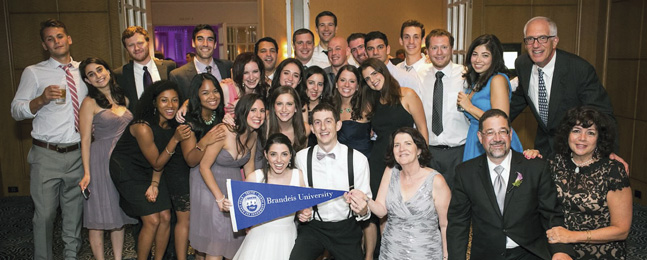 HEARTS OF GOLD: Zachary Rubenstein '11 and Rebecca Klein '12 were married on Aug. 16, 2015, in Boston before many Brandeisians, including Rebecca's parents, Daniel Klein '78 and Deborah Lowen-Klein '77, P'12.
Submit a Class Note