Department Newsletter - Nuntius
Classical Studies 2018
The Brandeis Classical Studies Department continues to thrive.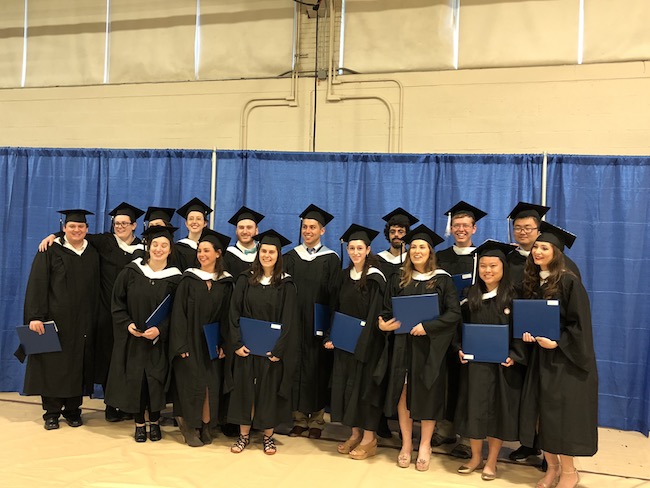 16 graduates in the MA program, from last August 2017, February 2018, and May 2018
Rebecca Aucoin (August 2018)
Erin Brantmayer
Hunter M. Bruno
William Michael Callif
Zachary Bradley Elliott
Katie Elizabeth Graff
Angela Hurley
Remy Denise Jones (Feb. 2018)
Kathryn Elizabeth Spillman Joseph
Sohyun Stella Kim (August 2017)
Anna Katharina Krohn
Kelsey Ann Latsha
Lyuba Krumova Manoilova
Rachel Beth Polinsky
Ruth Portes
Ryan Max Zeitzer
4 Undergraduate Majors:
Adam Rolon Beckwith (with High Honors in CLAS)
Emma Caitlin Yi Ying Berman
Joana Jankulla (with High Honors in CLAS)
Enchi Zhang
5 Undergraduate Minors:
Anne K. Alexander
Talia Elizabeth Franks
Danielle Deneen Gaskin
Rachel Jacqueline Klingenstein
William Sawyer Nealley
Greetings from the Former Chair (and below from the New Chair):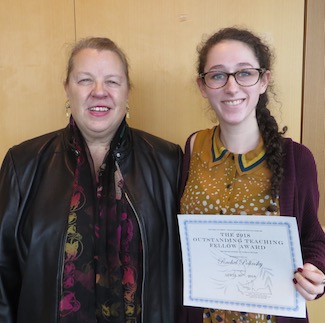 Professor AOK-O with Rachael Polinsky, winner of the GSAS Outstanding Teaching Fellow Award 2017-8, April 30, 2018
Ciao, Amici!
I apologize that Nuntius' has not appeared since spring 2016. The only excuse I can offer is that things have been happening faster than I could keep up with them, which is good news. In fall 2016, our new Hellenist, Associate Professor Joel Christensen, began reinvigorating our Ancient Greek Language and Literature program. Our beloved Professor Leonard Muellner retired in spring 2015. Despite the fact that Professor Christensen had tenure from the University of Texas at San Antonio when he arrived, he had to go through the tenure process at Brandeis as well. He did, of course, receive tenure with flying colors, but the process was draining for all of us, especially him. Then, we immediately started our international search for a new Latinist, and just this fall Assistant Professor Caitlin Gillespie has taken up her new role to build up our Latin Language and Literature program. She already has an enrollment of 28 new students in Latin 10A, Beginning Latin!
Professor Patricia Johnston at her April 2018 Retirement Party
Professor Patricia Johnston retired at the end of spring 2018. She will remain affiliated with Brandeis for the next academic year, but will no longer be teaching for us, and she has moved to California, her home state. After suffering through many, many harsh New England winters, we are all very happy for her to start her new life in a warmer climate.
Assistant Professor Andrew Koh also left us this past spring (to take up a research position at MIT), and we shall miss him. We are very happy, however, to have Visiting Lecturer Alexandra Ratzlaff with us (she came in fall 2017 and is with us again this academic year) teaching our archaeology courses, both because of Professor Koh's departure, but also because I am away this academic year as well (more about this below). 
Professor Cheryl Walker continues as our trusty Undergraduate Advising Head. She is busier than ever teaching Latin and History courses for us this fall and mentoring a wide range of undergraduate and graduate papers and theses.
In other good news, our programs are so full of activities and events, a newsletter is almost out of date before it is published! Our faculty members are doing cutting-edge research, giving great talks on and off campus, and participating in outreach for Classical Studies everywhere (as they will each tell you themselves below), and our students are producing very fine capstone theses and papers. So, our excellent new faculty hires are working very hard in both undergraduate and graduate programs in Classical Studies and in Ancient Greek and Roman Studies.
With some amount of sadness (but not too much!), I am on a year-long sabbatical in 2018-19 and living in Italy (mostly in Rome). After chairing the department for 15 years, I thought it was time to go far away for a while to gain some perspective on myself, on the state of the department now, and on my plans for the future. I have been appointed Associate Visiting Scholar at the American Academy in Rome, and I'll be here writing my new book, tentatively called Making Sense of Pompeii and Herculaneum: Daily Life and the Ancient Roman Sensorium (under contract with Cambridge University Press). My husband, Professor Steven E. Ostrow, newly retired from the History Faculty' at MIT, has joined me, and we have many travels and adventures planned for the year ahead.
I encourage all our readers to welcome Professor Christensen as the new chair. If you would like to support us with a contribution to the department, we shall be most grateful. We are extremely grateful to all donations (large and small), which have allowed us to keep our programming strong and which give much needed support to our students. Checks can be made out to Department of Classical Studies, Brandeis and given to our general Gift Fund or allocated specifically for any number of our initiatives. Please feel free to contact me or Professor Christensen for more details. We hope to hear from you.
Buon Anno, and all the best for a great fall and spring to all our readers!
Professor AOK-O
Ann Olga Koloski-Ostrow
Kevy and Hortense Kaiserman Endowed Chair in the Humanities
Professor, Department of Classical Studies
Co-Director for the M.A. Program in Ancient Greek and Roman Studies
Affiliate Faculty Member of Anthropology; Fine Arts; Italian Studies;
and Women, Gender, and Sexuality Studies
Mandel Center for the Humanities, MS 092
Brandeis University, P.O. Box 9110
415 South Street, Waltham, MA 02453-9110 USA
phone: 781-736-2183
FAX: 781-736-2184
aoko@brandeis.edu
Latest book: The Archaeology of Sanitation in Roman Italy: Toilets, Sewers, and Water Systems (April 2015, University of North Carolina Press, paperback 2018):
http://uncpress.unc.edu/books/T-5298.html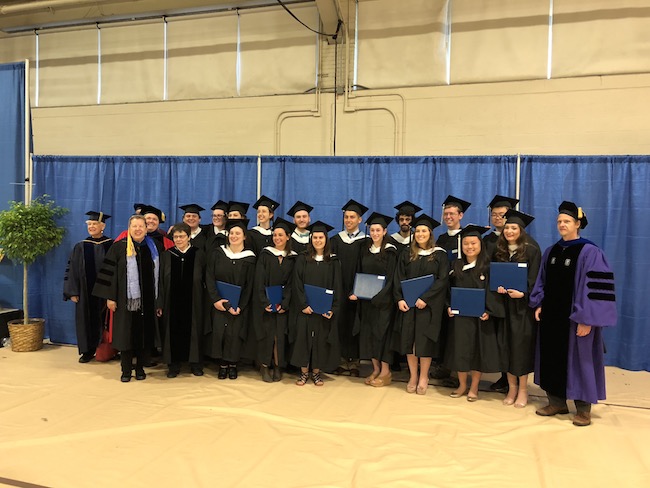 Letter from the Joel Christensen, Chair
Greetings Friends,
If it was both humbling and exciting to return to Brandeis as a faculty member a few years ago, it is doubly so now to take on the responsibilities of Department Chair after Dr. Koloski-Ostrow has guided the department so well for over 15 years. As a one-time student and now member of this department, I think it is important to recognize how much Ann has done to preserve, promote, and grow Classical Studies at Brandeis University. So, when you get a chance, let her know how much we appreciate her!
As the new Department Chair, I plan to preserve what we have built over the past decade and build on our strengths. This year we have the pleasure of introducing our new Latinist Dr. Caitlin Gillespie to colleagues and students alike; and we also look forward to the introduction of new courses on Race and Ethnicity in the Ancient World (Gillespie) and Archaeological Ethics, Law, and Cultural Heritage (Dr. Alex Ratzlaff). These two courses are but the latest examples of how our department has consistently kept its curriculum fresh, responding to changes in the contemporary world with new perspectives on the ancient one.
Our department finally has a new website (thanks to the Graduate School of Arts and Sciences) and we will be posting events on there regularly now. We look forward to seeing friends and alumni there along with our current students. Please keep checking for the dates of the Graduate Student conference which is always one of the most important and edifying events of the year. In addition, Dr. Ratzlaff is planning an archaeology day (which promises to be a lot of fun) and we have Joe Goodkin coming to campus in November to sing songs inspired by the Odyssey. In the spring, the Department of Theater Arts will put on a performance of Euripides' Bacchae directed by Professor (and alumnus) Dmitry Troyanovsky and sponsored by Classical Studies. Dmitry and I have been working on a new translation of the Bacchae' and we have a lyricist and composer collaborating on the choral portions of the play.
In addition to being Chair of the Department, I have followed Ann's lead in being an advocate for our discipline in the University at large: I am on the Faculty Senate, the Senate council (which meets with Provost Lynch and President Liebowitz twice a month) and Chair of the Critical Conversations/First Year Experience Committee as part of the implementation of the new General Education Requirements. Thanks to years of Ann's work and the contributions of our Emeriti Faculty Professors Muellner and Johnston, the Department has a great reputation and support across the campus. As a Department, we will be revising the curriculum over the next year to include new components to encourage Digital Literacy and Oral Communication along with a revision of our Writing Intensive requirements.
I also wanted to note that we have a group of graduate students and undergraduates doing fascinating research this year. We will be posting thesis titles and links to work during the Spring Semester. As we move through the academic year, please keep our students in your thoughts as they complete, polish, and present their theses and projects.
I wanted to close by thanking everyone who has made donations to support our work in the department and to say that they have been transformational for our undergraduates, graduates, and what our Department can offer the community. But, whether you've donated or not, I am also deeply grateful for your continued interest and support. If you have any questions, suggestions, concerns or just want to get in touch, please don't hesitate to email me or give me a call.
Associate Professor and Chair
Department of Classical Studies
Co-Director Graduate Program in Ancient Greek and Roman Studies
Mandel Center for the Humanities, MS 092
Brandeis University, P.O. Box 9110
415 South Street
Waltham, MA 02453-9110 USA
FAX: 781-736-2184
j
oel@brandeis.edu
Website
sententiaeantiquae.com
@sentantiq
Note from Caitlin Gillespie: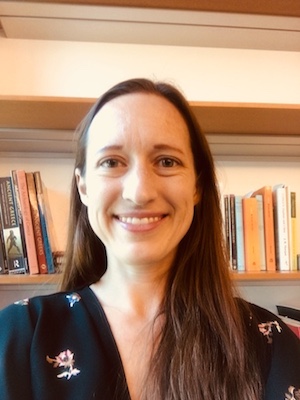 Greetings! As Professor AOK-O mentioned, I have recently joined the department and am busy building up the Latin Language and Literature program. I am teaching the beginning Latin sequence for the full year, in addition to an advanced Latin course on Roman Satire in the fall and a new course on Race and Ethnicity in the Ancient World in the spring. The beginning students are busy introducing themselves in Latin and composing short dialogues, while the Satire students are considering the differences between Roman and modern definitions of the genre. I am excited to introduce the Race and Ethnicity course, and look forward to invigorating conversations about the ancient world as compared to our modern experiences.
This year, I published my first book'Boudica: Warrior Woman of Roman Britain. This study challenged me to confront material and literary evidence from a comparative perspective, and I was glad to be able to journey to Britain, the land of Boudica, over the course of my research. Additional projects expand my interest in women and power in the Roman Empire, including articles on the empress Livia and concordia, gender and class in the Stoic opposition to Nero, and Agrippina the Elder and imperial cult. I look forward to discussing this work with my new colleagues and building connections with other Classicists in the area.
Note from Alexandra Ratzlaff:
It was an amazing excavation season this summer, several of our Brandeis students joined me in Israel at Tel Dor to excavate Hellenistic/Roman twin temples on the Mediterranean coast, as well as going on weekend trips to Akko, Caesarea, and Jerusalem to explore their ancient history and archaeology. In my second year in the department I am teaching the Art and Archaeology of Ancient Rome and continue our exploration of the Roman world in the spring with The Art and Archaeology of the Roman Provinces. My other fall course The Archaeology of Greece, Egypt, and the Levant in the Bronze Age is already providing interesting discussion on the comparative material between cultures.
To compliment Brandeis' commitment to social justice, this spring I will be teaching Archaeological Ethics, Law, and Cultural Heritage, in which students will debate some of the key issues facing archaeologists and the preservation of cultural heritage for the future. With Professor AOK-O on sabbatical I have stepped in as the interim faculty advisor of the CLARC (Classical Studies Artifact Research Collection) where students are integrating new technologies in the analysis of ancient artifacts.
Last year I was fortunate enough to attend a conference in Sicily on Roman and Byzantine Pottery and another in Romania on Mithras, and both have now published my papers in their monographs. Some of my other projects that explore the archaeology of the Roman and Byzantine period in the Levant include the publication of the Tel Afar Byzantine Basilica as an article and a chapter in the Social Archaeology of the Holy Land. This year I will continue working on the analysis of ceramic assemblage from the Akko Hellenistic Harbor. I am also eager to have new and returning students join me next summer for the continuing excavation of Tel Kabri in Israel.
Note from Cheryl Walker:
Taking to heart Martial's dictum (aestate pueri, si valent, satis discunt, "In summertime, boys learn enough, if they are healthy"), I spent my summer preparing for the rigorous educational marathon which is the academic year 2018-19. To that end, I reviewed my syllabi and helped grow tomatoes, peppers, cucumbers, eggplant, and herbs, as well as picked many pints of raspberries, all while contemplating the use of cognomina for disabilities in Republican Rome. [It's difficult to imagine how Romans reacted to being called "Squinty" or "Cross-eyed" or "Blind." Is this evidence that Roman society actually talked of such things?] I look forward to a year learning about the third-century crises and a multitude of other topics, and I wish everyone a great start to the year!
To view the larger versions of each image below, click on the image.
Department of Classical Studies 2017-2018: the year in photographs