Class of 1955
Class Correspondent
Judith Paull Aronson
838 N. Doheny Drive, #906

Los Angeles

, 

CA

 

90069
Myron (Mike) Uhlberg's latest children's book, "A Storm Called Katrina," received a glowing review in The New York Times. The reviewer wrote that the book successfully strikes the balance between conveying the enormity of the tragedy without frightening young readers. Geared for children ages 7–11, it presents a fictional but realistic account of a 10-year-old boy who lives in New Orleans during the great hurricane of 2005 and its aftermath. Mike teamed with illustrator Colin Bootman on the project; the same duo worked together on "Dad, Jackie, and Me" about baseball pioneer Jackie Robinson. Fred Kruger retired after 20 years of writing and editing at newspapers around the country and another 30 years as an independent, single-family residential real-estate broker in Riverside, Calif. He writes, "Now I'm pretty much a full-time poet enjoying some success with it and having fun jogging (I used to run) through life in Riverside, some 60 miles east of L.A. I spend much rich time with Peg, my wife of 41 years." Herbert Lewis, emeritus professor of anthropology at the University of Wisconsin–Madison, wrote a new introduction for the republication of Alexander Granach's autobiography, "From the Shtetl to the Stage: The Odyssey of a Wandering Actor." Ceramic artist Risa Hirsch Ehrlich reports that she continues to create and show her art, often inspired by the abstract expressionists of the 1950s. She has developed an "elevator pitch," saying, "I'm an abstract artist, and my primary medium is clay." To see her work, visit www.risaclayart.com. At the Kohl Children's Museum's annual black-tie gala, founder Dolores Kohl Kaplan was honored for her 25 years of service to children and her integral role in establishing the Chicago-area museum. The event raised more than $700,000 for museum programming and outreach activities, including field trips for schools in underresourced communities and free museum experiences for children with special needs. The Brew race in Brewster, Mass., on Aug. 13 was run in honor of Lucy Duffy, who in June completed a 100-mile bike ride in Colorado to raise funds for cancer research in memory of her late husband, Allen Duffy. Lucy is herself a cancer survivor.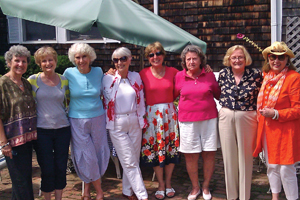 A colorful group of women from the Class of '55 enjoyed reconnecting in a lovely garden in Chatham, Mass., during the summer. Shown are (left to right) Charlotte Langone McElroy '55, Pat Morgan (wife of the late Roger Morgan '55), hostess Norma Bassett Avellar '55, Lucy DeVries Duffy '55, Nancy Mack Burman '55, P'79, Evi Buckler Sheffres '55, Phyllis Ostrow Horowitz '55 and Judy Paull 
Aronson '55. The photo was taken by Mark Aronson '55.
Submit a Class Note