Class of 2008
Class Correspondent
Elyssa L. Cohen
545 West 111th Street #000

New York

, 

NY

 

10025
Sam Vaghar, managing director and founder of the Millennium Campus Network, met with President Barack Obama at the White House. Vaghar was among 10 young Americans who had participated in the "100 Youth Roundtables" Initiative and came to Washington for a debriefing session with the president, his senior staff and D.C.-based youth advocates. Peace Corps volunteer Amy King helped organize a community environmental service project in Azerbaijan on April 17 for Global Youth Service Day. Students collected more than 70 pounds of trash around a local school and built 20 birdhouses to foster biodiversity and help with pest control. The students also planted flowers and created reusable grocery bags to encourage recycling and conservation. "Involving youth in a project that serves the community and raises environmental awareness is very unique because they are unfamiliar concepts to many people in Azerbaijan," Amy said. "This project is important to me because I care about my community." Former Brandeis baseball pitcher Tyler Robinson joined his hometown team when he signed with the semiprofessional Ottawa Fat Cats in Canada. The Fat Cats play in the Intercounty Baseball League. Tyler struck out 201 hitters in 214 innings at Brandeis and holds the school 
record for strikeouts in a game (13). Steven 
Patriarco has been awarded a Fulbright Scholarship to conduct conservation and sustainable development work in Indonesia, Sumatra and Borneo. He will work with Indonesian communities and authorities to protect Gunung Palung National Park, home to most of the world's endangered orangutans. Michelle Schlesinger of Miami is a yoga and dance teacher. After graduating with a major in psychology, she went on to do research in mental health, eating disorders, violence and related topics. She can be found on Facebook. Actor Harley Yanoff was recently featured in The Boston Globe for his work with young actors. Harley, who has had small parts in "The Town,'' "Gossip Girl'' and "Fringe'' under his stage name, Harley Harrison, is the director of Spotlight Productions, a summer acting program for children 7–17 in Weston, Mass. Spotlight started as Yanoff's thesis project at Brandeis. Ashley Ruskiewicz worked as an intern at the Burbank (Calif.) International Film Festival. She also blogs about the entertainment industry. Kenny Steven Fuentes returned to Roxbury Latin, his high school alma mater, to play Malvolio in Shakespeare's "Twelfth Night" during the school's annual Summer Theater Festival. "The thing I enjoy the most about Shakespeare is the opportunity to work with poetry and verse in a theatrical context," Kenny told the West Roxbury Patch. "Most of the theater I do throughout the year is 20th century and contemporary — things in prose, narrative, realism. It's all great to do, but it's very different to be real and to be spontaneous and alive onstage while also speaking in verse and poetry." Dmitry Vilner graduated from the University of Colorado Law School and served as a judicial intern for the Honorable Timothy Tymkovich at the U.S. Court of Appeals for the 10th Circuit. Jacob Baime was recently promoted to area director for northern New England at the American Israel Public Affairs Committee (AIPAC). He oversees AIPAC's political, development and grass-roots work in Maine, Vermont, New Hampshire and Massachusetts (except for Greater Boston). "After working three years in AIPAC's Washington, D.C., headquarters, I'm excited to move back to Boston for a position with new opportunities to strengthen America's relationship with our ally Israel," he writes. Michal Lucas married Uri Friedman on Aug. 14 at Temple Beth Sholom in Roslyn Heights, N.Y., where her father, Alan, is the senior rabbi. Uri's grandfather, Rabbi Seymour Friedman, assisted. Michal teaches second grade at the Charles E. Smith Jewish Day School in Rockville, Md. Uri works in Washington as a staff writer focusing on international affairs at The Atlantic Wire, a website of the magazine The Atlantic. According to an article in The New York Times, the couple met in 2001 when they were teenagers at Camp Ramah in the Poconos.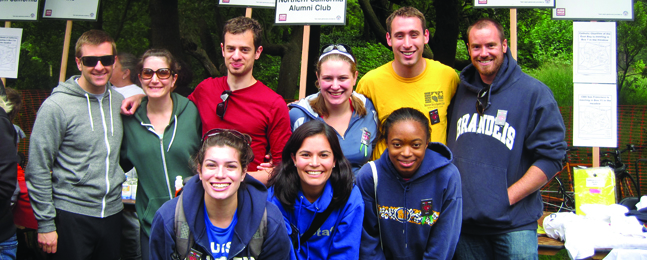 Led by club co-presidents Monica Katz-Lapides '06 (front row, center) and Lauren Becker '08 (front row, left), members of the Alumni Club of Northern California hit the streets of San Francisco to walk in support of AIDS research. Showing their Brandeis pride and commitment to social justice, they raised money and awareness.
Submit a Class Note