Class of 2003
Class Correspondent
Caroline Litwack
79 Winslow Avenue, #1

Somerville

, 

MA

 

02144
Hello, Class of 2003! Hope you had a relaxing summer. I am in the throes of wedding planning. Please share your news with the Brandeis community — don't be shy.
Michael Kravit moved from New York to Washington, D.C., where he is the creative director at Honest Tea, an environmentally conscious tea company. Marissa Lynne Smilowitz married
Gregg Leppo on Nov. 13, 2010, in Boston. They were happy to be surrounded by many of their Brandeis friends, including groomsman Adam Perlin and Jill Fishman '01, who signed the ketubah. Also present were Pamela Hoffman, Lisa Dolgoff, Rivka Liss Levinson, Marla Roth Glaskin '01, Sarah Glatt, Jason Reynolds, David Earls, Benjamin Schlesinger '02, Tarida Anantachai '02, Russell Farbiarz and Jeremy Lechan. Marissa and Greg have lived in Waltham for two years. She writes, "We can't seem to get away from this city!" Mariko Holbrook won the women's division in the inaugural Moody Street 5K in a time of 18 minutes, 24.8 seconds while also helping to raise money for the Reggie Poyau Scholarship Fund. Mariko and some former teammates who ran the race secured near ly $2,000 in pledges in memory of Reggie '04, who died while studying abroad during his junior year. The scholarship supports a Brockton High student attending college who is either an immigrant or a first-generation college student. Phillip Geoffrey Reisman works for Where, which was acquired by eBay/PayPal. He writes, "I am thrilled to be a member of the eBay/PayPal team and encourage everyone to check out Where, which is available on most smart phones and some feature phones. I would also like to congratulate Ben and Elana Fertig on the birth of their son, Isaac; Solomon and Morgan Sheena on the birth of their son, Aaron; and Ajay Daptardar '11 on the birth of his son, Luca." Congratulations to former Brandeis swim team captain Marshall Goldman, the new coach of the Weymouth Waves swim team outside Boston. Four team members competed at the junior national (18 and under) swimming championships during the spring in Orlando, Fla. Alex Guralnick works for the Department of Defense and started at the University of Maryland's Smith School of Business in the fall. Elyssa Auster was named the rabbi at Temple Judea, a Conservative congregation in Fort Myers, Fla. Elyssa was ordained and received a master's degree in Jewish education from Hebrew College in June. She spent three years as acting rabbi of Congregation Or HaTzafon in Fairbanks, Alaska, and two years as rabbinic intern at Temple Beth El in Sudbury, Mass. Alexander Dyson married Jen Kahn on July 9 in Newport, R.I. Attendees included Eliza Medearis, Jassa Chawla, Yakubu Budu-Saaka and RachelPearlstein Raifman '94, a cousin of the groom.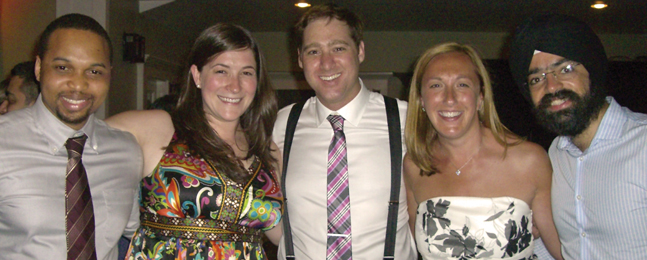 Brandeis alumni joined Alexander Dyson '03 to celebrate his marriage to Jen Kahn in Newport, R.I., including (left to right): Yakubu Budu-Saaka '03, Eliza Medearis '03, Alexander, Rachel Pearlstein Raifman '94 (cousin of the groom) and Jassa Chawla '03.
Submit a Class Note