Class of 2002
Class Correspondent
Hannah (Johnson) Bornstein
136 Grove Street

Scituate

, 

MA

 

02066
Greetings, Class of 2002! As ha
rd as it is to believe, our 10th Reunion will be here before you know it. Mark your calendars — we hope to see everyone there. In other news, 2011 has been quite eventful for my husband and me. We started the year off by welcoming our first child, Aubrey Ruth Bornstein, born on Jan. 10. She is absolutely delightful and we are enjoying this new crazy adventure of parenthood!

Rebecca Samuels Nelson and her husband, Eric, had a daughter, Ayla Madison, on March 28. Lex Friedman, a staff writer for Macworld magazine, was one of 50 people selected to tweet live from a town hall meeting with President Barack Obama at the White House in July. Organizers invited people who regularly follow the administration's official Twitter account to take part in the first "Tweetup," an in-person gathering of people connected through Twitter. During the event, Lex tweeted his thoughts, opinions and some photos, including pictures he took of the president, to his Twitter followers. He also had the chance to shake Obama's hand as the president entered the East Room. Brandi Lee Dennell and Julie Lough are happy to announce that they entered into a civil partnership on July 8 in Stirling, Scotland. Just four days earlier, Brandi Lee received a Ph.D. in social anthropology from the University of Edinburgh. Rabbi Edith Meyerson was named to the Jewish Week's "36 Under 36" list, which features three dozen dedicated leaders who are reordering Jewish legacy organizations alongside community activists and social-justice crusaders whose start-ups are chock-full of innovation. Edith, who was ordained as a rabbi at Hebrew Union College in 2007, works as a chaplain for the Hertzberg Palliative Care Institute at the Mount Sinai School of Medicine. She is also a doctoral candidate in pastoral counseling at Hebrew Union College. "I feel called," says Edith, who grew up in Baltimore and lives on the Upper West Side. Michael Phillips, an associate at Obermayer Rebmann Maxwell & Hippel, was named to the "Pennsylvania Rising Stars" list that was published in the June editions of both Philadelphia magazine and Pennsylvania Super Lawyers magazine. Only 2.5 percent of Pennsylvania attorneys receive the honor each year. Michael is a member of his firm's litigation department and concentrates his practice in the areas of civil litigation, commercial litigation, election law, and sports and entertainment law. Debra Ehrlich received an M.D. from the University of Medicine and Dentistry of New Jersey (UMDNJ). She will do her preliminary residency in medicine at University Hospital in Newark, N.J., followed by a residency in neurology at Albert Einstein–Montefiore Medical Center in New York. Before attending medical school, Debra conducted psychopharmacology and cancer research and earned a master's in biomedical sciences from UMDNJ. Jason Pritzker is co-founder and president of Visible Vote, which works to improve communications between voters and their legislators. He had been with the Marmon Group, an industrial manufacturing company. From 2003–06, Jason worked at Goldman Sachs. Jodie Gordon and Joshua Bloom were married on May 29 in Poyntelle, Pa. They reside in Brooklyn, N.Y. They were married by Rabbi Molly Kane '01. Other alumni in attendance included Jenny Goldstein '01, Evan Schultz '01, Stephanie Baum '01, Rebecca Smerling '01, Rabbi Dan Medwin '01, Aviva Palmer, Aliya Caler, Alisa Drooker, Lee Rothchild, Dan Fishman, Allison Pollack, Adina Lemeshow, Jason Leonard, Rabbi Kevin Kleinman, Dr. Eve Shapiro '72 and Rocky Reichman '13. Jodie is a third-year rabbinical student at the Hebrew Union College–Jewish Institute of Religion in Manhattan. Joshua is director of online communications for Rabbis for Human Rights–North America, a nonprofit organization.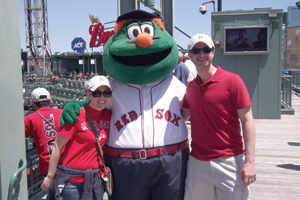 Event host JenN Seadia '02 and her husband, Joshua, hung out with Red Sox mascot Wally and members of the Greater Boston Alumni Club at an outing at Fenway Park. Alumni cheered on the Red Sox as they defeated the Oakland A's, 6-3.
Submit a Class Note